Collaborating to Improve Diversity and Inclusion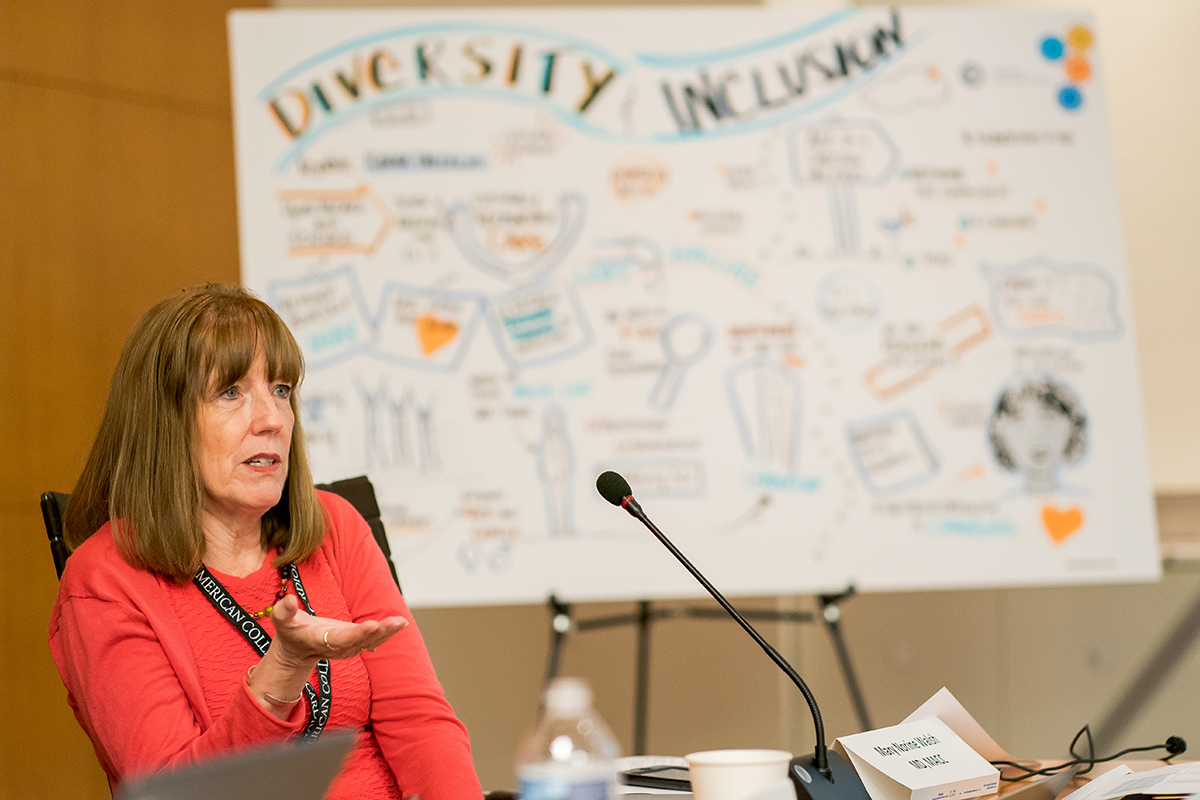 The ACC recently held its third Industry Advisory Forum, bringing together industry stakeholders and key ACC leaders to address diversity and inclusion in the cardiovascular world.
Chaired by ACC Past President Mary Norine Walsh, MD, MACC, the Forum explored ways to deepen the pipeline of STEMM education, as well as generate greater inclusivity within clinical trials. It also provided an important opportunity to introduce ACC's new Chief Diversity and Inclusion Officer Ranna Parekh, MD, MPH, and hear her initial vision for increasing diversity and inclusion within the cardiovascular profession.
On the STEMM front, Clyde W. Yancy, MD, FACC, provided a case study for building diversity and inclusion in the pipeline, while Alina Kolomeyer, PharmD, from Amarin, and Sarah Kulke, MD, from Esperion Therapeutics, were involved in an industry panel discussion on the topic.
Key takeaways from these discussions included the need for maintaining diversity of thought and background when pulling together teams; developing mentoring and/or intern programs for junior high, high school and college students from underrepresented communities; and encouraging implicit bias and diversity and inclusion education as part of training programs and leadership courses. "The goal should be all are speaking as one voice," said one participant.
The topic of how ACC and Industry can work together to impact the diversity of clinical trial investigators and patients closed out the Forum. Walsh provided a case study on ways ACC is making strides towards diversity with clinical trial investigators, while Laura Seplavy of Bristol-Myers Squibb and Pfizer, Inc., and Birgit Roy of MyoKardia offered their perspectives on clinical trial inclusivity.
Key takeaways from the group discussion included a desire to focus on the structure of clinical studies at each site to ensure diverse populations are enrolled and the need to provide training and mentorship to clinicians on how to speak to potential clinical trial patients.
On the clinician side, both sides identified opportunities to collaborate on training to grow women and underrepresented minorities as successful clinical trial investigators.
The ACC's Industry Advisory Forum is a group of industry participants committed to advancing cardiovascular health care.
Keywords: ACC Publications, Cardiology Magazine, Accreditation, Administrative Personnel, Burnout, Professional, Consensus, Continuity of Patient Care, Cultural Competency, Emergency Service, Hospital, Government, Health Policy, Goals, Heart Diseases, Heart Failure, Hospitalization, Information Dissemination, Leadership, Industry, Mentors, Minority Health, Mortality, Premature, Myocardial Infarction, Patient Care, Personal Satisfaction, Quality Improvement, Research Personnel, Risk Assessment, Social Media, Physicians, Students, Systems Analysis, United Nations, Workplace
< Back to Listings