Adapting to Changing Cardiovascular Practice Landscape Focus of MedAxiom CV Transforum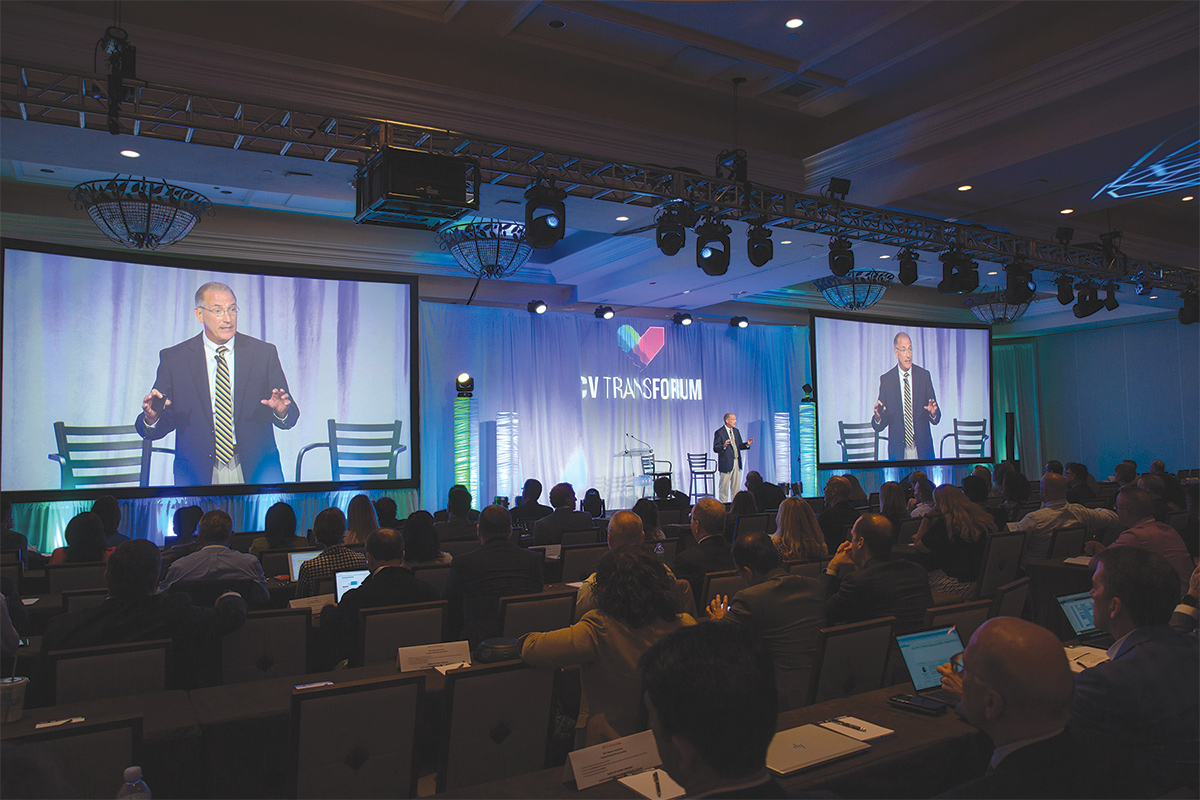 The current state of cardiology, dyad partnerships, digital transformation, data integration and advocacy were among the topics tackled by the more than 400 participants at MedAxiom's CV Transforum Fall 2019 in Dana Point, CA, last month.
"MedAxiom was born out of the need to help organizations adapt to changing business models," said President Jerry Blackwell, MD, MBA, FACC, when kicking off the meeting and talking about the importance of coming together to discuss health care challenges and practice-changing opportunities. "We must focus on adaptability over efficiency to succeed in today's ever-changing health care landscape."
Dyad partnerships are one example of adaptability in an era of integrated practices and systems – bringing together administrative and clinical leaders to help drive quality, cost-effective cardiovascular care.
Warren Levy, MD, FACC, president and chief medical officer of Virginia Heart, joined a panel of dyad leaders from St. Vincent Heart Center in Indianapolis, IN; Minneapolis Heart Institute in Minneapolis, MN; and Sangar Heart and Vascular Institute in Charlotte, NC, in sharing what does and doesn't work in dyad relationships.
The group outlined the importance of common core values; a willingness to work towards a common mission and vision; and clear and transparent communication. They also highlighted the need for complementary competencies, including diplomacy, team skills, charisma and more.
Cardiovascular care is also adapting to new and innovative digital technologies as a means of transforming care delivery and improving patient outcomes. Richard Rakowski, co-founder and CEO of Medically Home LLC in Boston gave an inside look at the ways a virtual hospital in the patient's home can work for select diagnoses that traditionally require hospitalization.
ACC's Chief Innovation Officer John S. Rumsfeld, MD, PhD, FACC, shared his own insights into the ways digital technologies can be used to transform cardiology in areas like remote monitoring, virtual care and artificial intelligence-driven care.
On a related note, the need to leverage technology and strengthen big data architecture for value-based health care delivery under the framework of population health management was another important topic of the meeting.
Sessions focused on how to best leverage ACC's NCDR registry data to improve cardiovascular care, as well as looked to what's needed more broadly for the future.
According to plenary speaker Khurram Nasir, MD, MPH, MSc, FACC, from Houston Methodist, one of the major challenges to managing costs related to cardiovascular disease is the nonexistence of a data-supported infrastructure or tools for stakeholders to guide and implement best practices across the care continuum.
"Data is the tool, not a thing in and of itself. We need to invest in the analytics, the questions and the health care results we want the data to help inform ... The same old thinking will produce the same old results."
Every cardiovascular specialist, every cardiovascular team, every cardiovascular service line, every organization involved with the delivery of cardiovascular services must generate value for patients and payers;
we must generate value for society.
— ACC and MedAxiom CEO Tim Attebery, DSc, MBA, FACHE
Other meeting topics included a look at successful cardiovascular hospitalist programs; use of cardiovascular scorecards; best practices in areas of compensation redesign, appropriate staffing, and "dis-integration"; and the importance of advocacy in shaping the future of the profession.
Pat Holloway, CPA, president of the Cardiovascular Advocacy Alliance (CAA) and ACC Advocacy Vice President Nick Morse, highlighted the ways that MedAxiom and the ACC are working together on Capitol Hill to inform legislative, regulatory and legal policies that impact the cardiovascular community.
ACC and MedAxiom CEO Tim Attebery, DSc, MBA, FACHE, summed up the importance of the meeting best, saying: "Every cardiovascular specialist, every cardiovascular team, every cardiovascular service line, every organization involved with the delivery of cardiovascular services must generate value for patients and payers; we must generate value for society."
The cardiovascular Transforum provided a valuable forum for sharing insights and learnings on how to make this happen.
Top 10 Takeaways From MedAxiom Fall CV Transforum
What great energy and ideas! I was pleasantly challenged by the expertise of not just faculty but attendees at the networking sessions and pod discussions. The spirit of teamwork and collaboration could not be more apparent.
We've emphasized dyad leadership in our cardiovascular leadership models, but here's an insight: there may be value in triad leadership (physician, administrator and nursing) to lead our clinical enterprises.
Some estimate that there is a 20 percent avoidable cost to health care. If we consider that we spend $300 billion on cardiovascular care annually, we may have $60 billion to recuperate.
With triangulation of virtual care, remote monitoring and artificial intelligence (AI)-driven care, digital transformation is upon us.
In 1950, medical information doubled every 50 years. In 2020, medical information will double every 73 days. We need disruptive technologies and models to separate the wheat from the chaff before we are overwhelmed.
Value is not just cost. Value is quality, safety, equity, service and access over cost.
The future of cardiovascular health care is advanced analytics to not just report data, but predict clinical events and quality/cost outliers.
There is great potential by marrying MedAxiom cost/operational data with NCDR quality data. The future for cardiovascular measures/benchmarks is bright.
AI will not make physicians obsolete. But physicians and health care systems that do use AI will make those that don't obsolete.
Our cardiovascular health care is too siloed. We will need to move to patient-centered integrated business units, led by physicians, if we are to succeed in today's challenging health care environment.
Akshay K. Khandelwal, MD, FACC, is the chair of ACC's Board of Governors and is an interventional cardiologist at the Henry Ford Hospital in Detroit, MI.
Keywords: ACC Publications, Cardiology Magazine, Hospitalists, Protestantism, Privacy, Continuity of Patient Care, Patient-Centered Care, Registries, Hospitalization, Cardiovascular Diseases, Artificial Intelligence
< Back to Listings