The Pulse of ACC
ACC Wins Awards for Leadership, Excellence in Education; More JACC Journals in PubMed Central; More ACC Wins Awards for Leadership, Excellence in Education; More JACC Journals in PubMed Central; More.
ACC Wins Prestigious Awards For Leadership and Excellence in Education
The ACC's COVID-19 Summer Education Series, as well as its collaborative work with Infopro Learning on NCD Academy stroke and cardiovascular disease prevention content, were recently recognized with four prestigious Brandon Hall Group Human Capital Management (HCM) Excellence Awards.
ACC Latin America Conference Has New Vice Chair
The ACC has selected the next ACC Latin America U.S. Vice Chair for 2022 and 2023 – Juan Aranda, MD, FACC. Aranda will automatically assume the role of U.S. co-chair for 2024 and 2025.
JACC: Case Reports and JACC: CardioOncology Now in PubMed Central
JACC: Case Reports and JACC: CardioOncology are now fully indexed on PubMed Central, broadening access to the journals' cardiovascular research and educational content. PubMed Central is the National Institutes of Health's National Library of Medicine (NIH/NLM)'s free, full-text archive of biomedical and life sciences journal literature, currently holding more than 7.3 million articles.
Matching Gift Opportunity: Double Your Impact on COVID-19 Relief Efforts
ACC's Americares Campaign to help front-line COVID-19 relief efforts around the world just got an additional boost thanks to a generous matching gift of up to $25,000 from the J.F. Maddox Foundation, as designated by ACC Board of Trustees Member Thomas M. Maddox, MD, FACC.
The ACC launched its Americares Campaign with a $25,000 seed gift earlier this year. Since then, more than $30,000 has been raised towards Americares' Resilience and India funds, both of which provide direct support in the form of medicine and supplies to health care providers on the front lines battling COVID-19.
With numbers once again on the rise in the U.S. and around the world, this matching gift opportunity comes at a vital time. Tax deductible contributions can be made online now at Americares.org/ACC and will be matched up to $25,000 between now and Oct. 1.
Learn more and helps us reach our next $50,000 COVID-19 relief goal by Oct. 1 at Americares.org/ACC.
In Memoriam: Daniel M. Philbin, MD, FACC
Daniel M. Philbin, MD, FACC, a leader in the development of cardiac anesthesia as a subspecialty, died on August 14 at the age of 86 after a short illness.
Born in Dunmore, PA, he was raised along with his eight siblings in Milford, CT. He was educated entirely on merit scholarships at the Fairfield Preparatory School in CT, Duquesne University in Pittsburgh, PA, and the Saint Louis University School of Medicine in MO. After completing his internship in 1961, he served a tour of duty from 1962 to 1964 in the U.S. Navy as a Lieutenant in the Medical Corps; he remained in the Naval Reserve until 1966.
Philbin completed his residency training at Columbia University in NY, where he served as chief resident and as a National Institutes of Health postdoctoral fellow. He then joined the faculty at the Massachusetts General Hospital in Boston in 1971 and ultimately directed its section of cardiac anesthesia in the 1980s and early 1990s. He served as professor of anesthesia at Harvard Medical School and as a visiting professor and fellow of Magdalene College, Oxford, UK. He completed his career as the academic vice chairman of the anesthesia department at the University of Massachusetts in Worcester.
During his career, Philbin authored more than 70 scientific papers and 20 chapters in medical texts. He was a recognized authority on the hemodynamic and hormonal responses of cardiac surgical patients and his research, which continues to be widely cited in medical journals, brought him international prominence in his field. Philbin trained a generation of cardiac anesthesiologists currently practicing throughout the world.
Philbin was a founding member of the Association of Cardiac Anesthesiologists and he served a term as its president, and was a diplomate of the American Board of Anesthesiology, for which he served as an oral examiner for 20 years. He was a Fellow of the American College of Cardiology and the Royal Society of Medicine, a member of the American Physiological Society, and served on the editorial board of Anesthesia and Analgesia.
He is survived by two sons, Patrick F. Philbin, of McLean, VA, and Daniel M. Philbin Jr., MD, FACC, of Warwick, RI, who directs the Arrhythmia Service at Brown University and is the past chair of ACC's Board of Governors, and five grandchildren. He had been married to his wife Patricia for 54 years when she died.
"I continue to meet physicians across the country and the world who knew my father both personally and by reputation," says the younger Dr. Philbin. "It says something about him that I really had no idea how prominent he was in his field until I was well into my own training. He was unassuming and dedicated to his family, and he managed to make time for us growing up in a way that a true "triple threat" would find very challenging in our current medical world. I hope to live up to his example, but he will be a tough act to follow."
"It was my great pleasure during my cardiac surgical training in Boston to work with and learn from Dr. Philbin," says Robert A. Guyton, MD, FACC, professor of surgery at Emory University School of Medicine. "Learning from him was a privilege as he taught experiential knowledge by powerful illustrations, clinical reasoning by his persuasive intellect and equanimity by personal example. He lives on in so many of us who were fortunate enough to have our journeys overlap, even for a brief time, with his. Godspeed my friend!"
Be Counted and Show Your Support!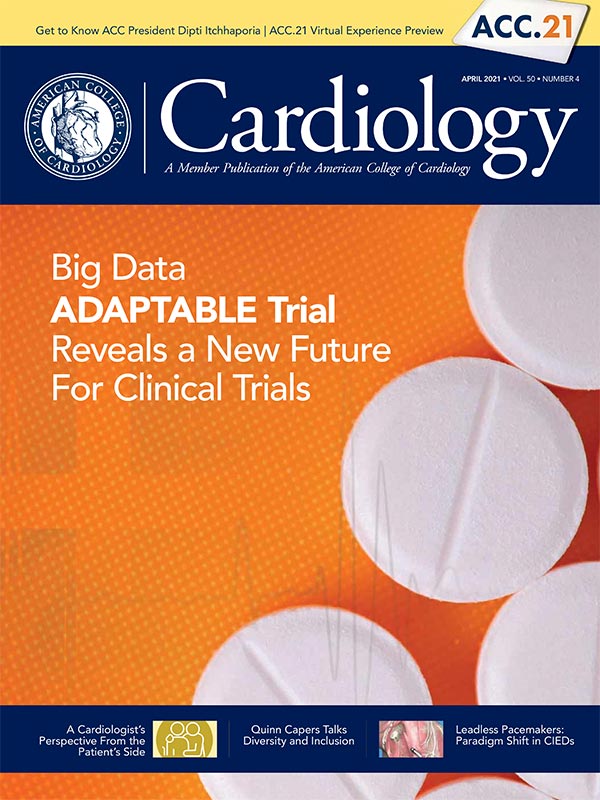 Let the world know you're reading Cardiology, ACC's official member magazine, and get counted in an upcoming reader survey conducted by Kantar.
In the coming months, you may be randomly selected for this Kantar survey that looks at what cardiovascular professionals are reading and the resources they rely on to stay current for clinical practice today. Watch for the survey in your email and please respond to show your support for your member magazine. Thank you!
Clinical Topics: Arrhythmias and Clinical EP, Cardiovascular Care Team, COVID-19 Hub, Noninvasive Imaging, Implantable Devices, SCD/Ventricular Arrhythmias, Atrial Fibrillation/Supraventricular Arrhythmias, Computed Tomography, Nuclear Imaging
Keywords: ACC Publications, Cardiology Magazine, Access to Information, Analgesia, Anesthesia Department, Hospital, Anesthesia, Cardiac Procedures, Anesthesiologists, Anesthesiology, Arrhythmias, Cardiac, Asia, Awards and Prizes, Biological Science Disciplines, Boston, Cardiology, Cardiovascular Diseases, Clinical Reasoning, Cognition, Computers, Connecticut, COVID-19, Culture, Deductibles and Coinsurance, Education, Continuing, Education, Distance, Electrocardiography, Faculty, Family Characteristics, Fathers, Fellowships and Scholarships, Financial Management, Friends, Goals, Health Personnel, Hemodynamics, Internship and Residency, Latin America, Missouri, Motivation, National Library of Medicine (U.S.), New York, Noncommunicable Diseases, Patient Care, Pleasure, Primary Health Care, Professionalism, PubMed, Reading, Registries, Siblings, Specialization, Spouses, Stroke, Surveys and Questionnaires, Tomography, X-Ray Computed, Trustees, Universities, Volunteers
< Back to Listings