Feature | CV Summit Highlights Strategies to Optimize Teamwork, Leadership and Patient Outcomes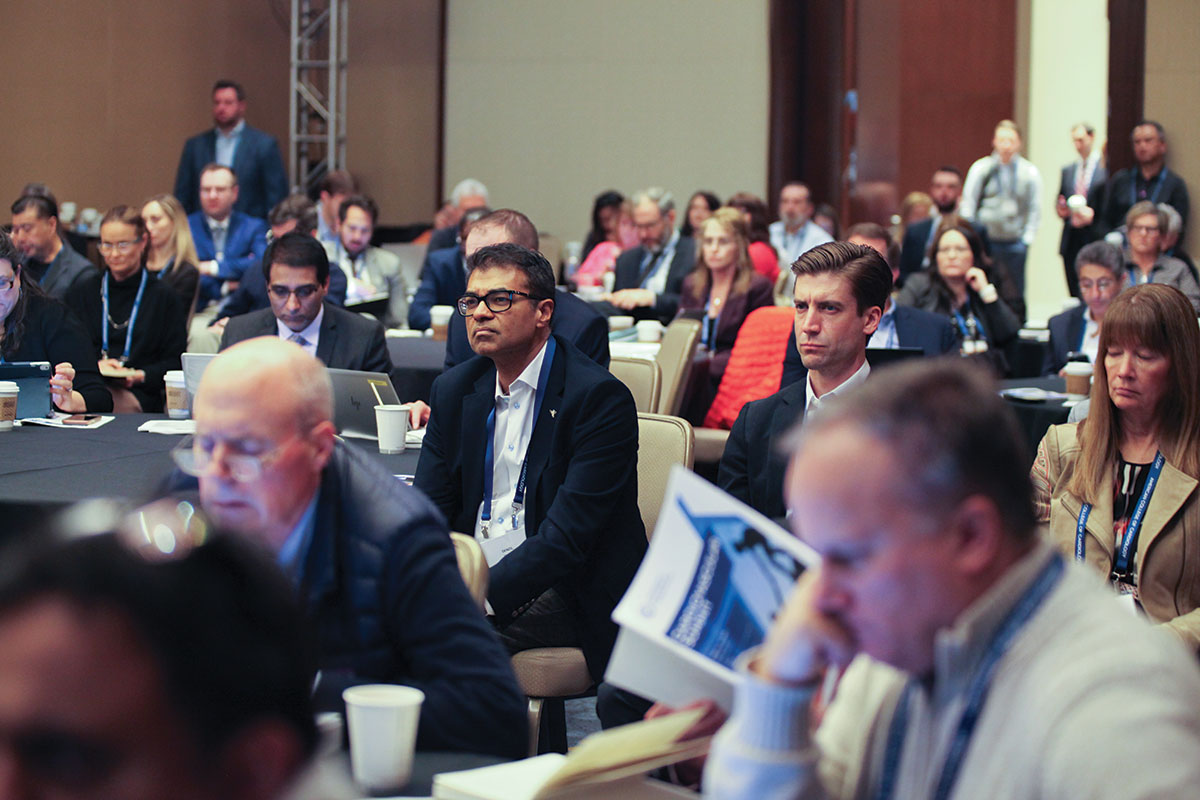 Nearly 300 participants and faculty took advantage of the ACC's 2023 Cardiovascular Summit (CV Summit) in Washington, DC, last month to catch up on the latest skills, best practices and strategies to advance cardiovascular patient care, improve health outcomes and sustain workforce well-being in today's evolving health care environment.
The annual three-day Summit, led by Course Director Howard T. Walpole Jr., MD, MBA, FACC, and Course Co-Directors Cathleen Biga, MSN, FACC, and Geoffrey A. Rose, MD, FACC, brought together cardiovascular professionals from all practice settings — private, integrated and academic — and featured the latest information on critical nonclinical topics like physician compensation, the emergence of private equity, subspecialty clinic formation, cardiovascular service line trends and more.
A series of sessions and workshops also focused on leadership strategies that can help drive and foster collaboration, health equity, teamwork and create a culture of safety and inclusion, while others took a more futuristic approach to cardiovascular care through the lens of artificial intelligence use, value-based care and more.
Joint society sessions featuring leaders and experts from the American Society of Nuclear Cardiology, Society for Cardiovascular Angiography and Interventions, Society of Cardiovascular Computed Tomography, Heart Rhythm Society and Society for Cardiovascular Magnetic Resonance, added important perspectives to discussions on topics like understanding the RUC process, the economics of advanced imaging, the future of echocardiography, recruitment and retainment of the cardiovascular workforce and physician participation in joint ventures.
"Today, the CV Summit serves as the feeding ground for new ideas and the most effective ways to implement them," said Biga. "I, along with my fellow meeting chairs Drs. Bo Walpole and Geoff Rose, built a program that we hope allowed participants to come away with key take-a-ways that can easily be brought back to clinics, academic centers. and health systems.
CV Summit Science Examines Benefits of Telehealth
Use of telehealth post pandemic can increase access to cardiovascular care and improve efficiency and outcomes for patients undergoing cardiac rehabilitation, according to two studies presented at the CV Summit.
In one study, implementation of a standardized telehealth framework at a large, multi-site practice in Jacksonville, FL, helped improve access to cardiovascular care. The practice instituted a quality improvement project in June 2022 to implement a single, structured, patient-centered and efficient telehealth service. Based on data analysis of telehealth visits conducted before a structured framework was implemented and then after implementation, researchers found telehealth visits increased by 217%, demonstrating increased patient access to cardiology providers.
"Implementation of a structured cardiology telehealth framework provided an optimal and efficient model," said Tala Fanek, PharmD. "Qualitative provider results show increased confidence in delivering appropriate, evidence-based virtual care."
Another study explored how a 24 working day ambulatory treatment protocol for complex hybrid cardiac telerehabilitation can improve the physical capacity of cardiovascular disease patients. Looking at 58 ambulatory cardiovascular disease patients referred in 2020 for cardiac rehabilitation, researchers found that a significant improvement was seen in functional capacity following the program. According to abstract author Agnieszka Zebrowska, MD, 64% of patients had returned to work in September 2022 compared to only 12% at the beginning of the program.
The protocol, designed by a group of cardiologists, nurses, physiotherapists and other care team members in Warsaw, Poland, during the COVID-19 pandemic, included cardiac consultations, electrocardiograms (ECG), transthoracic echocardiograms, exercise tests, ECG Holter monitoring, 10 days of ambulatory training, education and psychotherapy, followed by home-based cardiac telemonitored Nordic Walking training.

Today, the CV Summit serves as the feeding ground for new ideas and the most effective ways to implement them.
– Cathleen Biga, MSN, FACC
Clinical Topics: Arrhythmias and Clinical EP, Cardiovascular Care Team, COVID-19 Hub, Invasive Cardiovascular Angiography and Intervention, Implantable Devices, SCD/Ventricular Arrhythmias, Atrial Fibrillation/Supraventricular Arrhythmias, Interventions and Imaging, Angiography, Nuclear Imaging
Keywords: ACC Publications, Cardiology Magazine, CV Summit, Artificial Intelligence, Leadership, Workforce, Angiography, Physicians, Faculty, Telerehabilitation, Pandemics, COVID-19, Cardiologists, Physical Therapists, Cardiovascular Diseases, Cardiology, Telemedicine, Psychotherapy, Electrocardiography, Arrhythmias, Cardiac, Referral and Consultation, Nurses
< Back to Listings