Helping Congress Transform Cardiovascular Care
May 18, 2016 | Michelle Hadley, DO
Advocacy
I have always wanted to be impactful. In October, I attended ACC's 2015 Legislative Conference in Washington, DC. We met with our representatives on the House side, as well as with our senators. Unfortunately at that time, my district congressman was not in DC. Therefore, I took it upon myself to schedule a meeting in Worcester, MA, to meet with him.
Rep. Jim McGovern's (D-MA) office was a big open floor plan. All the side doors were open and every turn seemed to be greeted with a smiling face. Before I had time to completely take off my coat, The congressman walked out to introduce himself and extended his hand with a pleasant smile.
We began by engaging in self-identification, something I learned at Legislative Conference. I was looking forward to our meeting, but did not expect him to be as interested as he was. The conversation was easy: I showed my knowledge of his forthcomings, successes and literal growth in Worcester. He told me about his family's connection to Worcester, with a radiating pride.
After an easy transition, I began to discuss the ACC's major advocacy objectives: McGovern was already 'on board' to support increased funding for the National Institutes of Health (NIH) and U.S. Food and Drug Administration (FDA) with the 21st Century Cures Act. In fact, he said he would push for even greater funding. He agreed that Congress should work with medical specialty societies and federal agencies on the Medicare Access and CHIP Reauthorization Act of 2015 (MACRA), legislation aimed at creating a greater quality of care and meaningful quality measures. We conversed in detail on electronic health record (EHR) usability, as well as cardiac rehabilitation (rehab) with regard to the H.R. 3355/S. 488 legislation, which would allow advanced practice clinicians to supervise cardiac rehab programs.
McGovern could personally relate to the troubles with EHRs and the difficulty that practitioners face when attempting to obtain information on a patient from a previous hospital or primary office. Not only did I illustrate an impactful scenario that required prompt record obtainment for optimal patient care, but he also told me a personal story of when he, too, watched a loved one need care and information from another facility. He agreed that communication and EHR usability needed to be improved and that obtaining this goal will continue to be a retrospective challenge.
When the conversation turned to H.R. 3355/S.488, Rep. McGovern told me that he was unaware of the legislation. I explained that allowing physician assistants, nurse practitioners and clinical nurse specialists to supervise cardiac, intensive cardiac and pulmonary rehab programs would not only expand access to cardiac rehab, but it would also help lower the risk of future cardiovascular complications, as well as improve public health and return to work rates. Of course, McGovern was curious as to exactly how I came to this assumption. I was proud to explain that education, counseling and evaluations through rehab programs have been shown to lower the risk of future cardiovascular complications. I also reminded him that, although in Worcester we are fortunate to have a plethora of physicians, there are many areas where physicians are scarce, and delegating the work to fully capable providers would be ideal. I also explained that in both rural and urban areas, having a physician supervise cardiac rehab would impose unnecessary costs, and such resources could be beneficial elsewhere. He quickly agreed and vehemently circled the bill on the hand out that I had supplied him with. McGovern then took it a step further and asked his staff, right then and there, to make a note of the bill and "get his team working on it".
Meeting with McGovern has allowed me to take my first independent steps in defining my career as an active member of the ACC. Attending ACC's Legislative Conference helped me to carry on my conversation with McGovern with a sense of ease and confidence, which will allow me to continue growing my relationship with the congressman.
I am confident we will continue to assist each other in bettering the community, politics and individual health. He has accepted an invitation to join me at St. Vincent for a practice visit to get a better understanding of my day-to-day work and the challenges facing cardiovascular clinicians. In his joyful words, "I'll be a heart doc for a day."
If you're interested in scheduling a practice visit with a federal legislator, contact Elizabeth Shaw at eshaw@acc.org. For practice visits with state legislators, contact Kelly Memphis at kmemphis@acc.org.
This post is part of a series of blogs from members actively involved in ACC's grassroots advocacy efforts. Learn more about ACC Advocacy on ACC.org, and join the conversation on Twitter by following @Cardiology and using the hashtag #ACCGrassroots.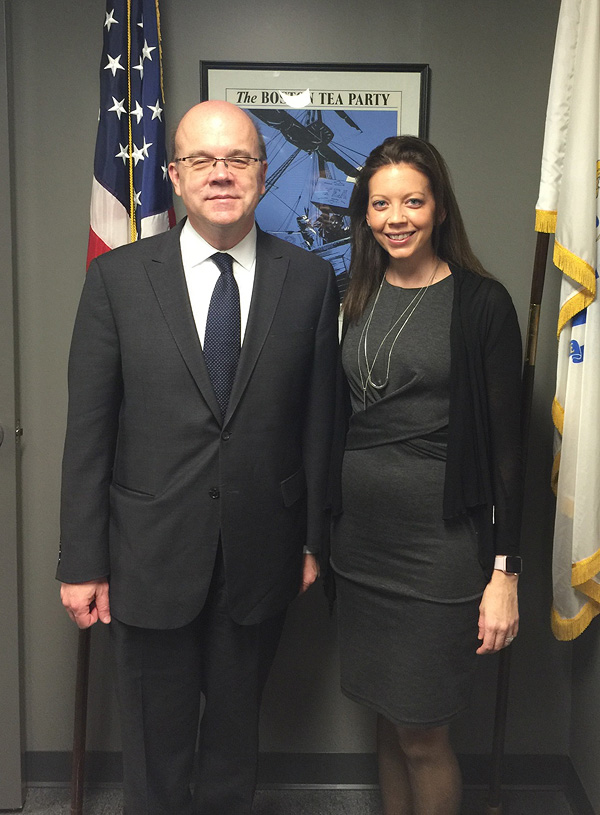 ---
This post was authored by Michelle Hadley, DO, a fellow in training at St. Vincent Hospital in Massachusetts.