Life Coaching: A Framework to Incorporate Well-Being, Purpose and Fulfillment in Daily Life
There is increasing recognition of burnout and feeling a lack of well-being, purpose and fulfillment in medicine. Recently, people have started to feel empowered to open a healthy dialogue about these issues on a variety of platforms.
National databases report almost half of U.S. physicians experience work-related burnout, often characterized by a sense of cynicism, mental and emotional exhaustion, culminating in significant fatigue and poor self-esteem.1 An ACC survey of 2,025 cardiologists found more than 35% reported burnout and 43.9% expressed high levels of stress.2 This has been intensified in light of the pandemic, with higher stress and social isolation experienced by frontline workers.
The ACC Wellness Workgroup, established in early 2019, advocates for physician well-being in cardiology and collaborates with key stakeholders in executing well-being initiatives.3 This is based on the knowledge that improving physician well-being translates to enhanced patient care. The ACC actively prioritizes clinician wellness by implementing systemic initiatives to improve physician well-being as part of the ACC 2020-2023 Strategic Plan.
I truly believe in the power of the individual to build resilience and promote well-being and as a certified life coach, I have learned invaluable tools for personal and professional development. Life coaching offers a holistic approach to navigating careers by facilitating personal growth and improving quality of life and one's lived experience at work. Importantly, life coaching tools promote emotional and social intelligence, which are essential to improving communication and creating a supportive work culture. Studies show a strong association between emotional intelligence, well-being and job satisfaction,4 and an inverse correlation with burnout.5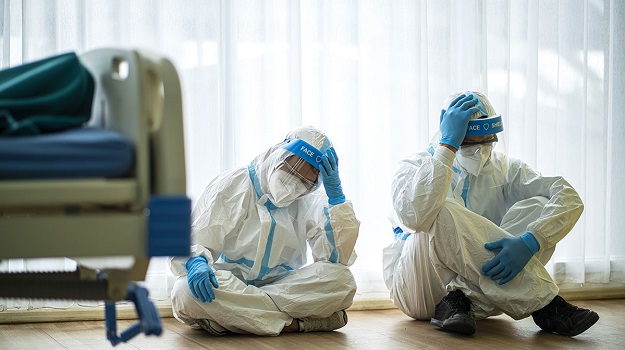 Recently, I have been privileged to work as a life coach with medical professionals in various disciplines and career stages. Through personal experience, I can relate to themes of acute and chronic stress, feeling undervalued at work, and a general lack of purpose/value in daily life. During my training, I recall my stress predominantly centered around fears of how others perceived me and of being misunderstood or misinterpreted at work. During coaching sessions with colleagues, we explored deep-rooted feelings of mistrust and a low sense of confidence resulted in feeling vulnerable at work.
I now recognize that to overcome burnout, one must invest in cultivating meaningful, trustworthy and healthy relationships, especially in our workplace. We must recognize that the quality of our interpersonal relationships strongly influences workplace culture, our sense of belonging and can have a major impact on our well-being, stress levels and perceptions. Life coaching can help us develop self-confidence and self-trust, broaden perspectives on how we relate with ourselves, our environment and others, and develop relationships built on trust.
Life coaching principles have broad applications to the workplace:
1) Develop trust
'Self-trust' allows us to understand ourselves, identify our priorities, commit to work schedules, thereby enhancing our productivity/potential and helping us develop a healthy balance of work challenges and home responsibilities. Being sensitive and understanding of others' needs can further improve our sense of belonging, acceptance and connection in professional relationships.
2) Empathy
Learning to see the world from another perspective can help us grow, care for each other as a team and invest in mutual goals.
3) Create purpose-driven communities
This enables a vulnerable and open dialogue, allows members to share ideas and promotes diversity and inclusion.
Investing in life coaching skills can support personal and professional development throughout career milestones as health care providers, teachers and leaders. As we navigate to a new normal, we must consider empowering ourselves through the holistic approach of life coaching.  I hope to introduce a few actionable, coaching-based tools in the upcoming issues of the ACC On-Call For FITs newsletter.
This content was developed independently from the content developed for ACC.org. This content was not reviewed by the American College of Cardiology (ACC) for medical accuracy and the content is provided on an "as is" basis. Inclusion on ACC.org does not constitute a guarantee or endorsement by the ACC and ACC makes no warranty that the content is accurate, complete or error-free. The content is not a substitute for personalized medical advice and is not intended to be used as the sole basis for making individualized medical or health-related decisions. Statements or opinions expressed in this content reflect the views of the authors and do not reflect the official policy of ACC.
References
1. Peckham C. Medscape Lifestyle Report 2017: race and ethnicity, bias and burnout. https://www.medscape.com/features/slideshow/lifestyle/2017/overview. Updated July 30, 2018. Accessed July 25, 2018.
2. https://www.acc.org/about-acc/press-releases/2020/03/28/09/02/burnout-a-major-and-growing-issue.
3. Khandelwal A, Mehta L, Lilly S and Velagapudi P. The Imperative of Addressing Clinician Well-Being. J Am Coll Cardiol. 2020;75:118-121.
4. Fiorilli C, Benevene P, De Stasio S, Buonomo I, Romano L, Pepe A and Addimando L. Teachers' Burnout: The Role of Trait Emotional Intelligence and Social Support. Front Psychol. 2019;10:2743.
5. Mérida-López S. E. NE. Emotional intelligence and teacher burnout: a systematic review. Int J Educ Res. 2017;85:121–130.
This article was authored by Suvasini Lakshmanan, MD, Advanced Cardiac Imaging Fellow in Training at Harbor UCLA.