Conversations With Cardiologists: Why Art and Mentorship Matter
Nazanin Moghbeli, MD, is an Iranian-American professional artist and cardiologist. She is the director of the Cardiac Care Unit (CCU) at Einstein Medical Center in Philadelphia, an educator of medical humanities programs, and my mentor. Since the beginning of my fellowship, she has coached me through challenging situations, encouraged my leadership on the hospital's shock team, and partnered with me to launch and develop the Einstein Women in Cardiology Initiative. Dr. Moghbeli has played an integral role in my professional development as a cardiology fellow and I believe her perspective is worth sharing with the ACC FIT community.
Dr. Moghbeli and I recently met for an interview in her office which houses works from "Rupture," a series she describes as visual vignettes of diagnostic moments, oil paintings of Iranian heritage sites, and the calligraphy series she is "constantly tweaking." Like her art, the warm office space stimulates conversation on experience, process and progress.
How has mentorship shaped your career?
I am fortunate to have amazing mentors. They advised me based on my goals, not their personal agenda. This mentoring style helped me pinpoint what I wanted to do and taught me how to mentor others by asking clarifying questions and listening with an open mind.
What specific advice did your mentors give you?
I have a public health background and started as a primary care resident. My mentor, who was also my program director, gave me compassionate and critical feedback on what I did well and what I could improve. She asked me questions that confirmed I wanted to study cardiology. Then, she gave me concrete steps on how to make it happen.
What is your leadership style?
My style is honest, direct and authentic.
What skills help you as leader?
Feeling comfortable asking for help and advice.
Reading. I start every day by reading from all kinds of books, journaling and reflecting for one hour.
Having a professional coach. I had one for a year and a half. We role-played tricky situations, and I completed a 360 evaluation which helped me get a sense of how I was perceived.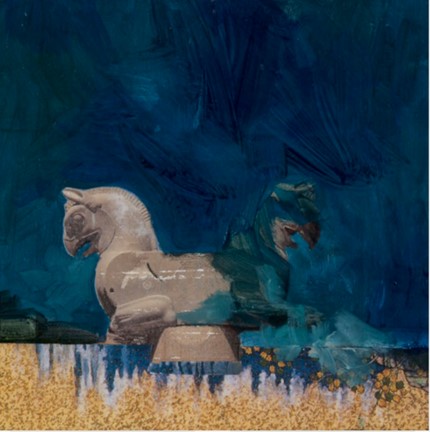 How are your experiences as an artist and cardiologist connected?
I find a rich overlap between art and medicine with many opportunities for teaching at their intersection. I work with residents, faculty and nursing. I facilitate workshops on how we look at art, and how we use visual arts to cultivate self-reflection, identity formation as professionals, empathy for patients, and communication. I see this neutral creative space as a springboard for core competencies of professional development. I also see making art as restorative for my work as a cardiologist. It is easy to burn out as a doctor and in life—we get saddled with responsibilities and routines. I need to engage in an activity that absorbs me, keeps me present, allows me to be alone, and allows me to do something creative. I am an advocate for each person, especially those in health care, to cultivate a personally meaningful restorative practice.
In a recent interview you said, "Resilience comes from hardship followed by meaningful recovery." What is one hardship you faced in your career and how did you recover?
I remember a day in the beginning of the COVID-19 pandemic. I was the CCU attending. A patient was transferred from telemetry for acute hypoxic respiratory failure and coded in the hallway outside the CCU. After 45 minutes of coding, she was pronounced dead. Immediately after this, the lab informed us she had COVID-19. She was one of the first cases. We had no idea how serious it was, and my heart sank. All the people I directed in the resuscitation of the patient were exposed to COVID-19. I felt like I let them down and failed to protect them. The patient died, which made me feel worse. Afterwards, I went to my studio since I was exposed to COVID-19 and could not go home. I changed out of my scrubs and entered this whole other zone. My mind processed what happened and as I painted, and I eventually felt the tension release. It was a defining moment of the importance of resilience and the unique ways we can build it.
How can women in cardiology empower themselves professionally?
Seek tools that emphasize skill building of professional development; such as workshops, conferences and leadership courses.
Find a good mentor and possibly a professional coach.
Be honest with yourself about deficiencies and weaknesses and how you can change them. Change them as unemotionally as possible.
By embracing the duality of cardiology and art as well as bringing her authenticity and creativity to both worlds, Dr. Moghbeli creates a path for others to find their way. Her very presence in my workplace promotes professional growth and broadens my vision of a career in cardiology. Her mentorship is very important to me.
This article was authored by Lauren Hunter, MD, a FIT at Einstein Health Network, Philadelphia PA.
This content was developed independently from the content developed for ACC.org. This content was not reviewed by the American College of Cardiology (ACC) for medical accuracy and the content is provided on an "as is" basis. Inclusion on ACC.org does not constitute a guarantee or endorsement by the ACC and ACC makes no warranty that the content is accurate, complete or error-free. The content is not a substitute for personalized medical advice and is not intended to be used as the sole basis for making individualized medical or health-related decisions. Statements or opinions expressed in this content reflect the views of the authors and do not reflect the official policy of ACC.