Quality Improvement For Institutions: ACC's Public Reporting: Quality Improvement Through Transparency
Quality counts. For patients and their families knowing the quality of cardiovascular care at their local hospitals is one factor they can use to determine where to go for care. This is important information to have even before a cardiac emergency develops and the reason behind ACC's voluntary public reporting program.
Is Your Hospital Publicly Reporting?
Search for your institution's Hospital Profile. If your hospital is listed as not participating, encourage your leadership and Registry Site Manager to opt-in. How does a hospital participate? The NCDR Reporting Team makes it easy. A communications toolkit for hospitals, data release consent forms, complete participation details and more are available at CVQuality.ACC.org/publicreporting.
Launched in 2015, the program is designed to give hospitals a vehicle to voluntarily report process of care measures via their NCDR participation and to give patients the information and knowledge they need to identify facilities providing the best care.
How does it work? For hospitals participating in the CathPCI Registry, ICD Registry and, most recently, the Chest Pain – MI Registry, voluntary reporting of their process of care measures is a natural next step in their work to bridge gaps between science and practice to improve their delivery of cardiovascular care.
It gives every participating hospital the opportunity to broadcast their commitment to quality improvement along with leading the way towards a more transparent health care system.
A recent report from the NCDR Public Reporting Group in the Journal of the American College of Cardiology highlights additional benefits.1
"First, the public has a growing desire for this information; thus, providing these NCDR data demonstrates a good faith effort to deliver high-quality clinical data to assist patients' health care decisions," the authors note.
"Second, value-driven purchasing, which will include public access to provider performance, will be dominant within several years."
To date, over 700 hospitals around the country have opted in to the program and are reporting data on ACC's Find Your Heart a Home tool, the patient-facing component of the public reporting program on CardioSmart.org.
Access to this credible information about quality of care empowers patients to find, search and compare hospitals and make better informed decisions about their care.
With the expansion of the program to include performance metrics from the Chest Pain – MI Registry (see Table) more patients and hospitals can benefit. Improved navigation and a new look to the Find Your Heart a Home tool makes it easier to take advantage of these benefits.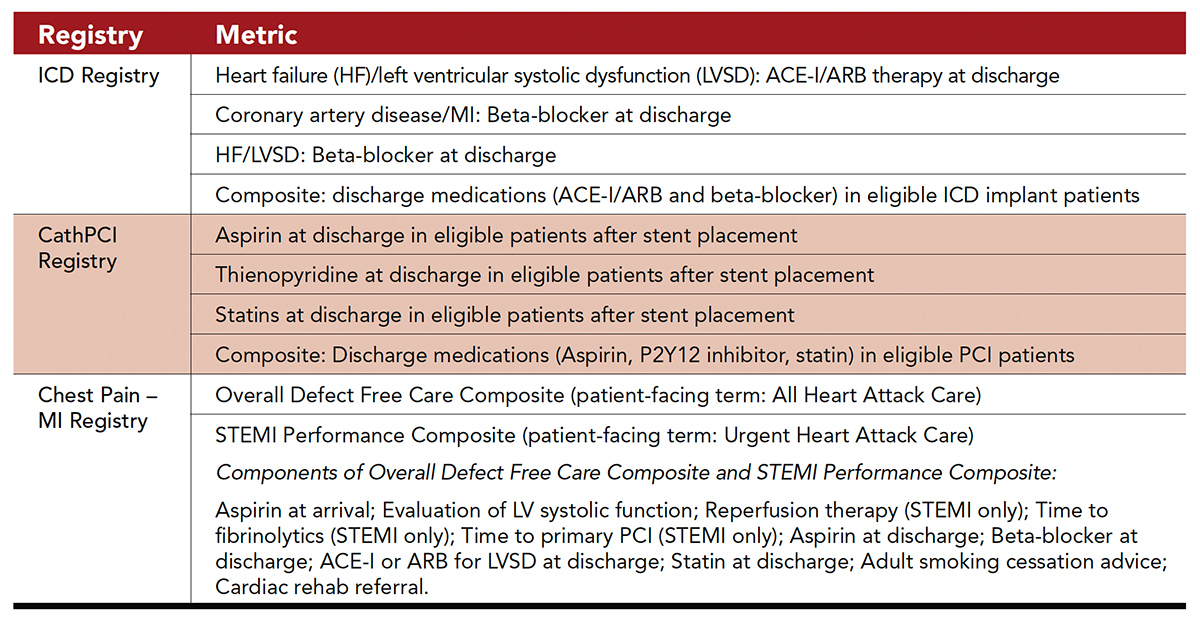 "The addition of the composite performance metrics from the Chest Pain – MI Registry is a big step forward for ACC's public reporting program," says Gregory J. Dehmer, MD, MACC, chair of ACC's Public Reporting Advisory Group.
"These composite metrics include 11 different key performance indicators related to care of the patient with a STEMI. These composite metrics distill this into a single score that should be easier for patients to understand."
Another benefit to hospitals, according to Dehmer, is that participating hospitals earn a transparency credit of up to three points towards their annual Best Hospitals Rankings and Review by the U.S. News and World Report.
Currently this credit is given for publicly reporting CathPCI and/or ICD registry data on the Find Your Heart a Home tool. Credit is also given for publicly reporting data from the Society of Thoracic Surgeons (STS) registry.
---
Reference
Dehmer GJ, Jennings J, Madden RA, et al. J Am Coll Cardiol 2016;67:205-15.
Keywords: ACC Publications, Cardiology Magazine, Quality Improvement, Myocardial Infarction, Registries, Hospitals, Chest Pain, Surgeons, National Cardiovascular Data Registries, ICD Registry, CathPCI Registry, Chest Pain MI Registry
< Back to Listings