Cover Story | New Orleans Inspires Innovation, Vibrancy and Multidimensional Education at ACC.19
Search New Orleans on Google and be prepared for a wide array of adjectives like vibrant, eclectic, unique, culturally innovative, multidimensional, colorful and more.
The convergence of Spanish, French and African-American cultures has created a city that stands apart from any other city in the U.S. Like its host city, ACC.19 too stands out above the rest with its vibrant, innovative and unique opportunities for cardiovascular professionals from around the world to come together and unite around the shared goal of transforming cardiovascular care and improving heart health.
Over the course of three days, ACC.19 attendees will experience a multidimensional program designed to connect and engage the entire cardiovascular care team with the latest cutting-edge research and cardiovascular technologies; the best and brightest minds in the field; and hands-on education that can be easily implemented and shared with colleagues and patients back home – wherever in the world that may be.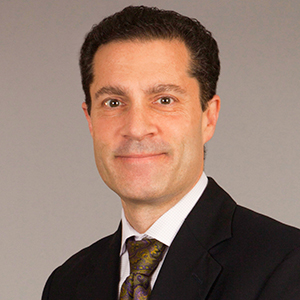 Andrew M. Kates, MD, FACC
"We pride ourselves in always innovating and always learning," says ACC.19 Chair Andrew M. Kates, MD, FACC. "While the fundamental core of the meeting – providing late-breaking clinical science and broad-based education as well as creating opportunities for networking and sharing of best practices – remains the same, we are constantly optimizing how we deliver this information and knowledge based on changing technologies and the different needs of cardiovascular professionals worldwide."
According to Kates, attendees should continue to expect less lecturing and more learning with briefer lecture formats and even more time for discussion. "Learners will be engaged with more interactivity, through panel discussions, debates and point-counterpoint talks, case presentations, ACC Talks and patient interviews," says Kates.
Additionally, the Engage@ACC.19 Studio where much of the learning is through gaming takes new modes of education to the next level. FIT Jeopardy, Vascular Shark Tank, Cardiology Contest, The Newlywed Game (reminding us we're more than partners, we're a team), Ask the EP Experts and CHD Family Feud are just a few of the scheduled sessions.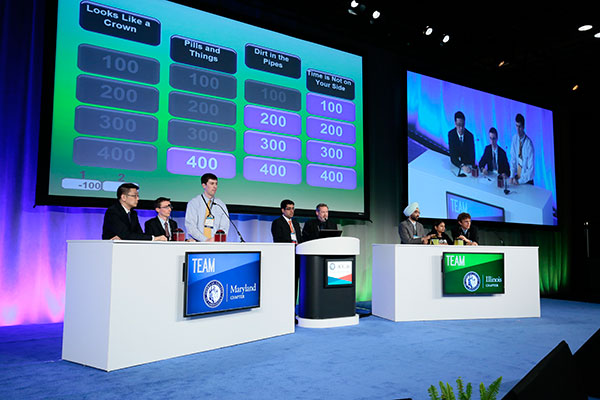 FIT Jeopardy
The studio is also the site of conversations with the legends in cardiovascular medicine: Harvey D. White, DSc, FACC; Richard E. Kuntz, MD; and Michael J. Mack, MD, FACC. New for 2019, live-streaming of select sessions and expanded Clinical Pathway "Tweeters" will encourage engagement and discussion beyond the New Orleans Convention Center.
68th Annual Convocation: Tradition With a Fresh Twist
Richard Kovacs, MD, FACC
C. Michael Valentine, MD, FACC
Inspired by New Orleans, a city that knows how to blend diverse cultures and traditions and add its own flare, ACC.19 will close with a revamped Convocation celebrating award winners, welcoming new Fellows and Associates, and introducing the ACC's new president, Richard Kovacs, MD, FACC.
Presided over by outgoing President C. Michael Valentine, MD, FACC, Convocation will recognize the dedication, hard work and professional achievements of Distinguished Award Winners and new MACCs. New this year, Young Investigator Award winners will be announced live on stage. In addition, Convocation will celebrate the many new FACCs and AACCs who have chosen to make the College their professional home.
The ceremony will close with the passing of the Presidential Chain from Valentine to Kovacs, professor of clinical medicine at the Indiana University School of Medicine and the clinical director of the Krannert Institute.
Join the fun and your colleagues in the Main Tent on March 18 at from 4:00 – 5:30 p.m. and stay for the reception in the Great Hall Foyer. Follow along on Twitter for live feeds, video and photo-sharing. Use #TheFaceOfCardiology and #ACC19.
All told, nearly 370 education sessions featuring 1,520 faculty will take place over three days, with a majority offering dual Maintenance of Certification (MOC) points/Continuing Medical Education (CME) credits, as well as chances to earn Continuing Nursing Education (CNE), Continuing Pharmacy Education (CPE) and External Continuing Medical Education (ECME) credits.
Five Late-Breaking Clinical Trial Sessions, three Featured Clinical Research sessions and two deep dive sessions – always a hallmark of the meeting – will draw those attendees looking to "hear it first," while seven Keynotes (including Roberto Canessa, MD, whose survival after a plane crash in the Andes made headlines and inspired a movie) offer one-of-a-kind insights on topics ranging from congenital heart disease to assessing a patient's genetic risk.
As always, every member of the cardiovascular care team, from Fellows in Training to Early Career professionals to those established in their careers, and from nurse practitioners to pharmacists to physician assistants, will find a program crafted by their peers. New, however, is greater integration of what were previously considered "International Sessions," reflecting the importance of understanding the variety of global issues affecting the delivery of cardiovascular care worldwide.
"Cardiovascular disease doesn't stop at borders or oceans," says ACC.19 Vice Chair Pamela B. Morris, MD, FACC. "Understanding the social, economic, political and other factors at play is crucial to preventing and treating the global cardiovascular disease epidemic. By integrating co-hosted symposia into the 11 Learning Pathways, we can achieve this important goal."
Pamela B. Morris, MD, FACC
The popular Lounge and Learn Pavilion – the central hub of ACC.19 – delivers on opportunities to connect with colleagues with similar interests and participate in informal educational sessions.
Additionally, the Heart 2 Heart Stage, embraced by attendees last year, returns for its second year, providing time and space for topics that go beyond clinical science, including: changing culture and advancing diversity and inclusion in the cardiology profession; demystifying the FDA; shifting focus and transitioning in the latter years of your cardiovascular career; social media for today's cardiologist; and even tips on how to tell your story.
Stay in the Know
Keep up with the latest scientific research and news from ACC.19 in New Orleans, from March 16 to March 18. ACC is providing live coverage throughout the meeting, including trial updates, news stories and live video wrap-ups.
Stay in the know by following @ACCinTouch on Twitter and Facebook and use the #ACC19 hashtag. Follow along with daily coverage via the ACC.19 Update e-newsletter or on ACC.org by bookmarking ACC.org/ACC2019.
Don't miss news from ACC's Quality Summit, held immediately before on March 13 to 15 in New Orleans, by following @ACCCVQuality.
Innovation and prevention literally take center stage at ACC.19, with the Apple Heart Study kicking off the LBCT sessions on Saturday following the Opening Showcase Session. An expert panel made up of industry and clinical experts will follow the LBCT presentation and provide their perspectives on the role digital technologies like the Apple Watch could play in preventing, managing and treating cardiovascular disease.
On Sunday, the highly anticipated ACC/AHA Guideline for the Primary Prevention of Cardiovascular Disease will be released, offering comprehensive yet targeted recommendations to guide clinicians in providing the best evidence-based care in adults.
In addition to these larger sessions, the Prevention Learning Pathway features deeper dives into not only the new Prevention Guideline, but the Cholesterol and Blood Pressure guidelines too. Managing cardiovascular risk in diabetes patients is also an important pathway topic.
On the innovation front, attendees can take advantage of an Innovation Bootcamp, as well as sessions on evaluating disruptive technology, the rise of intelligent machines and more. Returning for its second year as part of the ACC.19 Expo, the Future Hub will expose attendees to the latest innovations in digital health, medical devices and big data.
It will also serve as home for the Second Annual Innovation Challenge, a collaboration between the ACC and AngelMD, where entrepreneurs and innovators will pitch their ideas for artificial intelligence solutions and digitally-enabled medical devices.
"I'm proud of the connection between prevention and innovation that is woven throughout ACC.19," says Morris. "It underscores how far we have come from treating symptoms to looking closely at patients and populations to minimize risks and behaviors before symptoms even occur."
ACC.19 will close with the time-honored tradition of Convocation; but expect this year's closing ceremony to take on a whole new look and feel. Presided over by outgoing President C. Michael Valentine, MD, FACC, the event, which will start at an earlier time on Monday, will honor distinguished awardees and announce the winners of the Young Investigator Awards live. It will also welcome new FACCs and AACCs into the College and introduce incoming President Richard Kovacs, MD, FACC.
"New Orleans is a city that inspires us to be bold, daring and different," says Kates, "and we have risen to the challenge in all aspects of this meeting – from the Opening Showcase to the closing at Convocation. Welcome to New Orleans!"
Hear about the highlights of ACC.19 from Chair Andrew M. Kates, MD, FACC and Co-Chair Pamela B. Morris, MD, FACC.
2019 Distinguished Awardees
Bernadine Healy Leadership in Women's CV Disease Award
Martha Gulati, MD, MS, FACC
Distinguished Award for Leadership in Diversity and Inclusion
Richard Allen Williams, MD, FACC
Lifetime Achievement Award
Martin B. Leon, MD, FACC
Distinguished Teacher Award
Samuel J. Asirvatham, MBBS, FACC
Gifted Educator Award
Glenn N. Levine, MD, FACC
Distinguished Mentor Award
Morton J. Kern, MD, FACC
Distinguished Fellowship Award
George D. Dangas, MD, PhD, FACC
Distinguished Scientist Award (Basic Domain)
Arthur Feldman, MD, PhD, FACC
Distinguished Scientist Award (Clinical Domain)
Robert O. Bonow, MD, MACC
Distinguished Scientist Award (Translational Domain)
Douglas L. Packer, MD, FACC
Douglas P. Zipes Distinguished Young Scientist Award
Amit V. Khera, MD
Distinguished Service Award
Eduardo Manuel da Cruz, MD
International Service Award
Fausto J. Pinto, MD, PhD, FACC
Distinguished Associate Award
Mona Fiuzat, PharmD, FACC
Honorary Fellow
Cathleen Biga, MSN, RN
Master of the ACC (MACC)
Michael H. Crawford, MD, FACC
Master of the ACC (MACC)
Linda Gillam, MD, FACC
Master of the ACC (MACC)
C. Michael Valentine, MD, FACC
Master of the ACC (MACC)
Christopher J. White, MD, FACC
Be inspired: ACC.19 Keynotes
Leave ACC.19 inspired by the diverse ideas, experiences and perspectives of leaders from around the world. The Keynotes featured throughout ACC.19 have each been selected based on their outstanding contributions to the field of cardiovascular medicine.
Simon Dack Keynote
Roberto Canessa, MD
The Triumph of the Human Spirit
Saturday, March 16, 8:00 – 9:00 a.m.
Louis F. Bishop Keynote
Tait Shanafelt, MD
Reducing Burnout and Promoting Engagement: Individual and Organizational Approaches to Physician Well-Being
Saturday, March 16, 12:15 – 1:45 p.m.
Kanu and Docey Chatterjee Keynote
Lynne Warner Stevenson, MD, FACC
If We Start With Failure, How Can We Truly Succeed? My Vision for the Next 10 Years
Sunday, March 17, 8:00 – 9:30 a.m.
Douglas P. Zipes Distinguished Young Scientist Awardee Keynote
Amit V. Khera, MD
Should We Assess This Patient's Cardiovascular Risk by a Genetic Risk Score?
Sunday, March 17, 8:00 – 9:30 a.m.
Maseri-Florio International Keynote
C. Noel Bairey Merz, MD, FACC
Global Prevention of Cardiovascular Disease: After Clean Water What Works?
Sunday, March 17, 12:30 – 1:45 p.m.
Dan G. McNamara Keynote
Gerard R. Martin, MD, FACC
Improved Outcomes in Congenital Heart Disease Through Advocacy and Collaboration
Monday, March 18, 10:45 a.m. – 12:15 p.m.
Eugene Braunwald Keynote
Paul M. Ridker, MD, MPH, FACC
100 Years from CRP to Anti-Cytokine Therapy for Atherosclerosis
Monday, March 18, 12:30 – 1:45 p.m.
Late-Breaking Clinical Trial Sessions
See and hear first-hand the latest practice-changing scientific breakthroughs at ACC.19 with these five Late-Breaking Clinical Trial Sessions (LBCT). The Apple Heart Study kicks it off on Saturday, followed by a panel discussion, immediately following the Opening Showcase Session. Don't miss the 15 Featured Clinical Research presentations in three sessions. Join the Deep Dive Sessions where the experts break down the hottest trials and what it means for your patients.
Heart 2 Heart Stage
Don't miss the interactive H2H stage sessions with their timely topics affecting clinicians and practice – in the Lounge & Learn Pavilion in Hall B.
A Conversation With Roberto Canessa, MD
March 16, 10:15 – 10:45 a.m.
How to Navigate ACC.19: An Inside Look at This Year's Program
March 16, 11:45 a.m. – 12:15 p.m.
New ABIM/ACC Collaborative Maintenance Pathway
March 16, 1:15 – 1:45 p.m.
Diversity and Inclusion in Cardiology: Where Are We Headed?
March 16, 3:30 – 4:00 p.m.
E-cigs: Role and Risks
March 16, 4:15 – 4:45 p.m.
Storytellers: Art, Passion, Faith and Family
March 17, 9:30 – 10:00 a.m.
Social Media For Today's Cardiologist
March 17, 12:00 – 12:30 p.m.
Making the Most of ACC.org: Optimizing Your Experience With Your Digital Home
March 17, 3:30 – 4:00 p.m.
Transition: Shifting Focus in the Latter Years of Your CV Career
March 17, 4:15 – 4:45 p.m.
Demystifying the FDA
March 18, 9:30 – 10:00 a.m.
Innovation at ACC.19: WE Take it Seriously
Innovation is at the heart of ACC.19. It percolates through every aspect of the meeting, from Late-Breaking Clinical Trials like the Apple Heart Study and PARTNER 3 on Saturday and Sunday, respectively, to the Expo Hall, to special sessions addressing topics like social media for today's cardiologist (Session 6505), evaluating disruptive technology in a value-based world (Session 747) and the potential of artificial intelligence in cardiovascular care (Session 6509).
ACC.19's Expo is designed to keep the learning going with more than 250 companies and organizations to learn about the latest advances in pharmaceuticals, imaging, devices, and health IT. The Expo is also home to Industry-Expert Theaters, Innovation Stage and Interactive Learning Labs … and don't forget the Future Hub.
Back by popular demand, the Future Hub will host the Second Annual ACC.19 Innovation Pitch Challenge. In this shark tank-like competition, a partnership of ACC and AngelMD, entrepreneurs and innovators will pitch their ideas and vie to be winner. On Sunday from 9:45 – 10:45 a.m., join the pitch for artificial intelligence solutions. On Monday from 9:45 – 10:45 a.m., contestants will pitch digitally-enabled medical devices. Follow both on Facebook Live and vote live using the ACC.19 app.
How will emerging technologies transform cardiovascular practice? The program of talks and small panel discussions in the Future Hub Theater will help answer this question, including real-life examples of innovations in practice and discussions of the implications of technology on the physician-patient relationship.
Harlan Krumholz, MD, SM, FACC, kicks it off with his Keynote on Saturday from 10:15 – 10:45 a.m. Also in the Future Hub, join demonstrations of the latest innovations in digital health, medical devices and educational technology. Click here for the full Future Hub program designed under the leadership of ACC's Health Care Innovation Section.
Looking for more innovation? Attend the Vascular Innovation Shark Tank in the Engage Studio. Co-chaired by ACC Chief Innovation Officer John Rumsfeld, MD, FACC, and Sreekanth Vemulapalli, MD, this session features three pitches. Who will win? Be at the Engage@ACC.19 Studio on Monday from 9:45 – 10:45 a.m. for the pitches and congratulate the winner!
Make time to visit ACC Central for comprehensive information on new and ongoing quality campaigns and initiatives, NCDR registries, accreditation services, educational self-assessment programs, and more.
Lounge & Learn Pavilion
Visit the FIT, Early Career, CV Team, Women in Cardiology, International, Faculty and Career Placement lounges located in the Lounge & Learn Pavilion, Hall B. Many of the lounges will feature mini-educational sessions, networking opportunities and career advancement opportunities.
Don't miss your chance to meet some of the biggest names in cardiology and learn about what the College is doing in your career focus area. Meet up with your colleagues, live stream sessions from the session rooms or participate in informal sessions in the various community lounges.
ACC domestic members can also visit the ACC PAC lounge and learn more about the College's U.S. advocacy efforts.
What Not to Miss
Intensive Focus on Clinician Wellness
Today, nearly 50 percent of cardiovascular professionals claim burnout. The ACC's latest Member Satisfaction survey cites work-life balance, navigating new payment models and extensive work load among the top challenges, followed by maintenance of certification, electronic health record integration, information overload, among other issues. How to overcome these challenges and find balance both personally and professionally is the focus of an ACC.19 Intensive.
The two interactive sessions that make up the intensive will kick off with Tait Shanafelt, MD, chief wellness officer at Stanford Medical, providing the Bishop Keynote on Reducing Burnout and Promoting Engagement: Individual and Organizational Approaches to Physician Well-Being. Chaired by Dipti Itchhaporia, MD, FACC, and James L. Januzzi Jr., MD, FACC, the sessions will also include personal stories of dealing with burnout from ACC members and a panel discussion and a look at efforts to address stress in the workplace. The Clinician Wellness Intensive I (#50) is on March 16 from 12:15 – 1:45 p.m. and Intensive II (#51) is from 2:00 – 3:30 p.m. Plan to attend one or both sessions!
2019 Primary Prevention Guidelines Launch on Sunday
Mark your calendar for March 17 for the rollout of the ACC/AHA Guideline for the Primary Prevention of Cardiovascular Disease (Session 744). This much-anticipated guideline is a comprehensive yet targeted set of recommendations to guide clinicians to provide the best evidence-based care in adults. The guideline will provide important lifestyle-related recommendations to prevent cardiovascular disease, as well as address other factors affecting risk. For a deeper dive into the components of the guideline and implementing it in practice, don't miss Session 775.
A Team-Based Approach
ACC.19 was designed with every member of the cardiovascular care team in mind. Whether a practicing cardiologist, Early Career Professional, Fellow in Training (FIT) or a member of the Cardiovascular (CV) Team, there's education, science, hands-on training and networking for everyone. In addition, to the targeted sessions below, plan to visit the Lounge & Learn Pavilion for concentrated networking and programming tied to specific interests.
FIT and Early Career Professional Members
Today's Fellows in Training (FIT) and Early Career (EC) professionals are starting their careers in a complex health care scenario that includes multiple specialty choices, shifting reimbursement rules, multidisciplinary team approaches and intriguing new treatment options.
At ACC.19, dig into the world-class education, cutting-edge science and hands-on training – and network with colleagues, find mentors, gain career advice and insights into the nonclinical side of cardiology.
Join the FIT Forum Mix and Mingle on Saturday, March 16 (#403) for an informal, opportunity to network with cardiology leaders from multiple subspecialties. Can you Stump the Professor? Find out on Sunday, March 17 in this interactive review of cases.
The fourth annual FIT Jeopardy: Battle of the State Chapters competition is on Saturday and Sunday in the Engage@ACC.19 Studio. Don't miss the Innovation Bootcamp: Training Fellows, Cardiology Educators and Shaping Innovators (#620) on Saturday; or the Fellows Bootcamp on Coronary Disease Management (#300) or Structural Disease (#301) on Sunday.
Special programming for EC professionals in the ACC.19 Early Career Lounge includes an interactive, peer-to-peer session on personal finance; career guidance for early career transitions; and a primer on how industry can influence practice and advice on how to use industry relations appropriately to achieve career goals.
Other hot topics include A Career in Academic Cardiology: Key Points to Success (#656); Succeeding in Alternate Payment Models (#761); and the Cardiovascular Update for the Clinician Symposia, led by Valentin Fuster, MD, PhD, FACC (#101, 107).
Visit the FIT and Early Career lounges in the Lounge & Learn Pavilion.
CV Team Members
Every member of the CV Team – whether a nurse, nurse practitioner, physician assistant, clinical pharmacist, cardiac rehabilitation specialist or other specialist non-physician providers – will find unique opportunities to expand knowledge, learn about cutting-edge cardiovascular care and research advances, and network and collaborate with peers.
Pick up clinical practice pearls to take home in the CV Team Clinical Decision-Making Cases. Don't miss Pharmacology Sessions I, II and III (#101, 103, 105) and Updates in Structural Interventional Cardiology for the CV Team (#758). Other don't miss sessions include the Wellness Intensive I and II (#50, 51); A Panoply of Perspectives on Pulmonary Hypertension: Patients, Practitioners, and Political Advocates (#681); and Cardiac Rehab 2019 and Beyond (#751).
Use the Personalized Skills & Simulation Center to test your expertise during simulations at the Clinical Judgment Station using Body Interact; improve your patient communication techniques at the Shared Decision-Making Station; challenge your acute heart failure care at the Immersive Station; and practice procedural skills (#1501, 1502 and 1503).
International Members
At ACC.19 in New Orleans, ACC's international members are an integral thread in the meeting tapestry. Just as they are crucial partners in the global work of addressing cardiovascular disease and improving heart health.
It's also important we learn from each other and to this end look for international experts in cardiovascular disease woven into sessions across the entire meeting program.
Look for the 18th Annual Maseri-Florio International Keynote on Sunday, March 17 with C. Noel Bairey Merz, MD, FACC.
Download Before You Go!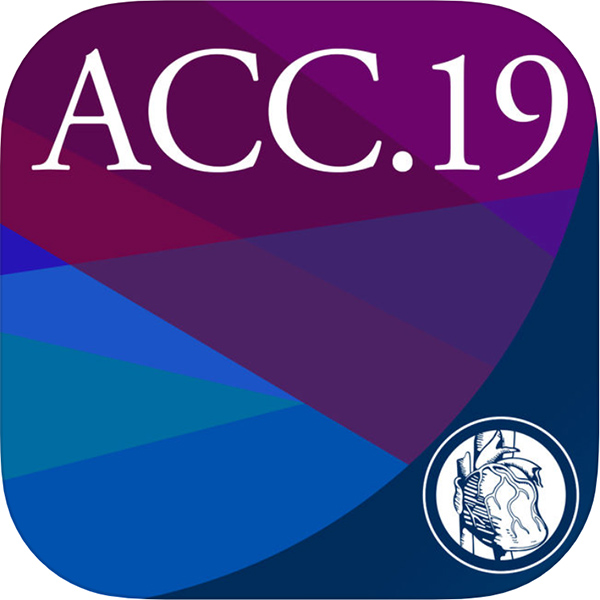 The ACC.19 app helps you See It, Hear It, Live It! Plan your ACC.19 experience today.
Make the most of ACC.19 with instant access to sessions, abstracts, exhibitors, maps and more. Browse sessions by day, pathway or practice focus and build a personalized itinerary. Ask Artie to get quick answers to your questions about sessions, exhibitors or navigating the center.
Seamlessly claim credit or get a certificate of participation, access live streaming sessions, download session slides (24 hours after each presentation), follow the #ACC19 discussion on Twitter and more.
Search "ACC.19" in the app store or browse the online meeting planner at ACCScientificSession.org.
Keywords: ACC Publications, Cardiology Magazine, Education, Pharmacy, Continuing, Malus, Education, Medical, Continuing, Research Personnel, Cardiovascular Diseases, Pharmacists, Education, Nursing, Continuing, New Orleans, Critical Pathways, Goals, Risk Factors, Physician Assistants, Pharmaceutical Services, Pharmacy, Faculty, Nurse Practitioners, Certification, Diabetes Mellitus, Primary Prevention, Awards and Prizes, Artificial Intelligence, Cholesterol, Heart Diseases, ACC Annual Scientific Session, ACC19, ACC Scientific Session Newspaper, ACC19 Newspaper
< Back to Listings