Cutting-Edge Structural Interventions | MitraClip Anterior Leaflet Laceration: Electrosurgical Technique For Failed Clip?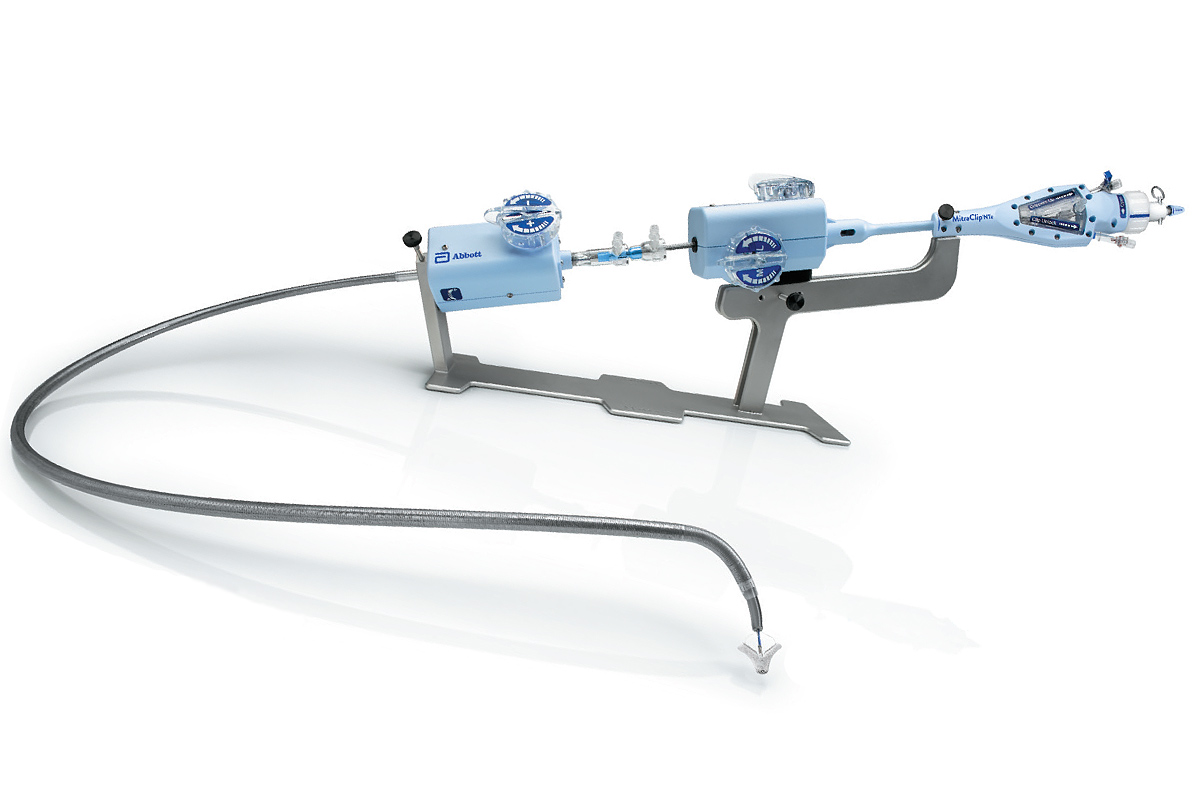 Credit: Abbott
The treatment of mitral regurgitation has been revolutionized by the MitraClip device (Abbott Vascular, Chicago, IL). While originally approved only for patients with primary mitral valve disease and no surgical options, the recent COAPT trial has led to an expanded indication for patients with heart failure and secondary mitral regurgitation despite optimization of guideline-directed medical and device therapy.1
Patients with persistent residual or recurrent mitral regurgitation following MitraClip placement present a challenging clinical scenario to the Heart Team. As patients undergoing MitraClip therapy for secondary mitral regurgitation are nonsurgical candidates prior to initial MitraClip implantation, significant contraindications to surgery often remain following MitraClip placement.
Placement of an additional MitraClip is often not possible because of an elevated mitral valve gradient or interfering chordae. The presence of a Mitraclip(s) historically precludes transcatheter mitral valve replacement (TMVR).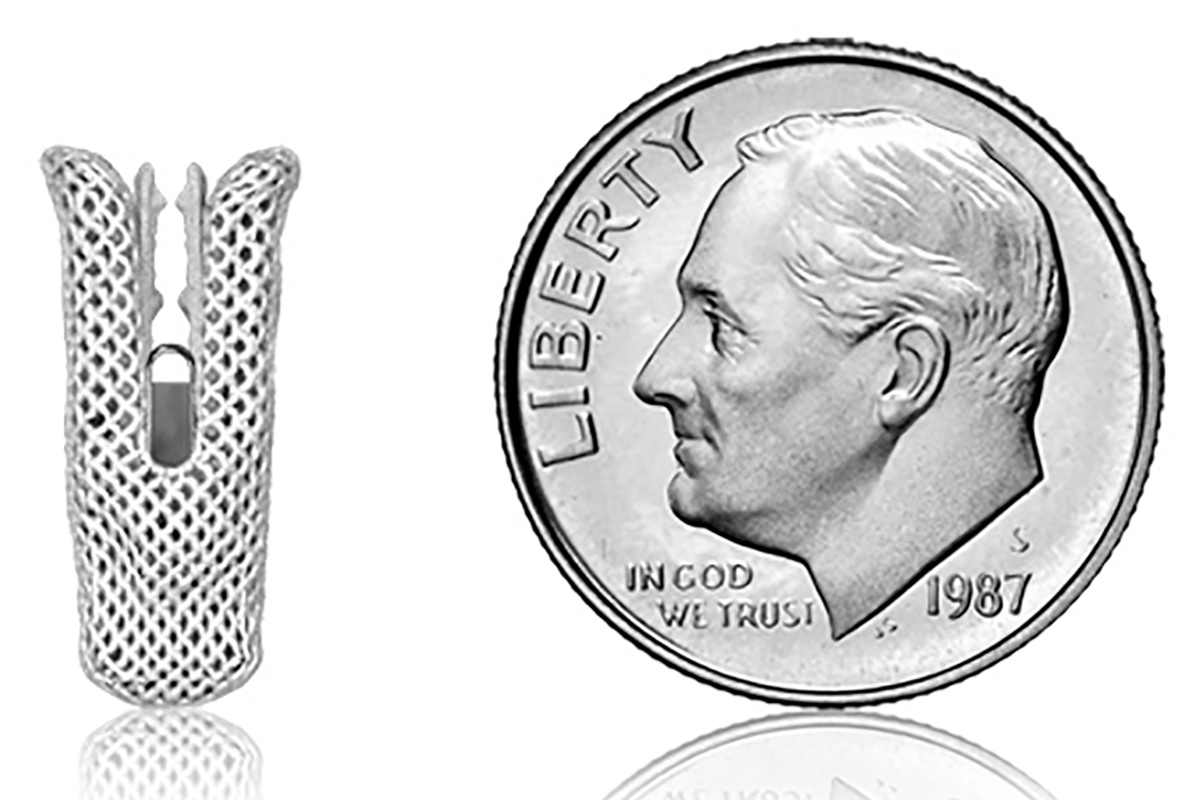 Credit: Abbott
With more than 80,000 MitraClips placed worldwide, and rates of significant post implantation mitral regurgitation ranging from 5.3-34 percent.1,2
There is an unmet clinical need for a failed clip management strategy.
To date, transcatheter electrosurgery has been successfully applied for similar "no option" clinical scenarios (transcaval access for patients without adequate transfemoral access for TAVR; LAMPOON technique for patients at prohibitive risk of left ventricular outflow tract [LVOT] obstruction following TMVR; and BASILICA technique for patients at high risk of coronary obstruction following transcatheter aortic valve replacement).
LAMPOON-related techniques also have been used to facilitate laceration of a previously placed Alfieri stitch prior to placement of a transcatheter heart valve in a previously placed mitral ring.3
The Emory Structural Heart and Valve Center, in conjunction with colleagues at the National Heart, Lung, and Blood Institute, sought to apply transcatheter electrosurgical techniques to patients with significant residual or recurrent mitral regurgitation despite prior clip placement to enable TMVR.
Figure: ELASTA-Clip Panels A/B: Orthogonal views of the lacerating system. The "flying V" is placed on the anterior mitral leaflet, near the previously placed MitraClip. Panels C/D: Orthogonal views of the implanted Tendyne bioprosthesis. Note the MitraClips are selectively lacerated and remain on the posterior mitral leaflet.
The concept is simple: by selectively lacerating a portion of the anterior mitral leaflet (attached to half of the MitraClip), the MitraClip is liberated from that leaflet and displaced posteriorly. Following this anterior leaflet laceration, TMVR can be performed, in a standard fashion, without obstruction from the previously placed MitraClip.
The Tendyne bioprosthesis appears to be well suited for this application as the outer frame of the valve is contoured to fit the native mitral valve annulus and does not rely on any portion of the mitral leaflets for anchoring.
Additionally, the valve is anchored via a braided polyethylene tether (to which tension can be applied to optimize valve positioning) attached to an epicardial pad. The valve is deployed transapically without the need for full cardiopulmonary bypass or rapid ventricular pacing.
Other transcatheter valves might also be options, though to date they have not been tested.
The transcatheter electrosurgical technique relies on principles similar with the LAMPOON technique. After femoral venous access is obtained, a single transseptal crossing is performed. Through this crossing a steerable catheter is advanced into the left atrium. Two wires are placed through it into the left atrium. The original steerable catheter is removed and then placed over one wire, and an additional steerable guiding catheter is placed over the second wire.
This facilitates cannulation of the medial and lateral mitral orifice (relative to the placement of the MitraClip) of the mitral valve. A 6-F internal mammary guiding catheter is advanced through the steerable guiding catheter in the lateral orifice to facilitate the advancement of a stiff 0.014-inch wire (Astato XS 20, Asahi-Intecc, Nagoya, Japan) insulated inside of an insulated locking hub-less microcatheter (Piggyback Wire Converter, Teleflex, NC) and advanced toward the medial orifice of the mitral valve.
A 6-F guiding catheter is also advanced through a steerable catheter in the medial orifice to position a snare (18/30 Atrieve, Argon Medical Devices, Frisco, TX). The stiff 0.014-inch wire is mechanically pushed into the snare and externalized to create the "flying V."
The "flying V" allows for a focal area of electrical contact with the tissue (on the anterior mitral leaflet near the attachment of the MitraClip). To facilitate rapid TMVR with the Tendyne valve, the apex is punctured with an 18-G needle, a J wire is advanced from the left ventricle to the left atrium and an 8-F sheath is placed in the LV apex.
Correct placement of the "flying V" is confirmed using 2D/3D transesophageal echocardiography and fluoroscopy.
Similar with previously described electrosurgical laceration techniques, MitraClip anterior leaflet laceration is performed by infusing nonionic 5 percent dextrose through the guiders, electrifying the "flying V" at 70W, and pulling the guiding catheter-wire system into the left atrium. Following anterior leaflet laceration, the MitraClip(s) remains selectively attached to the posterior leaflet.
To date, this transcatheter electrosurgical therapy has been performed on a compassionate use basis in five patients with severe mitral regurgitation and NYHA III/IV symptoms who were ineligible for additional MitraClip placement or surgical mitral valve replacement. Clinical and echocardiographic outcomes were reported at the TCT Scientific Sessions in September 2019.
Early results are promising, with all patients undergoing a technically successful anterior leaflet laceration of the failing MitraClip(s) followed by successful TMVR. All patients survived the procedure and survived to discharge. At 30 days, there were no signs of significant valve dysfunction and, importantly, no evidence of erosion or embolization of the mobilized MitraClip(s).
Further study is underway at Emory to define intermediate and long-term outcomes. The appropriate selection of patients for clinical improvement after this therapy remains to be studied in a larger cohort.
This article was authored by John Lisko, MD, MPH, a Fellow in Training at the Emory Structural Heart and Valve Center in Atlanta, GA.
References
Stone GW, Lindenfeld J, Abraham WT, et al. N Engl J Med 2018;379:2307-18.
Obadia JF, Messika-Zeitoun D, Leurent G, et al. N Engl J Med 2018;379:2297-2306.
Khan JM, Lederman RJ, Sanon S, et al. JACC Cardiovasc Interv 2018;11:808-11.
Clinical Topics: Cardiac Surgery, Heart Failure and Cardiomyopathies, Invasive Cardiovascular Angiography and Intervention, Noninvasive Imaging, Valvular Heart Disease, Cardiac Surgery and Heart Failure, Cardiac Surgery and VHD, Acute Heart Failure, Interventions and Imaging, Interventions and Structural Heart Disease, Echocardiography/Ultrasound, Nuclear Imaging, Mitral Regurgitation
Keywords: ACC Publications, Cardiology Magazine, Mitral Valve, Mitral Valve Insufficiency, Echocardiography, Transesophageal, Transcatheter Aortic Valve Replacement, Electrosurgery, Compassionate Use Trials, Bioprosthesis, Cardiopulmonary Bypass, Heart Ventricles, Argon, Patient Discharge, Polyethylene, Lacerations, Patient Selection, Echocardiography, Surgical Instruments, Catheterization, Heart Failure, Fluoroscopy, Heart Atria, Glucose, Cohort Studies
< Back to Listings