Tackling NCDs: Actions Speak Louder Than Words
ACC Takes Part in Global NCD Alliance Forum in Sharjah, UAE
The ACC took part in the third Global NCD Alliance Forum in Sharjah, UAE, from Feb. 9-11. The meeting brought together more than 400 representatives from the ACC and other medical societies, nongovernmental organizations, and governments around the world for important discussions on how to bridge the gap between promises and effective action in preventing and controlling noncommunicable diseases (NCDs).
The three-day meeting focused on three themes:
Saving lives through transformative policies and solutions
Building demand for action through transformative social movements and voices of change
Enhancing accountability through transformative and inclusive governance
As part of the program, ACC Vice President and President-Elect Athena Poppas, MD, FACC, addressed opportunities to leverage polices to address NCDs and reduce gender inequities in health care.
Poppas provided examples of her own experience as a woman in medicine; highlighted ACC efforts to encourage women to choose cardiology as a profession; and encouraged attendees to learn from each other and act on win-win interventions together.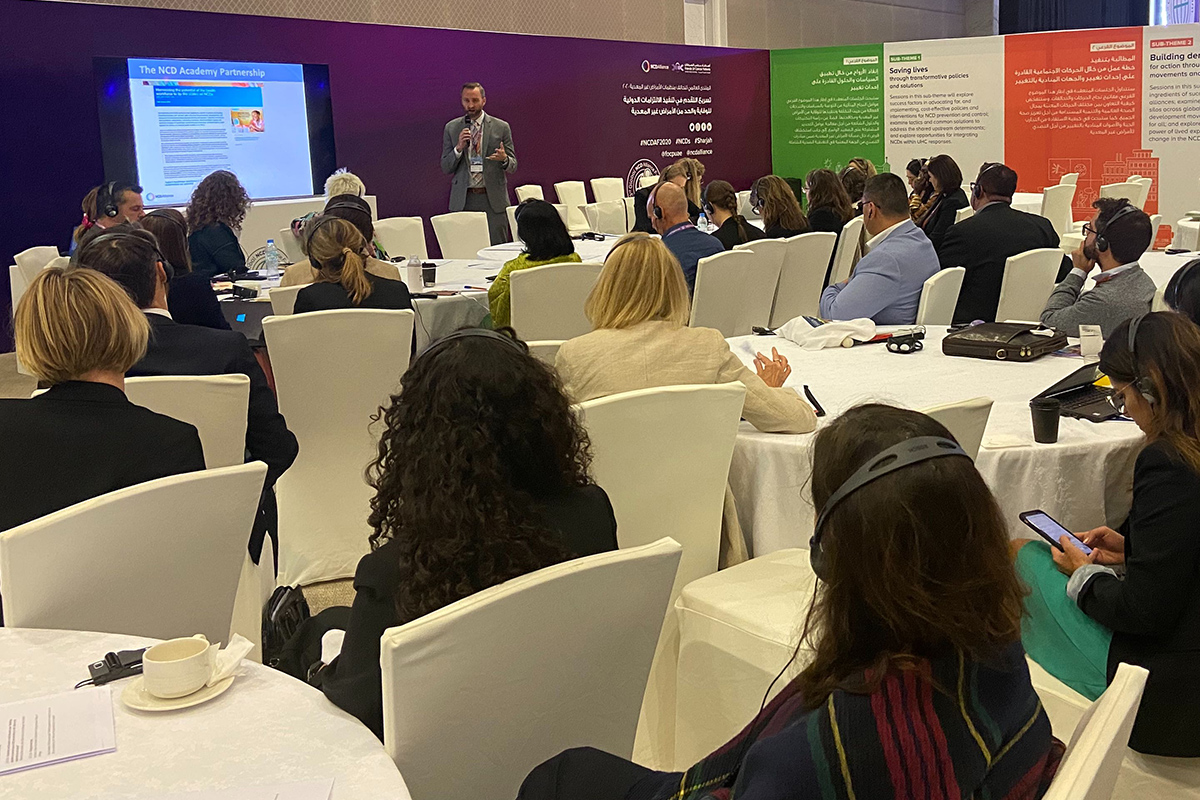 ACC's Neal Kovach and Jennifer Bae participated in a panel discussion focused on empowering the health workforce to tackle NCDs. Topics discussed ranged from artificial intelligence in medicine, wearables and on-the-ground efforts to identify and solve clinical problems like ACC's new NCD Academy, in partnership with the NCD Alliance, World Heart Federation and Pfizer Upjohn.
Announced late last month, the NCD Academy builds on ACC's Global Prevention Program launched in 2016 through a Pfizer partnership to equip clinicians worldwide with the latest science, technology, resources and tools needed to stem the rising tide of cardiovascular disease and reinforce best practices in treating patients along the cardiovascular disease continuum.
Look for more information on the NCD Academy at ACC.20/WCC. Click here for a blog post from the NCD Alliance, ACC and Pfizer Upjohn on the importance of harnessing the potential of the health workforce to tip the scale on NCDs.
To date, the Global Prevention Program has reached 70,000 clinicians in 10 countries ranging from China to Argentina to the UAE.
"The ACC is not sitting back as the global health community strives for a comprehensive solution to managing the rise of NCDs," says Salim Virani, MD, PhD, FACC, chair of the NCD Academy.
"We are all members of the global health community and will be impacted by future NCD trends. Only together can we realize long-term gains on this complex and urgent issue for a healthier and more prosperous tomorrow."
The first NCD Academy course will launch this Spring and focus on cardiovascular disease and stroke, with plans to add courses in cancer, chronic respiratory diseases, diabetes and mental disorders.
The program will be open-access to reach providers in low- and middle-income countries where the NCD burden has accelerated the fastest and countermeasures most needed.
"Although NCDs devastate the lives of more than 40 million people around the world each year, we have the ability to do something about it; NCDs are often preventable and largely treatable," says Amrit Ray, MD, MBA, Global President, Research, Development & Medical, Pfizer Upjohn.
"Upjohn is singularly focused on relieving the burden of NCDs worldwide, and we are proud to partner with the ACC to widely advance knowledge and best practices that can improve care and save lives."
Clinical Topics: Cardiovascular Care Team
Keywords: ACC Publications, Cardiology Magazine, Global Health, Developing Countries, Access to Information, Public Health, Social Responsibility, Diabetes Mellitus, Stroke, Neoplasms, Artificial Intelligence, Mental Disorders, Power, Psychological
< Back to Listings