Cover Story | ACC.21: Reuniting the Cardiovascular Community; Reimagining Global Heart Health
Science, collaboration, networking, celebration – all the hallmarks of ACC's Annual Scientific Session – were embraced by the global cardiovascular community as part of ACC.21.
Hundreds of sessions across 11 clinical pathways and six focused channels united (and continue to unite) thousands of clinicians from around the world for vital discussions on topics ranging from implementation of new clinical guidelines to global approaches to the management and treatment of heart disease and other risk factors. Attendees also had unique opportunities to engage and reconnect with colleagues, celebrate achievements, and explore the latest cutting-edge technologies and therapies as part of the Expo and focused industry sessions.
"This is an exciting time for education," says ACC.21 Chair Pamela Morris, MD, FACC. "Over the past year, we have learned a great deal about digital education and how to plan an experience that is engaging, accessible to all, and designed for impactful lifelong learning and engagement. ACC.21 not only delivered on these goals and provided an opportunity for the global cardiovascular community to come together to learn and share, it also continues to be a resource for the latest practice-changing science and updates in care. It has truly been a privilege to be a part of this incredible effort."
Watch, Listen and Be Inspired ACC.21 Opening Showcase Session
The ACC.21 Opening Showcase kicked off with a welcome from ACC Immediate Past President Athena Poppas, MD, MACC, and a look back on the lessons learned from the past year, as well as a look forward to the future. "The commitment, compassion and innovation of our cardiovascular members and ACC staff is inspirational. This is leading and responding in real time. This is shifting from expectations to reality. This is balancing the work of today with the goals of tomorrow. This, you, are the power of the ACC global cardiovascular community," she said.
Watch the entire session on the ACC.21 virtual platform or click here to read her remarks.
Making Headlines
Late-Breaking Clinical Trial (LBCT) and Featured Clinical Research sessions exploring the latest research in the areas of ischemic heart disease, prevention and health promotion, electrophysiology, heart failure and cardiomyopathies, and more, made headlines around the world in major media outlets and leading cardiovascular journals like the Journal of the American College of Cardiology.
Among the LBCT highlights: the much-anticipated ADAPTABLE trial, which while showing no difference between low- and high-dose aspirin for the primary outcome, has the potential for ushering in a new era for how clinical trials are conducted. Click here to learn more.
The LAAOS III trial also revealed potentially practice-changing results showing that left atrial appendage occlusion (LAAO) performed during cardiac surgery reduced the incidence of the primary outcome of stroke and systemic embolism in patients with atrial fibrillation and high risk of stroke. Other trials like DARE-19 continue to add to the growing body of knowledge and research around COVID-19.
On the Featured Clinical Research front, first-year results from ACC's Global Heart Attack Treatment Initiative (GHATI) suggest promise when it comes to improving global heart attack care around the world, while research using data from ACC's LAAO Registry offer real-world evidence when it comes to success rates and risk of in-hospital major adverse events with LAAO. Insights into the impact of COVID-19 on clinician well-being were also part of the lineup, as were important in-depth secondary analyses from major clinical trials like ISCHEMIA, GALACTIC-HF, STRENGTH, TAILOR-PCI, SOLOIST and SCORED trials. An analysis from EXPLORER-HCM found that mavacamten "markedly improved" health status in patients with symptomatic obstructive hypertrophic cardiomyopathy.
Don't miss our special ACC.21 In Focus supplement (find links in the green box on the right) with this issue for more in-depth coverage. Click here to watch the on-demand presentations of the late-breaking science on the Hot Topics Channel.
Young Scholars Provide Insights Into Pandemic Impacts on College Students
Launched at ACC.19 as an initiative of ACC's Academic Cardiology Section, the College's Young Scholars program pairs promising high school and college students with an ACC member mentor for a yearlong look at what a career in cardiology and scientific research looks like. This past year, despite moving to an all-virtual format due to COVID-19, was no different and culminated with the resilient 2020/2021 cohort of students presenting three abstracts during ACC.21 that shed light on the impact of COVID-19 on college students.
In one abstract, Mikos, et al., explored the deterioration of mental health in college students over the course of the COVID-19 pandemic. Results from a survey of 1,000 college students found that non-Asian race, mandated quarantine and baseline social involvement were all independently associated with a negative change in overall mental health.
Importantly, 41.5% of students reported they did not have a trusted person to seek help if anxious/depressed.
Heart healthy lifestyles also took a hit when it came to COVID-19 and college students. Xu, et al., found that among 1,000 respondents (mean age 21.0±1.67; female 46.1%; White 43.3%, Black 30.4%, Asian 16.1%, Hispanic 15.1%), 42.1% had worsening heart healthy lifestyle habits, compared with 24.6% who saw improvement. Multivariate analysis demonstrated that undergraduate status, female gender and remote learning were independently associated with worsening lifestyle, underscoring the need for programs to motivate/educate students about heart healthy living with a focus on those particularly vulnerable students, the researchers said.
A separate abstract, also focused on college students, sought to evaluate the reasons leading people to be less likely to go to the hospital to seek emergency medical care during the COVID pandemic.
Nearly 20% of students surveyed said they would be less likely to seek emergency care due to the pandemic, with the overwhelming majority (69.1%) citing fear of infection as their reason.
Looking ahead, the next cohort of 28 Young Scholars have already started their journey, taking part in a kickoff event that included ACC President Dipti Itchhaporia, MD, FACC, on May 8 and offered opportunities for students to speak directly with nurse practitioners, physician assistants, pharmacists, medical students and other ACC members. In the coming months, students will participate in a webinar series and, safety permitting, in a "cardiac camp" in the fall where they'll spend a day learning from ACC members and another day getting a firsthand look at clinical practice in a hospital setting.
Click here for more details on the ACC.21 Young Scholars abstracts.
Honoring Tradition, Making History
This year's annual Convocation ceremony, while virtual for another year, still captured the time-honored tradition of welcoming new FACCs and AACCs, recognizing award winners and serving as an opportunity to celebrate the transition from the outgoing ACC president to the next. This year was made even more significant with the presidential chain being passed from one woman to another for the first time in history.
"One year ago, I spoke to you from my home in Providence, RI, not knowing what the year would bring, but knowing that each of us would need to bring our whole self to our profession and to our patients. I stressed the importance of courage and compassion and the need for individual talents, diverse perspectives and ideas, and leadership to help us navigate what was to come. You did this and more. The past year truly showed the ACC at its finest. During this time of unprecedented change – and sometimes seemingly daunting challenges – you committed your whole self. You took care of each other, you took care of your patients, and you took care of your communities. Not only did you demonstrate courage and compassion, but you displayed creativity, collaboration, and unbelievable tenacity and resilience." — ACC Immediate Past President Athena Poppas, MD, MACC
"With optimism in the air, 2021 will be a year of transition as we begin to emerge from pandemic life and define a new normal. What the post-pandemic world will look like remains to be seen, but I believe we have a real opportunity to prove ourselves as leaders and apply the lessons we have learned this past year to achieve our Vision of a world where innovation and knowledge optimize cardiovascular care and outcomes. As President, my hope for and my challenge to all ACC members for the next year and beyond is to not lose sight of our strengths or the sense of community that has grown out of our shared vulnerabilities and our shared sense of purpose to find solutions for ourselves, our patients, and our communities." — ACC President Dipti Itchhaporia, MD, FACC
Recognizing ACC.21 Distinguished Awardees
Each year, the ACC honors the achievements of individuals who represent the College's core values of patient-centeredness, team work and collaboration, professionalism and excellence. The commitment and contributions to the College and the profession of this year's award winners are unparalleled.
ACC's 2021 Lifetime Achievement Award Recognizes Jay N. Cohn, MD, FACC
Developing groundbreaking treatments for cardiovascular disease is a goal Jay N. Cohn, MD, FACC, has pursued for 60 years. He spearheaded the use of physiologic principles to improve the management of diseases such as hypertension, heart failure and shock, which led to the development of intensive care units. For his decades of work in research and disease management, Cohn received ACC's 2021 Lifetime Achievement Award.
"This in a way represents vindication for my whole career, which has been dedicated to tying medical therapy to an understanding of the pathophysiology of the disease process," Cohn says of receiving the award. "I'm proud that I have been able to contribute to the way medicine has focused on disease treatment based on an understanding of the processes that lead to disease progression, rather than just a focus on likelihood of a benefit on outcome."
Click here to read Cardiology's full story on Cohn's work and contributions to cardiovascular medicine.
Leslie Davis, PhD, RN, NP, FACC: Elevating the Role of the CV Team to Deliver Patient-Centered Care
Efforts to implement coordinated high-quality care for patients with cardiovascular conditions are deeply rooted in having mutual trust, clarity of roles and effective communication among all members of the cardiovascular (CV) team. An essential component of this high-quality care is placing the patient and family in the center of care delivery.
Leslie Davis, PhD, RN, NP, FACC, recognized the importance of placing the patient in the center of care as a nurse in the emergency department more than 35 years ago, and subsequently built a career focused on the patient's perspective and team interactions to deliver evidence-based care. For her efforts as a nurse scientist, practicing clinician and nursing professor, Davis was recognized with the ACC's 2021 Distinguished Associate Award.
"Receiving the award is an acknowledgement that the work matters. Much of my work involves women who have heart disease and talking with them about their experiences of having a heart attack. A lot of them think their voice doesn't matter – sharing their voices through my research is an acknowledgement they do matter," Davis says. "I am deeply committed to ensuring the entire CV Team works collaboratively to personalize care for patients. It is important to meet patients where they are in their journey to help them become more engaged in self-care."
Click here to read Cardiology's full story on Davis' work and contributions to cardiovascular medicine.
Zipes Distinguished Young Scientist Keynote: Marat Fudim, MD, FACC
Marat Fudim, MD, FACC, an assistant professor of medicine at Duke University, discussed his research into the use of splanchnic nerve blockade for the treatment of heart failure (HF) during his Douglas P. Zipes Distinguished Young Scientist Awardee Keynote. In an interview with Cardiology, Fudim talks about this research, the Neuro-Cardiology Collaboratory he started, and his advice for other young investigators.
Click here to read the interview and learn about the potential of this new approach to treat HF.
A Legacy of Clinical Trial Researchers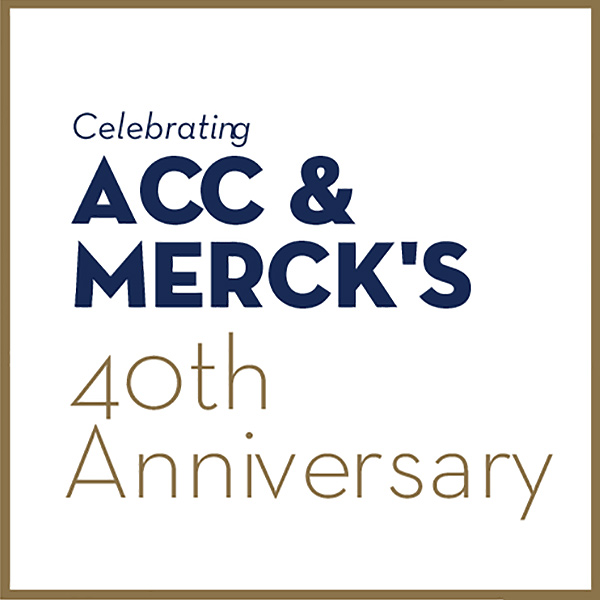 Forty years ago, the ACC embarked on a collaboration with Merck to provide focused research awards aimed at supporting the training and development of young cardiovascular investigators. Since then, these awards have helped build a pipeline of cardiovascular researchers and leaders within the profession and the ACC as well.
"Over its 40-year history, [the ACC/Merck fellowship awards] have helped provide support for over 180 young, rising, cardiovascular researchers and have provided a crucial springboard for the future of innovative cardiovascular research in many areas of concern," said Robert Hilkert, MD, FACC, Therapeutic Area Lead, Cardiovascular – Global Medical Affairs, Merck & Co., Inc.
In recognition of this milestone anniversary, the ACC, working with Merck and the Association of Black Cardiologists, awarded three one-year fellowships to support research in adult cardiology as part of ACC.21. Recipients are expected to pursue a full-time project in clinical research during their year of supported training.
This year's recipients and their research titles are:
Michael Brener, MD, Columbia University Medical Center, New York
"Pressure-Volume Analysis to Predict Right Ventricular Failure After Left Ventricular Assist Device Implantation."
Amy Erica Lin, MD, PhD, Harvard Medical School, Boston, MA
"The Role of Clonal Hematopoiesis of the Indeterminate Potential (CHIP) in Cardiovascular Disease and Conduction Disorders."
Jennifer Gmerice Hammond, MD, MPH, Washington University School of Medicine, St. Louis, MO
"The Impact of Bundled Payments for Care Improvement-Advanced (BPCI-A) on Racial Inequalities in Heart Failure and Stroke."
According to Sandra J. Lewis, MD, FACC, one of the original ACC/Merck awardees, it has been incredible to look back on the scientific strides made in cardiovascular medicine over the last two decades. She notes that the lessons learned from her fellowship 40 years ago led her to work with giants in the cardiovascular clinical trial arena, including Eugene Braunwald, MD, MACC; Marc A. Pfeffer, MD, PhD, FACC; and Nanette Kass Wenger, MD, MACC. Lewis encourages current and future recipients to "be curious, collaborative and open to ideas that may go against current dogma. The next beta-blocker heretical idea may rock your world."
Hear from Hilkert, Lewis and this year's three awardees in the videos below.
Jennifer Gmerice Hammond, MD, MPH
Sandra J. Lewis, MD, FACC
Congratulations to the ACC.21 Young Investigator Award Winners!
For more than 50 years, the Young Investigator Awards Competition has helped to propel the field of cardiovascular medicine forward by recognizing and supporting tomorrow's leading researchers today. The many promising young science investigators who applied this year for this prestigious award reaffirms that they are moving the science forward to transform cardiovascular care and improve heart health.
The College is proud to honor the 18 finalists, six each in these three categories: Clinical Investigations, Basic and Translational Science, and Outcomes Research.
Click here to view their presentations on demand on the Education Channel.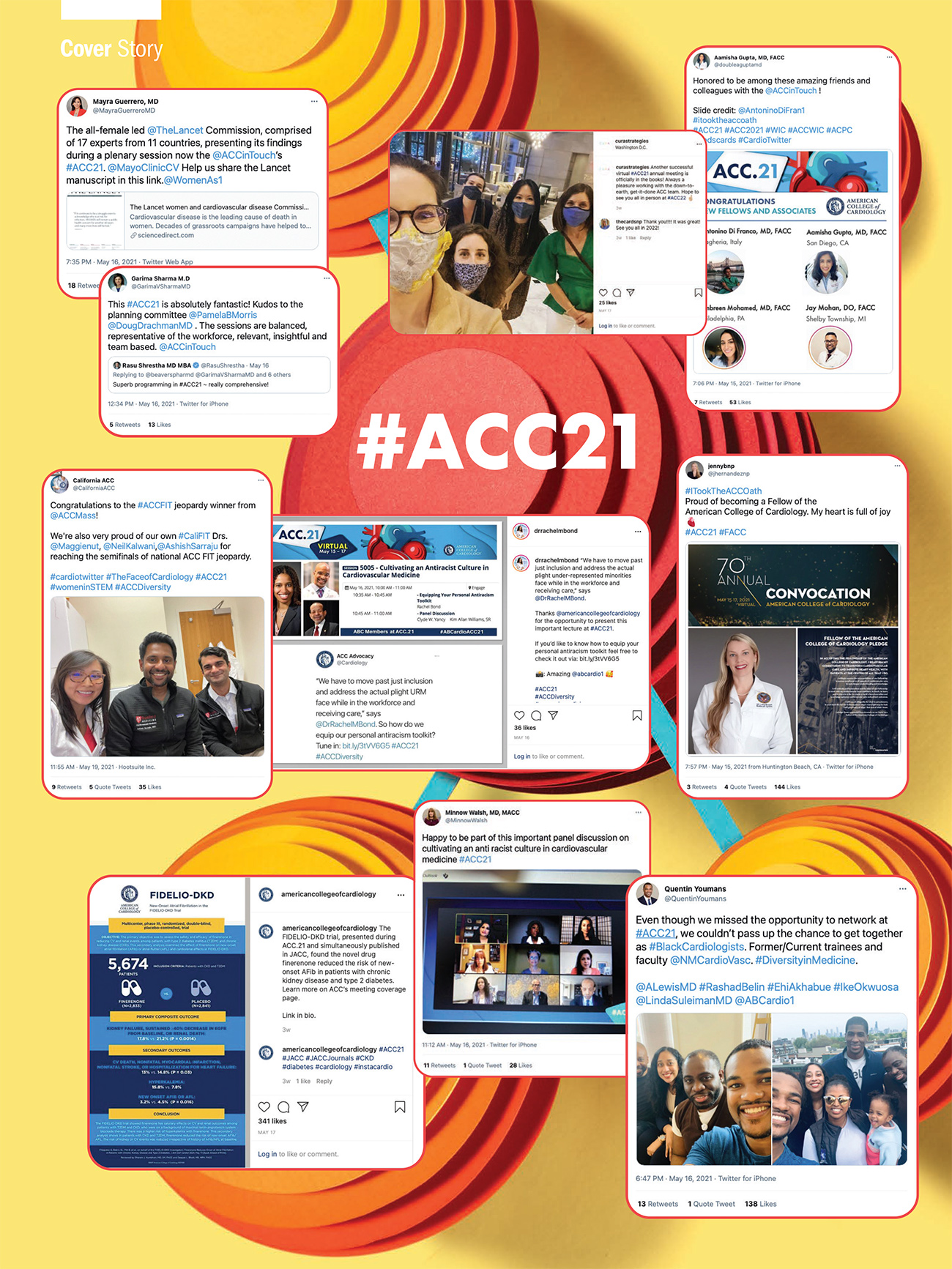 Clinical Topics: Arrhythmias and Clinical EP, Cardiac Surgery, Cardiovascular Care Team, Congenital Heart Disease and Pediatric Cardiology, COVID-19 Hub, Heart Failure and Cardiomyopathies, Invasive Cardiovascular Angiography and Intervention, Prevention, Implantable Devices, SCD/Ventricular Arrhythmias, Atrial Fibrillation/Supraventricular Arrhythmias, Aortic Surgery, Cardiac Surgery and Arrhythmias, Cardiac Surgery and CHD and Pediatrics, Cardiac Surgery and Heart Failure, CHD and Pediatrics and Arrhythmias, CHD and Pediatrics and Interventions, CHD and Pediatrics and Prevention, CHD and Pediatrics and Quality Improvement, Statins, Acute Heart Failure, Mechanical Circulatory Support, Interventions and Structural Heart Disease, Hypertension
Keywords: ACC Publications, Cardiology Magazine, ACC21, ACC Annual Scientific Session, Atrial Fibrillation, Goals, Cardiovascular Diseases, Incidence, Critical Pathways, Percutaneous Coronary Intervention, Aspirin, Atrial Appendage, COVID-19, SARS-CoV-2, Benzylamines, Uracil, Heart Failure, Myocardial Infarction, Cardiac Surgical Procedures, Stroke, Cardiomyopathy, Hypertrophic, Hypertension, Cardiomyopathies, Embolism, Registries, Risk Factors, Awards and Prizes, Disease Progression, Hospitals, Health Status, Health Promotion, Intensive Care Units, Disease Management, Electrophysiology, Myocardial Ischemia, Fellowships and Scholarships, Child, Preschool, Universities, Self Care, Mentors, Anniversaries and Special Events, Mental Health, Schools, Medical, African Americans, Pharmacists, Quarantine, Pandemics, Heart-Assist Devices, Splanchnic Nerves, Students, Medical, Emergency Medical Services, Hispanic Americans, Patient-Centered Care, Physician Assistants, Multivariate Analysis, Evidence-Based Medicine, Nurse Practitioners, Communication
< Back to Listings