Cover Feature | Global Health Efforts: Reaching Out to Reduce the Burden of CVD
Under the umbrella of the Aga Khan Development Network (AKDN.org), I've worked with a team of volunteers in an ongoing effort to improve the care of cardiovascular disease in countries such as Tanzania, Kenya, Tajikistan and Pakistan.
Some of the work includes supporting cardiac catheterization laboratories in Dar es Salam, Tanzania, and Mombasa, Kenya, in their quality improvement (QI) initiatives by creating linkages with the ACC for their participation in the NCDR registries.
Work in Tajikistan includes supporting an echocardiography laboratory and working with local authorities on a train-the-trainer model to improve hypertension care delivery in remote areas of Tajikistan.
As a graduate of the World Heart Federation's Emerging Leaders Program, I'm also part of a team of investigators from India, Nepal, Australia, South Africa, Kenya, Nigeria, and the U.S. evaluating the utility of a club-based medication delivery strategy to improve hypertension care in Nigeria.
Our team has also conducted one of the first pilot randomized trials to test the efficacy of a text message and interactive voice response-based intervention to improve medication adherence in patients post acute coronary syndrome and stroke in Karachi, Pakistan.
This effort entails a collaboration between the Baylor College of Medicine, the Aga Khan University Hospital in Karachi, and the Aga Khan Development Network eHealth Resource Center.
The team is also exploring future studies to build on these existing collaborations. Several of these efforts have led to local QI initiatives and collaborative publications.
Why do I volunteer with these global efforts? Given my background and upbringing, I see this not just as a privilege to be able to give back to the community, but as a personal responsibility.
I was a recipient of some of this in my earlier years of education. It only makes sense that I would be part of these efforts from the civil society.
Credit: Aga Khan Development Network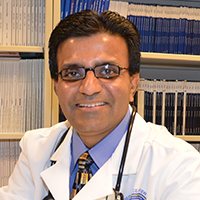 Salim S. Virani, MD, FACC, is a professor in cardiology and cardiovascular research at Baylor College of Medicine in Houston, TX, and his clinical practice includes being a preventive cardiologist. He's also chair of ACC's Prevention of Cardiovascular Disease Member Section Council.
Keywords: ACC Publications, Cardiology Magazine, Text Messaging, Medication Adherence, Quality Improvement, Hospitals, University, Acute Coronary Syndrome, Cardiovascular Diseases, Pilot Projects, Stroke, Organizations, Telemedicine, Registries, Hypertension, Echocardiography, Echocardiography, Volunteers, Cardiac Catheterization, Longitudinal Studies
< Back to Listings