Cover Feature | Where in the World is the ACC?
ACC leaders are constantly on the move, representing the College and sharing their expertise at cardiovascular meetings around the world.
Many of these meetings are in collaboration with cardiovascular societies within each country or region.
This past fall was a whirlwind of meetings, offering unique opportunities to foster relationships, grow new leaders, and facilitate discussion around the latest cardiovascular research and guidelines.
Highlights include:
October
A robust ACC delegation led by ACC President Richard J. Kovacs, MD, FACC, took part in multiple joint sessions focused on topics like prevention, cardio-oncology, and interventional cardiology as part of the Great Wall International Congress of Cardiology in Beijing, China.
JACC Journals were also a highlight, with Editor-in-Chief Valentin Fuster, MD, PhD, MACC, discussing the evolving dynamics of JACC. Fellows in Training also had the opportunity to test their knowledge of cardiology in a rapid-fire "FIT Jeopardy" competition.
The Great Wall meeting provides a critical opportunity to interact in person with cardiovascular professionals in China and showcase the College's commitment to transforming cardiovascular care and improving heart health in that country.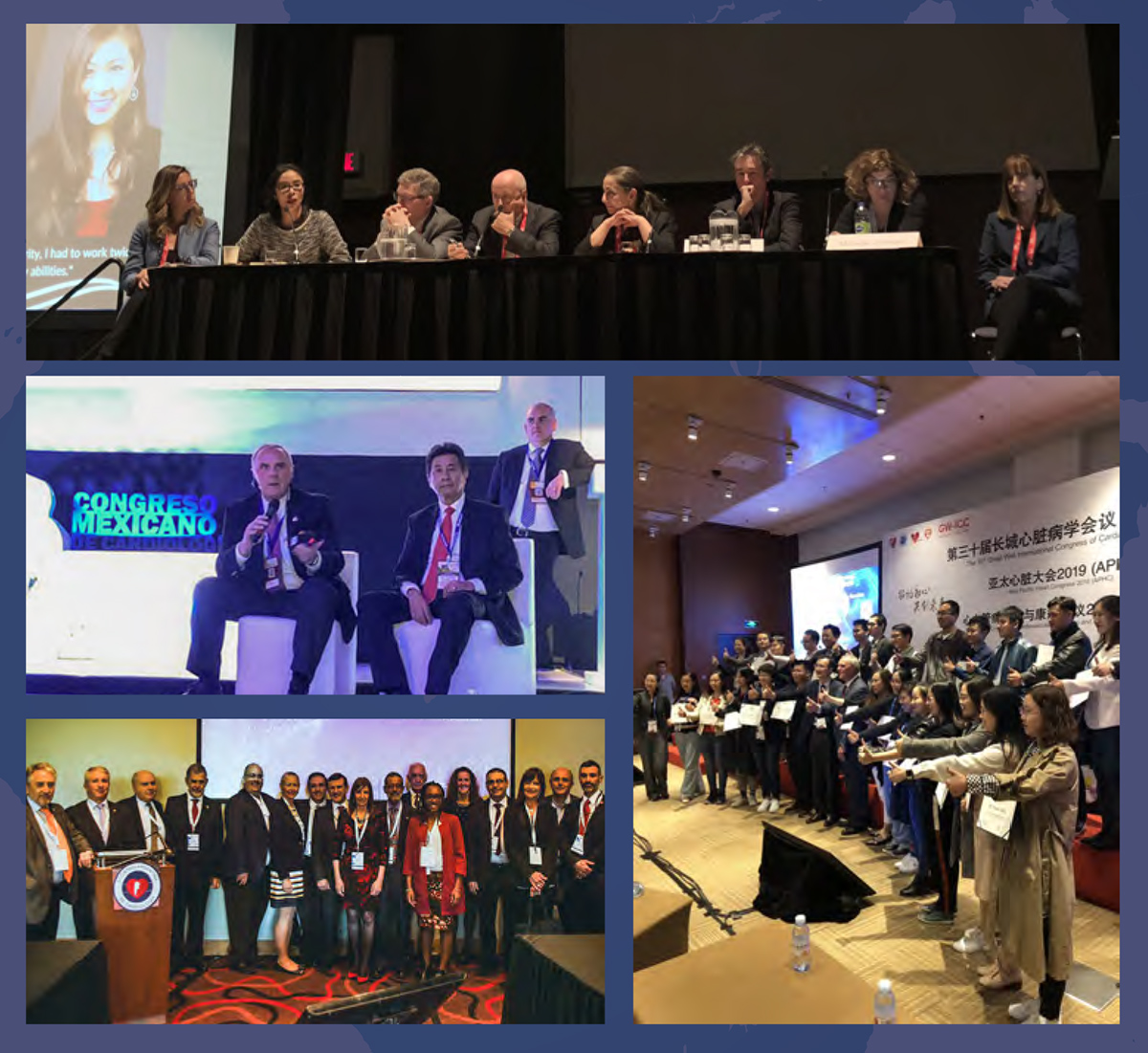 ACC's Pamela B. Morris, MD, FACC; C. Noel Bairey Merz, MD, FACC; and Michael J. Mack, MD, FACC, led a range of dynamic sessions on prevention and epidemiology, innovation, interventional cardiology, and cardiovascular disease in women at the 45th Annual Argentine Congress of Cardiology (SAC 19).
ACC Past President Mary Norine Walsh, MD, MACC, had a busy October presenting at a joint ACC, European Society of Cardiology, and British Cardiovascular Society session at the Irish Cardiac Society's 70th Annual Scientific Meeting, followed closely by the 2019 Canadian Cardiovascular Conference in Montreal.
ACC Immediate Past President C. Michael Valentine, MD, MACC, represented the College at the National Congress of the Tunisian Society of Cardiology and Cardiovascular Surgery in Tunis, where he shared his thoughts on "Secondary Prevention after ACS," presented highlights from major research at ACC.19, and tips on implementing ACC/AHA Prevention Guidelines into practice.
November
ACC President Richard J. Kovacs, MD, FACC, Membership Committee Chair B. Hadley Wilson, MD, FACC, and Board of Trustees Member James L. Januzzi Jr., MD, FACC, addressed topics ranging from managing competitive athletes with cardiovascular abnormalities to opportunities to improve global STEMI care at the XXXI Mexican Congress of Cardiology and 2nd InterAmerican Congress of Pulmonary Hypertension 2019 in Queretaro, Mexico.
December
ACC representatives James C. Blankenship, MD, MACC; Frederick A. Masoudi, MD, MSPH, FACC; and Phillip David Levy, MD, MPH, FACC, joined forces with the Albert Einstein Israelite Hospital in São Paulo, Brazil, for the ACC Latin America Quality Summit 2019 and ACC & Einstein Symposium – Cardiology Year in Review 2019. The event provided an opportunity to showcase opportunities to use NCDR registry data to benchmark quality and safety improvements, identify and improve gaps in evidence-based care, reduce readmissions and more.
Jagat Narula, MD, DM, PhD, MACC, and Richard A. Chazal, MD, MACC, headed to South East Asia's largest Cardiovascular Congress, the 71st Annual Conference of Cardiological Society of India (CSI), in Delhi, this month.
A joint session between the ACC and CSI provided an inside look at the future in the age of artificial intelligence and machine learning. Other issues discussed, included global management of myocardial infarction and ACC/AHA guidelines for heart failure management.
Keywords: ACC Publications, Cardiology Magazine, Cardiovascular Diseases, Secondary Prevention, Myocardial Infarction, Benchmarking, Patient Readmission, Heart Failure, Registries, Hypertension, Pulmonary, Cardiovascular Abnormalities, Artificial Intelligence, Neoplasms, Evidence-Based Medicine, Athletes, Latin America, Mexico, China, India, Brazil, Canada, ACC International
< Back to Listings