Feature | SCAI 2020: Top Interventional Takeaways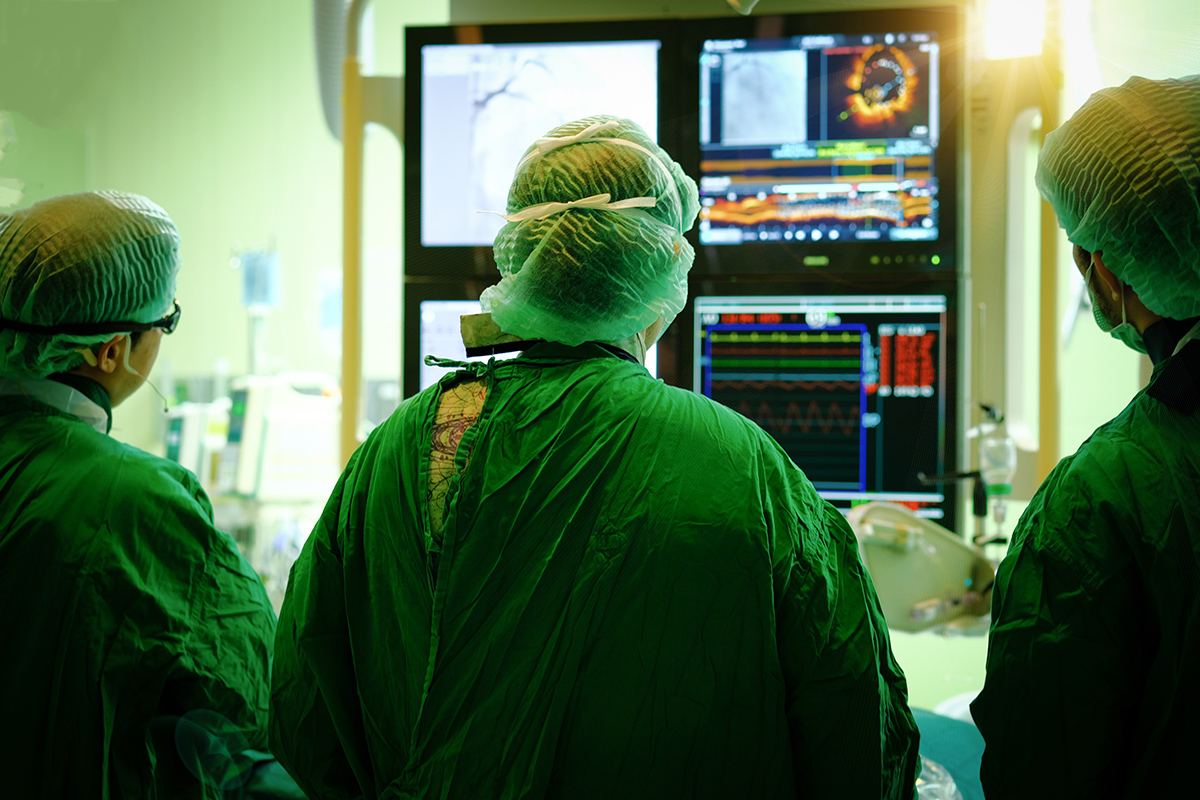 The ISCHEMIA trial continues to create a buzz at every interventional meeting. For SCAI 2020 Virtual, it was the ISCHEMIA LM substudy, focused on moderate left main (LM) disease, which was excluded in the main trial.
The authors investigated the cardiovascular and quality of life outcomes in patients with intermediate LM disease (25-49%) vs. <25% disease who were randomized to an invasive strategy plus optimal medical therapy (OMT) or OMT alone.
As a reminder, 73% of patients underwent coronary CT angiography to evaluate LM disease. A total of 962 patients (26%) had intermediate LM disease and 2,737 (74%) did not.
Among patients with intermediate LM randomized to the invasive strategy, 7.0% had significant LM stenosis on invasive angiography. They had a greater extent of coronary artery disease, indicating a more significant atherosclerotic burden with worse prognosis and a higher risk of cardiovascular events.
No difference was seen between invasive and conservative management of intermediate LM disease for primary or major secondary clinical outcomes. However, invasive therapy was associated with significant and durable benefits of improving angina in symptomatic patients.
The findings of the ISCHEMIA LM substudy are beneficial and clinically relevant and this has not been addressed in such detail in previous studies.
Clinical presentation and coronary imaging are becoming key in determining disease burden and guiding invasive therapy. The main limitation here is ISCHEMIA LM is a substudy of the initial ISCHEMIA trial, in which patients were not randomized to treatment based on LM disease.
Instead, CT angiography was used to exclude severe or critical LM disease. Regardless, the findings are still plausible and of clinical relevance to daily practice in the cardiology clinic and cath lab.
Moving to stent polymers, TWILIGHT-SYNERGY, a prespecified analysis of TWILIGHT, compared a durable polymer (DP) against a bioabsorbable polymer (BP) drug-eluting stent (DES) in high-risk patients undergoing PCI and found they had a similar profile for safety and efficacy.
TWILIGHT was unique because it included angiographic and clinical high-risk features. In this analysis, the researchers controlled for multiple baseline and clinical characteristics.
In TWILIGHT-SYNERGY, at 15 months, no difference was seen for the primary composite endpoint of cardiovascular death, target lesion failure, all-cause death, target lesion revascularization, definite or probable stent thrombosis or myocardial infarction (MI) between the two stent strategies. These findings provide more insight into the performance of biodegradable polymers in the high-risk population.
Furthermore, regardless of the type of polymer, ticagrelor monotherapy for three months after nine months of DAPT was as good as 12 months of DAPT, with less bleeding and similar thrombosis risk.
Considering the increasing number of patients with more complex calcified lesions and comorbidities who present to the cath lab, TWILIGHT-SYNERGY adds helpful and practical guidance to manage their antiplatelet regimen.
It is not uncommon to see patients in the cath lab with higher bleeding risk because of severely calcified lesions and who cannot have surgery and require atherectomy. Often they have chronic kidney disease, history of MI, stroke or anemia, which raises concern about long-term DAPT.
Continuing with coronary intervention and imaging, the findings of the Optical Coherence Tomography Measures PrEdicting Fractional Flow Reserve: The OMEF Study highlighted imaging-derived management for patients with angiographically-intermediate coronary lesions.
OCT is generally used to characterize plaque morphology and guide optimization of PCI. However, in OMEF the researchers evaluated whether OCT parameters may predict fractional flow reserve (FFR) in angiographically-intermediate coronary lesions.
Results of OMEF showed a minimal lumen area (MLA) of 3.1 mm2 for the proximal coronary segment was predictive of a positive FFR of <0.80 for angiographic stenosis of 60%. The researchers concluded that OCT provides additional insights into the functional significance of stenosis beside plaque morphology.
The combination of OCT area stenosis and MLA may increase both FFR and outcome prediction. This is an interesting finding that adds a functional property to the OCT imaging. I don't see OCT as a sufficient imaging technology to evaluate the functional property of coronary stenosis.
OCT will be a complement to the FFR and will help operators properly characterize coronary lesions and optimize stent apposition post intervention.
Routinely, we keep patients NPO after midnight for elective procedures. However, the Can we safely Have Our patients eat With cardiac catheterization – Nix Or alloW The CHOW NOW study challenged that concept.
The study randomized, in a single-center, inpatients and outpatients undergoing nonemergent coronary angiogram, left and right heart catheterization or PCI to NPO after midnight or to no restriction to oral intake prior to the procedure.
The investigators found there was no significant difference in the rate of overall adverse events with an approach of unrestricted oral intake prior to cardiac catheterization compared with strict fasting.
Additionally, unrestricted oral intake was associated with better patient satisfaction and lower cost of care, especially for hospitalized patients.
The findings of this study are reassuring, especially in cases when patients don't follow instructions or for emergency cases.
However, I think we still should follow the traditional instructions of not having any solid food after midnight prior to elective cases.
For more acute cases who present from the emergency room or from the hospital, we can be more liberal and board cases regardless of the time of the last meal.
In addition to the clinical trials, SCAI released several key documents during the virtual meeting. The SCAI Position Statement on Optimal Percutaneous Coronary Interventional Therapy for Complex Coronary Artery Disease aims to present state-of-the-art clinical evidence regarding PCI in patients with complex anatomical and clinical features and to provide procedural guidance to achieve optimal outcomes for this challenging patient group.
After reading this, I'd say it is so far the most detailed document that guides therapy of this complex population, starting with evaluating coronary anatomy, the heart-team approach and best interventional techniques. The statement was published in Catheterization and Cardiovascular Interventions.
Out-of-hospital cardiac arrest (OHCA) management continues to be a challenge. Given the high prevalence of coronary artery disease in patients with OHCA, interventional cardiologists are often consulted to consider emergent coronary angiography and possible hemodynamic support with or without PCI.
The Expert Consensus Statement on Out of Hospital Cardiac Arrest from SCAI aims to provide an evidence-based and patient-oriented recommendation for the management of OHCA with and without ST-elevation myocardial infarction. The statement covers prehospital care, cath lab management and postdischarge recommendations.
The utilization of ambulatory surgical centers (ASC) for peripheral and coronary interventions has been increasing in recent years. As of January 2020, the Centers for Medicare and Medicaid Services (CMS) began reimbursement for PCI performed in ASC. This practice promoted same-day discharge and lowered the cost of care without compromise in clinical outcomes.
Based on these findings, SCAI published a position paper to provide guidance for starting a PCI program in an ASC with an emphasis on maintaining quality standards. The documents cover appropriate patient selection for outpatient procedures, appropriate procedures performed, and when to refer patients to in-hospital coronary interventions.
The SCAI Position Statement on the Performance of Percutaneous Coronary Intervention in Ambulatory Surgical Centers is a great resource that provides guidance for the development of ACS-based PCI programs.
The approach to intra-procedural assessment of aorto-iliac lesions has evolved over time to include pressure gradient measurement and intravascular imaging. Several endovascular intervention recommendations and guideline documents have been published to address all endovascular intervention with less focus on aorto-iliac disease intervention.
Given the rapid increase in devices and paucity of comparative effectiveness data, the SCAI Guidelines on Device Selection in Aorto-Iliac Arterial Interventions provides a comprehensive review of comparative effectiveness data in aorto-iliac arterial interventions, and provide clinicians with guidance for device selection when these devices are intended as definitive therapy.
This article was authored by M. Chadi Alraies, MD, FACC, director of interventional cardiology research at Detroit Medical Center, Detroit, MI. Reach out to him using This article was authored by M. Chadi Alraies, MD, FACC, director of interventional cardiology research at Detroit Medical Center, Detroit, MI. Reach out to him using @chadialraies.
Clinical Topics: Invasive Cardiovascular Angiography and Intervention, Noninvasive Imaging, Prevention, Atherosclerotic Disease (CAD/PAD), Interventions and Coronary Artery Disease, Interventions and Imaging, Angiography, Nuclear Imaging, Diet
Keywords: ACC Publications, Cardiology Magazine, Coronary Artery Disease, Angiography, Tomography, Optical Coherence, Platelet Aggregation Inhibitors, Outpatients, Constriction, Pathologic, Patient Satisfaction, Inpatients, Quality of Life, Fractional Flow Reserve, Myocardial, Fasting, Percutaneous Coronary Intervention, Polymers
< Back to Listings