Feature | The Urgency of Clinician Well-Being During the COVID Pandemic
The COVID-19 pandemic has been a dramatic source of stress for physicians in the U.S. The pandemic has created an abrupt increase in workload, exposed physicians to personal risk of infection, forced many to practice outside their typical area of expertise, and exposed them to tremendous moral distress and human suffering.
Others have avoided exposure to these impacts, but are dealing with the financial impact of the pandemic which has necessitated laying off members of their team, taking on increased debt and threatened the long-term viability of their practice. Robust efforts are needed to address these challenges and their impact on physicians and the health care delivery system.
Yet even before the acute strain of the pandemic, physicians have been dealing with substantial occupational distress. Over the last decade, the issue of physician distress and burnout has been recognized and their impact on both physicians and patients appreciated. Research has begun to define the drivers of burnout and low professional fulfillment.
Importantly, there is now widespread recognition that clinician burnout is due to system factors in the work environment, rather than low personal resilience.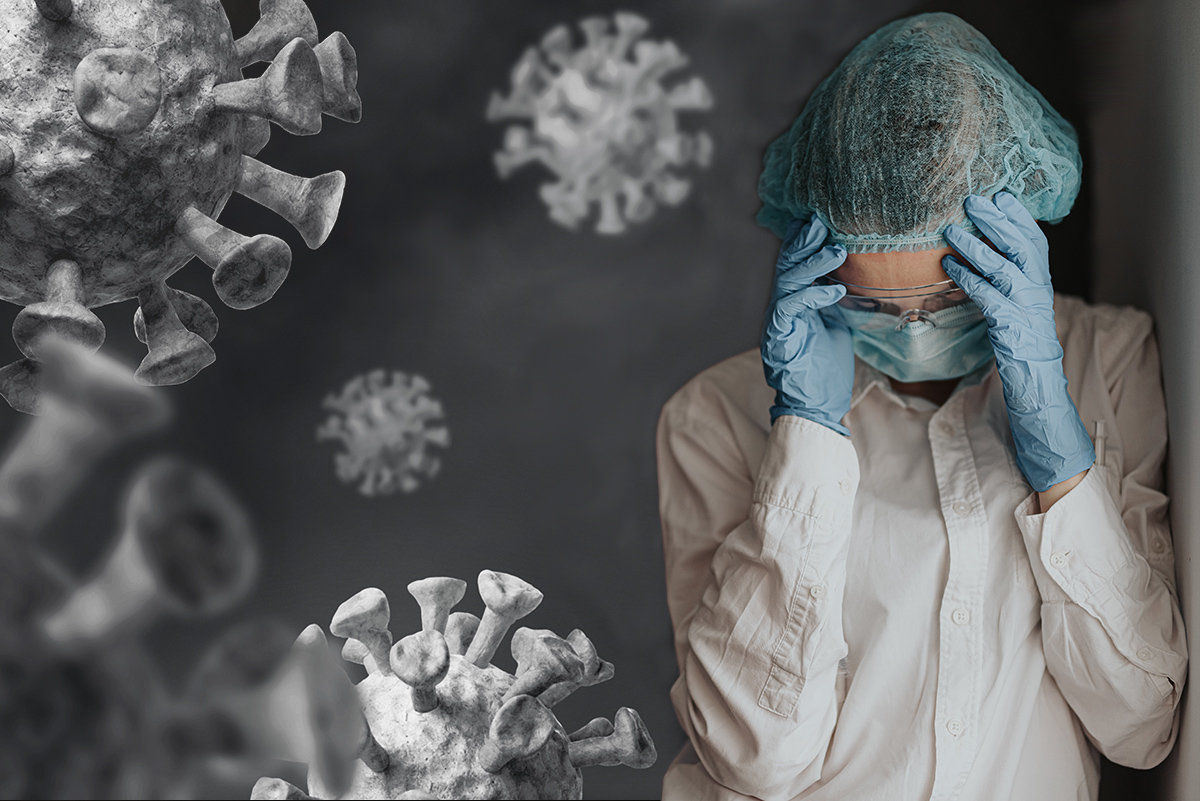 Multiple stakeholders, including payers, regulators, electronic health record (EHR) vendors and professional organizations including the ACC, are aware of the problem and recognize a responsibility to address various factors contributing to this epidemic.
Effective organization-level interventions have begun to be defined,1and vanguard organizations have moved toward action and addressing these issues.
Two major themes emerged from a consensus study report, Taking Action Against Clinician Burnout: A Systems Approach to Professional Well-Being,2 published by the National Academy of Medicine (NAM) in October 2019: Recognition clinician burnout is a major problem, requiring immediate action by diverse stakeholders.
Recommendation of a systems approach to reducing clinician burnout and fostering professional well-being.
The NAM report articulates six system-based goals with specific recommendations for areas of improvement. Here, we highlight ongoing efforts to achieve the first goal, which calls for creating positive work environments that "transform health care work systems by creating positive work environments that prevent and reduce burnout, foster professional well-being, and support quality care."
Creating Positive Work Environments
As an initial step to achieve the first goal, the NAM report recommends health care organizations "routinely measure and monitor clinician burnout and ameliorate the work system factors that erode professional well-being."
In this regard, the ACC conducted the 2019 Well-Being survey and obtained responses from more than 2,000 ACC members. An abstract with early results was presented during ACC.20/WCC Virtual.
Across health care institutions, a number of efforts are underway to measure and monitor clinician burnout. At Stanford, we are using validated measurement tools to assess the well-being and professional fulfillment of our physicians, medical students, residents/fellows and advanced practice providers.3
This annual survey benchmarks the current state relative to other institutions and provides a springboard for new initiatives aimed at improving clinician well-being and fulfillment.
Measurement is only the first step. Authentic commitment by leaders and establishing an improvement infrastructure is necessary to make progress. The NAM report calls on health care organizations to commit executive leadership to "improving the work environment within their scope of responsibility."
NAM Goals to Address a Systems-Based Approach to Well-Being
Create positive work environments
Create positive learning environments
Reduce administrative burden
Enable technology solutions
Support clinicians and learners
Invest in research
Such leadership is necessary both within every health care organization as well as at the national level.
Appreciating the importance of well-being as integral to the health of the cardiovascular workforce and the health of our cardiology practices and institutions, the College highlighted clinician well-being as a priority in its Strategic Plan for 2019 to 2023.
Additionally, ACC leaders established a Board of Trustees Task Force on Clinician Well-Being, charged with developing recommendations to elevate ACC as a recognized resource for reducing burnout and improving well-being.
Charging leaders with elevating well-being as a major aspect of ACC's membership portfolio is aligned with leading cardiovascular institutions. Stanford and its creation of the WellMD Center and an executive level officer position to advocate for and guide organizational efforts to make progress serves as a model for elevating this issue to the highest levels of the organization.4
The Stanford Model of Professional Fulfillment (Figure) serves as a framework for the WellMD Center to engage in intervention at the individual, work-unit (division/department) and organization level (hospital, school of medicine) level.5
The majority of the center's efforts are focused on improving efficiency of practice and organizational culture.6 These efforts include enhancing leadership behaviors, improving the efficiency of the practice environment (including the EHR), fostering collaboration between physicians and operational leaders to solve problems, creating metrics of these domains that foster accountability for improvement among clinical and operational leaders, and other broad-reaching initiatives.
We have also sought to improve well-being and fulfillment at the local level by appointing a well-being director for each clinical department who is responsible for identifying and helping to drive improvement for department-specific issues.
These directors work with colleagues in their work-unit to identify the local broken windows, prioritize the opportunities for improvement, and implement actions to address them in collaboration with the chair and division chiefs.
Progress on local issues related to schedule (cross coverage, call schedule, night and weekend duty); work-flows (triage, rooming, order entry); collegiality and teamwork; and equipment issues (availability, reliability) can often be made within a period of months and can help build a coalition ready to prioritize and tackle more substantive challenges. The more "local" the action can be, the better.
Indeed, in some subspecialties such as cardiology, we are encouraging an approach to identify drivers of burnout and other forms of distress at the sub-subspecialties level. It is our experience that the clinicians who do the work are best positioned to understand the factors most likely to contribute to improvements in well-being.
As the representative of practicing cardiovascular clinicians, the College is well positioned to identify and address specialty and subspecialty operations for practice improvement.
The NAM report provides a platform for action to engage organizations and leaders. The ACC Member Well-Being Task Force, ACC Member Sections and ACC Chapters, as well as the ACC headquarters, are well positioned to measure the well-being of cardiovascular clinicians. And identify, develop, test and promulgate evidence-based interventions that positively impact the professional fulfillment and well-being of cardiovascular providers in the unique environments in which we practice.
The unique needs of different groups should be respected and prioritized.
As an international organization with more than 54,000 members, the ACC is also uniquely positioned to advocate for member well-being as recommended in the NAM report to "reduce administrative burden; prevent and reduce negative consequences on clinicians' professional well-being emanating from federal, state, local and organizational standards, regulations and laws."
ACC should band together with other professional societies to advocate for change in the dimensions onerous to all clinicians. Some regulations, policies, and practices impact cardiovascular providers more than others and the College must carry the flag on those issues.
The ACC has already demonstrated the ability to exert national level influence through the successful modifications in the Maintenance of Certification process, leading to its creation of the Collaborative Maintenance Pathway.
Finally, informing and mobilizing its members, working through ACC leaders, the state chapters, member sections and relevant committees, the College is ideally positioned to influence beneficial interventions at the local level, led by cardiovascular specialists.
These efforts will be more important than ever in the aftermath of the COVID-19 pandemic and the profound impact it has had on physicians.
This article was authored by Daniel J. Murphy Jr., MD, FACC, Stanford University Medical Center, Palo Alto, CA, and Tait D. Shanafelt, MD, Stanford Medicine WellMD Center, San Jose, CA.
References
Shanafelt TD, Noseworthy JH. Executive leadership and physician well-being: nine organizational strategies to promote engagement and reduce burnout. Mayo Clin Proc 2017;92:129-146.
National Academy of Medicine. Taking Action Against Clinician Burnout: A Systems Approach to Professional Well-Being Consensus Study Report. Available here. Accessed May 19, 2020.
Trockel M, Bohman B, Lesure E, et al. et al. A brief instrument to assess both burnout and professional fulfillment in physicians: reliability and validity, including correlation with self-reported medical errors, in a sample of resident and practicing physicians. Acad Psychiatry 2018;42:11-24.
Shanafelt T, Trockel M, Ripp J, et al. Building a program on well-being: key design considerations to meet the unique needs of each organization. Acad Med 2019; 94:156-61.
Bowman B, Dyrbye L, Sinsky CA, et al. Physician well-being: the reciprocity of practice efficiency, culture of wellness, and personal resilience. NEJM Catalyst Aug. 7, 2017.
Shanafelt TD, Schein E, Minor LB, et al. Healing the professional culture of medicine. Mayo Clin Proc 2019;94:1556-66.
Clinical Topics: Cardiovascular Care Team, COVID-19 Hub
Keywords: ACC Publications, Cardiology Magazine, Workload, COVID-19, Pandemics, Benchmarking, Organizational Culture, Goals, Electronic Health Records, Trustees, Workflow, Leadership, Students, Medical, Triage, Consensus, Specialization, National Academy of Sciences, U.S.
< Back to Listings