Cardiologists With Voices to Breathe
Now more than ever, the injustices, inequities and incomprehensible experiences of our black sisters and brothers in the United States of America and around the world have risen to the surface. The events of these past few days have been echoed for centuries.
Time and time again, our hearts are wrenched by the senseless and cruel mistreatment and deaths of African Americans in our nations. Many around our beloved country are reeling with feelings of horror, injustice, anger, frustration, pain, helplessness and grief. As a nation, we have watched the tragic story of George Floyd unfold. We have also seen a myriad of reports on unacceptable situations around our country with black men or women out jogging or otherwise being normal citizens, yet being gunned down. Too many black lives have been taken needlessly and for far too long.
As cardiologists, it is our role to speak up for those whose voices have been squashed, and to respire for those who cannot breathe. The words "I can't breathe" are especially important to us as cardiologists, as they immediately cause us to release adrenaline and go into action mode. Daily, these words cause us to leap to save lives.
As cardiologists, one of the most consistent chief complaints we address is shortness of breath. It is incongruent for us to not step in when those around us cannot breathe. It is important for us to diurese the false comfort with which we have clothed ourselves as a society, and instead wrap the edematous infrastructure of racism by speaking truth into the lives of every human being, especially our black communities.
As cardiologists, we cannot sit by silently as health inequities from #COVID19 and violence from those who have sworn to protect affect a large proportion of the population we have sworn to serve and care for.
As cardiologists, we are concerned and saddened by these unacceptable acts. They must stop.
As cardiologists, we support diversity and health equity and justice for our patients, colleagues and neighbors.
We are cardiologists speaking up for our friends, neighbors and patients – the entire black American community, as we are all equal citizens. We are all #InThisTogether.
We are cardiology leaders and compassionate human beings, with evidence that violence accelerates cardiovascular diseases, and that cardiovascular diseases are more prevalent in our black communities. Countless structural and societal sociodemographic factors contribute to these findings.
Let us be doers and not only hearers.
What Can You Do?
Recognize you may not be able to understand the experience of black Americans.
Recognize you have a responsibility to be part of the solution.
Recognize you can partner with disparities-focused efforts of cardiology societies to improve equity in our patient base and workforce.
Read more about the ACC Diversity and Inclusion commitment and initiative to alleviate health inequities to help elevate us as an entire society.
Let Me Breathe
(Adapted from Martin Luther King Jr.'s "I Have A Dream" speech delivered on Aug. 28, 1963 in Washington, DC.)
And so even though we face the difficulties of today and tomorrow, I still want to breathe. It is a breath deeply rooted in being American.
I want to breathe that one day this nation will see and live out the equality in cardiovascular outcomes for blacks abiding by its creed: "We hold these truths to be self-evident, that all men are created equal."
I want to breathe and see that one day on the red hills of Georgia, where the daughters of former slaves will be able to have the same outcomes from hypertension together as others on the cardiovascular tables.
I want to breathe that one day even the state of Mississippi, a state sweltering with the heat of injustice, sweltering with the heat of oppression, will be transformed into an oasis of freedom and justice.
I want to breathe that little children from black mothers will one day be born in a nation where they will not likely die by the color of their skin but live by the content of their character.
I want to breathe today!
I want to breathe that one day, in Minnesota, with its vicious racists, with its citizen having his lips dripping with the words of "I can't breathe" – one day right there in Minnesota, little black boys and black girls will be able to have the same outcomes from stroke just like the little white boys and white girls.
I want to breathe today!
I want to breathe that one day every valley shall be exalted, and every hill and mountain shall be made low, the rough places will be made plain, and the crooked places will be made straight; "and the glory of the Lord shall be revealed and all flesh shall see it together."
This is our hope, and this is the faith that I go back to the South with.
With this faith, we will be able to hew out of the mountain of despair a stone of hope. With this faith, we will be able to transform the jangling discords of our nation into a beautiful symphony of brotherhood. With this faith, we will be able to work together, to pray together, to struggle together, to go to jail together, to stand up for freedom together, knowing we will be free to breathe in the same way.
And this will be the day – this will be the day when all of God's children will be able to have the same outcomes:
My country 'tis of thee,
Sweet land of liberty,
Of thee I sing.
Land where my fathers died,
Land of the Pilgrim's pride,
From every mountainside,
#LetMeBreathe!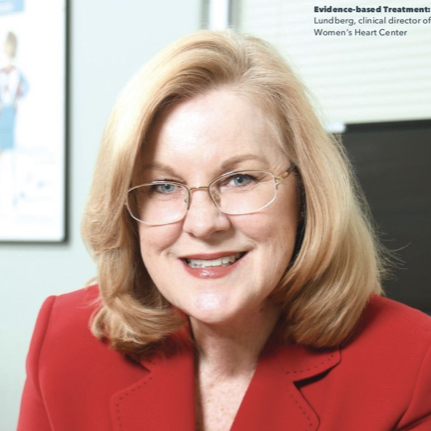 This article was authored by Sherry-Ann Brown, MD, PhD, FACC, a cardiologist at the Medical College of Wisconsin in Milwaukee; Ritu Thamman, MD, FACC, a cardiologist at University of Pittsburgh School of Medicine in Pittsburgh, PA; Gina Lundberg, MD, FACC, a cardiologist at Emory University in Atlanta, GA; and Toniya Singh, MD, FACC, managing partner at St Louis Heart and Vascular in St. Louis, MO, and chair of the National Women in Cardiology Council.