Feature | AHA 2021 Roundup: Science Highlights Informing Practice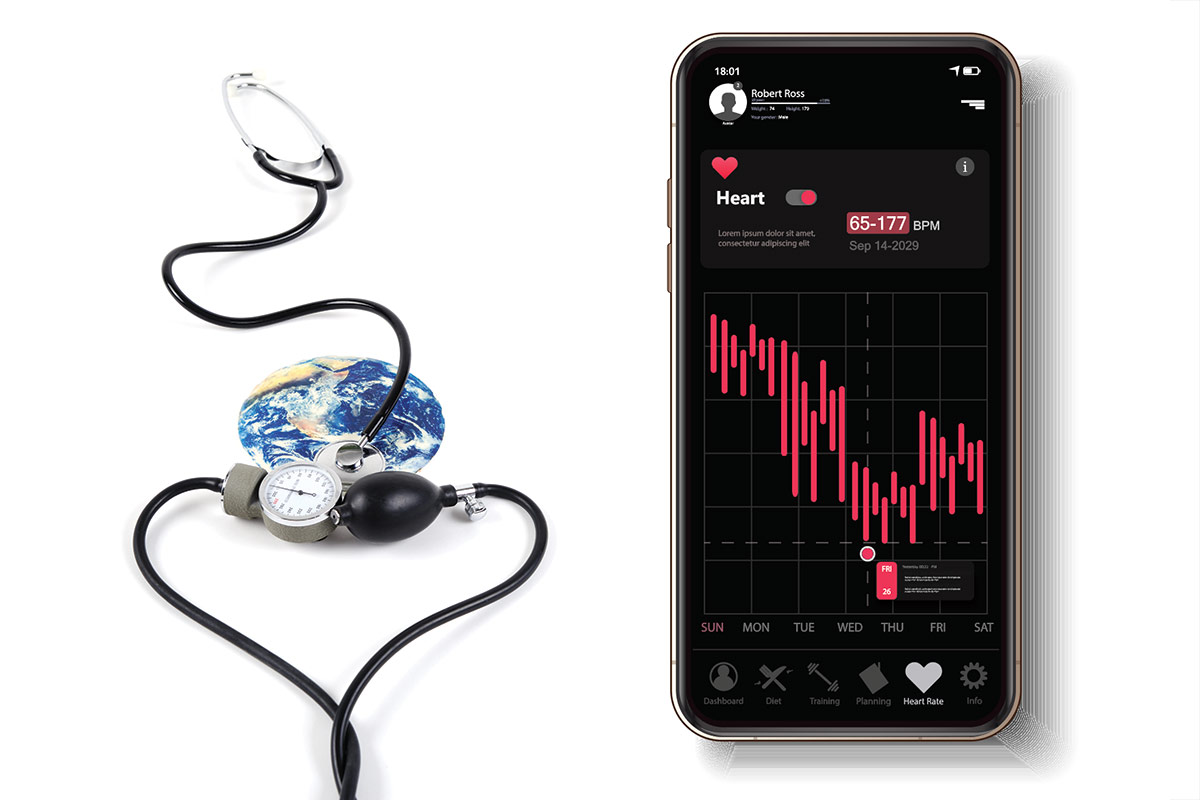 Late-breaking science presented during the American Heart Associations Annual Scientific Session in November has the potential to improve the delivery and equity of cardiovascular care around the world.
Here we roundup some of the key findings specific to digital transformation and localized prevention programs.
Potential of Digital Technologies in Improving Care Delivery
The use of digital technology to improve care delivery in patients with heart failure and atrial fibrillation (AFib) was the focus of a dedicated late-breaking science session during AHA 2021 featuring findings from the REVeAL-HF, Fitbit Heart and I-STOP-AFib studies.
In REVeAL-HF, mortality estimates provided to clinicians as an alert while entering an order did not lead to significant reductions in all-cause mortality or rehospitalization in patients hospitalized with acute heart failure.
Researchers randomized patients to either an alert when providers were entering an order or no alert and usual care. Data were collected via electronic health record. The composite outcome of all-cause mortality and rehospitalization was 38.9% among the alert group compared with 39.3% among the usual care group. Secondary outcomes were similar among the alert group and the usual care group, respectively, in terms of one-year mortality (27.1% vs. 26.9%), 30-day readmission (19.4% vs. 20.7%), and inpatient mortality (8.4% vs. 8.8%).
Additionally, mortality estimates did not significantly influence use of medical therapies, ICD implantation, HT/VAD, or referrals to palliative care, according to Tariq Ahmad, MD, MPH, FACC, who presented the findings. He noted that "bedside clinicians may require more prescriptive decision support, as these results call into question the hypothesis that accurate prognostic information alone will lead to better clinical decision-making and improved outcomes" in this patient group.
In the Fitbit Heart study, a novel software algorithm compatible with a wide range of smartwatches and fitness trackers detected irregular heart rhythms and accurately identified undiagnosed AFib 98% of the time.
Investigators from Massachusetts General Hospital and Fitbit remotely enrolled more than 455,000 adult smartwatch or fitness tracker users in the U.S. The median age of participants was 47 years, 71% were female and 73% were White. None of the study participants had a self-reported prior diagnosis of AFib. Participants who had an irregular heart rhythm detected by the software algorithm were notified and invited to schedule a visit with a telehealth professional. After that meeting, participants received a one-week electrocardiogram (ECG) patch monitor to wear along with the smartwatch or fitness tracker.
Overall, irregular heart rhythm detection occurred in 1% of individuals and 4% of adults older than 65 years. AFib was detected on the ECG patch monitor in 32% of those who received notification of an irregular heart rhythm. Additionally, the ECG patch confirmed AFib in 98% of individuals who had another irregular heart rhythm detection while wearing the patch. Researchers also noted that in individuals over the age of 65 years, the algorithm corresponded to concurrent AFib 97% of the time.
"These results show that wearables have the ability to identify undiagnosed AFib with high reliability," said Steven A. Lubitz, MD, MPH. The algorithm is currently being reviewed by the U.S. Food and Drug Administration for clearance and widespread use. The study did not test whether screening for AFib leads to a reduction in strokes, which Lubitz noted is an opportunity for future research.
In the I-STOP-AFib study, researchers found personalized testing may help identify triggers for irregular heart rhythms and reduce their frequency in AFib patients.
Researchers initially enrolled 446 participants in the trial, with 320 completing the study. They performed a remote, mobile application-based trial, and patients were randomly assigned to either monitor their AFib episodes without tracking their presumed triggers or to test whether specific "triggers" affected or caused AFib episodes. The comparison took place over a 10-week period, with both groups of patients using a specific device to monitor or track AFib triggers.
Patients who completed the individualized trigger study reported less frequent episodes of AFib during the four weeks after their testing, compared with those who only tracked AFib episodes. Additionally, alcohol consumption was associated with more AFib episodes than when patients avoided that trigger, while caffeine consumption was not linked to an increased risk of AFib episodes.
"There has been little research done on whether perceived triggers of AFib actually lead to AFib episodes," said Gregory Marcus, MD, MA, FACC. "As this was the first study to tackle this idea, there are many lessons we have learned that future studies could build upon."
Exploring the Effectiveness of Local, Global Intervention Programs in HTN
The effectiveness of population strategies for hypertension management, as well as the benefits of focused local and regional programs using tactics like village doctors or digital monitoring, were the focus of several studies at AHA 2021. Another study looked at the impacts of the COVID-19 pandemic on patients with hypertension.
In a review of recent studies assessing population-based strategies, Anushka Patel, MBBS, SM, PhD, and colleagues found the common approach of starting hypertension patients on a first drug at a low dose, increasing that dose incrementally over two to three visits, and then adding a second medication at an even later date is a "recipe for under-treatment."
Their findings, suggest newer strategies involving initial or early fixed-dose dual combination therapy, evidence-based algorithms using clinical guideline recommendations, and medical assistant visits are increasingly being recommended and/or tested. They also note these strategies tend to foster greater patient engagement and involvement.
While the challenge of inadequate blood pressure (BP) management remains a problem for large populations globally, Patel, et al., note that progress is being made towards "potentially truly population-wide effective interventions." They add that "future focus on scalability and sustainability is needed."
A separate study of nearly 34,000 adults in 326 villages in three provinces in rural China showed success in treating patients with hypertension using "village doctors" armed with basic medical training, a simple standard protocol and health coaching, and offered an example of a localized management program that could be used as a model elsewhere in the world.
A total of 57% of adults in the village doctor intervention group had BP levels lower than 130/80 mm Hg, compared to 20% in the usual care group, while 77% of participants in the intervention group had BP levels lower than 140/90 mm Hg, compared to 45% in the group who received usual care. Systolic and diastolic BP levels were reduced 26.3 mm Hg and 14.6 mm Hg, respectively, from baseline to 18 months in the intervention group, compared to an average decrease of only 11.8 mm Hg for systolic BP and 7.5 mm Hg for diastolic BP in the usual care group.
"The magnitude of blood pressure reduction in the patients who were in the intervention group is quite impressive," said lead study author Jiang He, MD, PhD. "These results indicate the village doctor-led intervention was effective and is a feasible and sustainable implementation strategy that could be scaled up to achieve more intensive blood pressure control among people with hypertension in rural China and other low- and middle-income countries with limited health care access."
Another study, out of the MassGeneral Brigham health system in Boston and led by Alexander J. Blood, MD, and Christopher P. Cannon, MD, FACC, demonstrated success with using a remote, algorithm-driven management program to improve hypertension and LDL-C levels in high-risk patients. The free program monitored hypertension in patients identified by referral or electronic health records as needing hypertension management and LDL-C optimization using WiFi, cellular and Bluetooth devices.
According to the researchers, the program reduced the need for in-person visits and helped to optimize clinician time, while also demonstrating the ability to deliver "equitable remote care across traditionally underserved populations."
In another study of 1.7 million hypertension patients across 24 U.S. health systems, researchers led by Alanna M. Chamberlain, PhD, MPH, found a substantial decrease in BP control during the COVID-19 pandemic that was also accompanied by a corresponding reduction in follow-up health care visits from patients with uncontrolled hypertension.
According to Chamberlain, et al., there was large variability across health systems in terms of BP control metrics, meaning there is also substantial opportunity for improvement. They stress the need for continued surveillance to determine whether the decline in BP control will result in future adverse cardiovascular events.
Clinical Topics: Arrhythmias and Clinical EP, Cardiovascular Care Team, COVID-19 Hub, Dyslipidemia, Heart Failure and Cardiomyopathies, Invasive Cardiovascular Angiography and Intervention, Prevention, Atrial Fibrillation/Supraventricular Arrhythmias, Lipid Metabolism, Nonstatins, Acute Heart Failure, Hypertension
Keywords: ACC Publications, Cardiology Magazine, AHA21, Alcohol Drinking, Algorithms, Atrial Fibrillation, Benchmarking, Blood Pressure, Boston, Caffeine, Cardiology, Cholesterol, LDL, Clinical Decision-Making, COVID-19, Developing Countries, Digital Technology, Drug-Eluting Stents, Eagles, Electrocardiography, Electronic Health Records, Family Characteristics, Fitness Trackers, Follow-Up Studies, Heart Failure, Hospitals, General, Hypertension, Inpatients, Mentoring, Middle Aged, Mobile Applications, Myocardial Infarction, Palliative Care, Patient Participation, Patient Readmission, Percutaneous Coronary Intervention, Pharmaceutical Preparations, Platelet Aggregation Inhibitors, Prognosis, Quality Improvement, Reference Standards, Referral and Consultation, Registries, Reproducibility of Results, Self Report, Stroke, Telemedicine, Thrombosis, Vulnerable Populations
< Back to Listings