QII | Congratulations to Facilities Earning ACC Accreditation!
ACC Accreditation Services awarded an Accreditations, HeartCARE Center designation or Transcatheter Valve Certification to 75 facilities in the third quarter of 2021. ACC Accreditation Services helps hospitals and health systems improve cardiovascular care and outcomes through use of multidisciplinary teams, identify care gaps, and implement process changes and sustainable quality improvement.
Congratulations to all!
Cardiac Cath Lab Accreditation
AdventHealth Sebring
Sebring, FL
AdventHealth Tampa
Tampa, FL
Baptist Health Lexington
Lexington, KY
JFK Medical Center
Edison, NJ
CarolinaEast Medical Center
New Bern, NC
Norman Regional HealthPlex
Norman, OK
Chester County Hospital
West Chester, PA
Baptist Memorial Hospital-Memphis
Memphis, TN
Bon Secours – Southside Medical Center
Petersburg, VA
Chest Pain Center Accreditation
Grandview Medical Center
Birmingham, AL
Providence St. Mary Medical Center
Apple Valley, CA
Corona Regional Medical Center
Corona, CA
Antelope Valley Hospital
Lancaster, CA
Loma Linda University Medical Center
Loma Linda, CA
Adventist Health Simi Valley
Simi Valley, CA
AdventHealth Sebring
Sebring, FL
AdventHealth Carrollwood
Tampa, FL
AdventHealth Tampa
Tampa, FL
AdventHealth Wesley Chapel
Wesley Chapel, FL
AU Medical Center, Inc
Augusta, GA
Portneuf Medical Center
Pocatello, ID
Heartland Regional Medical Center
Marion, IL
Anderson Hospital
Marville, IL
Northwest Health Porter
Valparaiso, IN
Lawrence General Hospital
Lawrence, MA
Poplar Bluff Regional Medical Center-Oak Grove
Poplar Bluff, MO
Bellevue Medical Center
Bellevue, NE
Raritan Bay Medical Center
Perth Amboy, NJ
Eastern New Mexico Medical Center
Roswell, NM
WakeMed Cary Hospital
Cary, NC
CarolinaEast Medical Center
New Bern, NC
WakeMed Raleigh Campus
Raleigh, NC
Nash UNC Health Care
Rocky Mount, NC
Novant Health New Hanover Regional Medical Center
Wilmington, NC
Fairview Hospital
Cleveland, OH
Western Reserve Hospital
Cuyahoga Falls, OH
Fort Hamilton Hospital
Hamilton, OH
Wooster Community Hospital
Wooster, OH
UPMC Altoona
Altoona, PA
Sharon Regional Medical Center
Sharon, PA
Cardiovascular Center of Puerto Rico and the Caribbean
San Juan, Puerto Rico
West Tennessee Healthcare Dyersburg Hospital
Dyersburg, TN
West Tennessee Healthcare Volunteer Hospital
Martin, TN
Navarro Regional Hospital
Corsicana, TX
Medical City Alliance
Fort Worth, TX
Bon Secours – Southside Medical Center
Petersburg, VA
Electrophysiology Accreditation
Baptist Hospital of Miami
Miami, FL
AdventHealth Ocala
Ocala, FL
South Miami Hospital
South Miami, FL
Baptist Health Lexington
Lexington, KY
Heart Failure Accreditation
Memorial Regional Hospital
Hollywood, FL
AdventHealth Sebring
Sebring, FL
Baptist Health Louisville
Louisville, KY
CHRISTUS Ochsner St. Patrick Hospital
Lake Charles, LA
The Hospitals of Providence Sierra Campus
El Paso, TX
HeartCARE Center
The Medical Center of Aurora
Aurora, CO
Rose Medical Center
Denver, CO
Saint Joseph Hospital
Denver, CO
Christiana Care Health Services
Newark, DE
Lutheran Hospital
Fort Wayne, IN
Parkview Heart Institute
Fort Wayne, IN
Baptist Health Lexington
Lexington, KY
Ocean Medical Center
Brick, NJ
Jersey Shore University Medical Center
Neptune City, NJ
Riverview Medical Center
Red Bank, NJ
Frye Regional Medical Center
Hickory, NC
CarolinaEast Medical Center
New Bern, NC
Regional Hospital of Scranton
Scranton, PA
Chester County Hospital
West Chester, PA
Lexington Medical Center
West Columbia, SC
Baylor St. Luke's Medical Center
Houston, TX
CHRISTUS Mother Frances Hospital-Tyler
Tyler, TX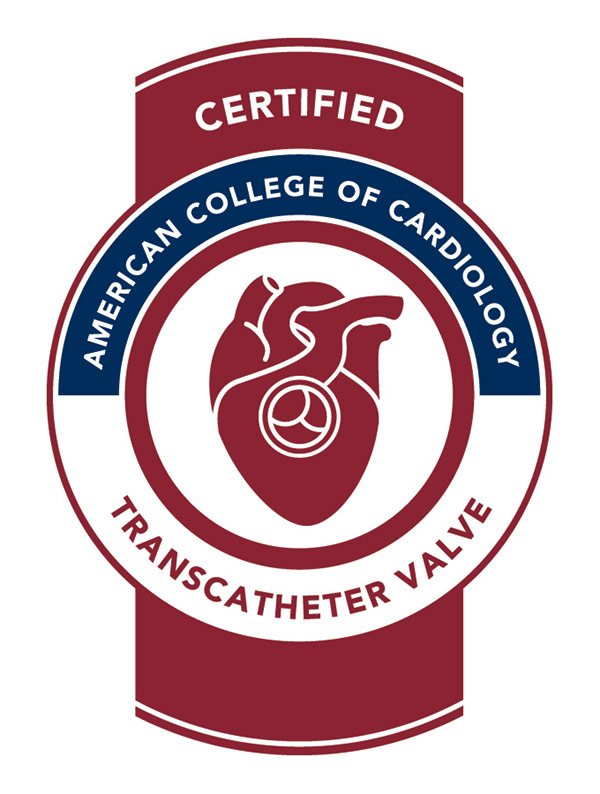 Transcatheter Valve Certification
Northwest Health Porter
Valparaiso, IN
Baylor St. Luke's Medical Center
Houston, TX
CAMC Memorial Hospital
Charleston, WV
Keywords: ACC Publications, Cardiology Magazine
< Back to Listings