Feature | Get to Know Bonnie Ky, MD, MSCE, FACC
In September, JACC: CardioOncology, joins the expanding JACC Family. Bonnie Ky, MD, MSCE, FACC, its inaugural editor-in-chief shared with Cardiology her vision of a journal that advances and matures the evolving field of cardio-oncology and becomes the essential scientific resource for the field, ultimately transforming care and improving outcomes for the growing population of patients impacted by both diseases.
Find out more about her vision and her professional journey and her life beyond work. Bookmark JACC.org/JACC-CardioOncology and starting this fall, look for this new, open access journal.
What is the vision for JACC: CardioOncology? Why this focus for a journal now?
My vision is that JACC: CardioOncology becomes the essential scientific resource for cardio-oncology – that we play a vital and transformative role in advancing the care of a growing cancer population through the dissemination of knowledge and education of the scientific and medical community – i.e., the entire cardiovascular and oncology team of health care providers – who care for and affect our patients.
Our goal is to publish science that is impactful, informative and meticulously executed. Our editorial board is driven by these standards of excellence and rigor. Moreover, we seek to strengthen the community of scientists, clinicians and care teams in both cardiovascular disease and cancer. My earnest desire is that we advance the care and improve clinical outcomes of this growing population.
Why now? The burden of disease is great – and there is a critical need to educate and engage our scientists and clinicians with robust evidence. There is a growing population of patients living with cancer and a growing population of cancer survivors. It has become clear that cancer and cardiovascular disease are two substantial causes of morbidity and mortality worldwide.
JACC: CardioOncology is a tremendous opportunity to shape, mold and transform an evolving field into a mature one that focuses on the scientific evidence, patient-centeredness, community engagement and multidisciplinary collaboration.
How will this journal impact patients?
We believe we can advance the science and the clinical care of our patients through the dissemination of excellent science; rigorous methodology; scientific literacy; and community engagement – broadly across all who are working in the fields of oncology and cardiology.
By equipping our readership with the evidence, and with state-of-the-art best practices, we intend to have a direct impact on patient care and patient outcomes. Ultimately, we want each piece we publish to answer this essential question – How does the knowledge offered in this manuscript advance science and impact clinical care?
What is the importance of an open access journal?
It's critically important that the information be readily available to all and open access enables this availability. It facilitates the rapid and immediate dissemination of knowledge, which is necessary for the field of cardio-oncology to advance.
Why did you raise your hand to be the Editor-in-Chief?
Ky with mentor and friend Tom Cappola.
I raised my hand after careful introspection and discussions with close mentors and colleagues. I recognized that JACC: CardioOncology is a tremendous and exciting opportunity to mold and shape a field that I care so passionately about. I want to be a part of this and have a tangible, positive impact.
I am fortunate to be working with a phenomenal JACC team and an absolutely terrific multidisciplinary editorial board.
Our motto is: Excellence, Rigor and Community.
Who is the primary audience for this journal?
Our journal will be broadly applicable to the community of cardiologists, oncologists and heath care providers, including the entire cardiovascular team. Our content will serve clinicians and scientists across the basic, translational and clinical spectrum.
What was your first published article? How did it feel see your work added to the literature?
My first published paper was in 1997 in the journal Cytotechnology, titled Assessment of Virus Infection in Cultured Cells Using Metabolic Monitoring. I was a co-author along with my colleagues at Merck, where I was working at the time. It was rewarding to see our work, which presented a systematic, methodologic approach to improve vaccine titer yields.
Most recently, I was the senior author on two articles published in the Journal of the American College of Cardiology. Preparing the Cardiovascular Workforce to Care for Oncology Patients: JACC Review Topic of the Week describes the burgeoning field of cardio-oncology. The other was Cardiovascular Function Phenotypes in Response to Cardiotoxic Breast Cancer Therapy.
In total, I've published some 110 articles. This experience guides my work in leading this new journal. I understand how much hard work, effort and resources are poured into each manuscript that is submitted, how important that work is to the authors and how each investigator is looking to contribute to their community – and the potential for that work to further advances in science and patient care.
Tell us about your professional journey. What's your clinical and research focus?
Ky with mentor and friend Steve Kimmel.
I was an undergraduate in chemical engineering at Massachusetts Institute of Technology (MIT) in Boston, MA. My time at MIT stimulated my love of science and research. I love asking questions and finding answers. At MIT, there is a culture that any problem can be solved through hard work, perseverance and creative thinking.
Then I worked at Merck for two years in Vaccine Bioprocess Research and Development. Subsequently I matriculated to the University of Pennsylvania School of Medicine. I've been at Penn for more than 20 years, and I've completed all my postgraduate training there, including a Masters in Clinical Epidemiology.
I direct a National Institutes of Health-funded clinical translational research program in cardio-oncology and the Penn Cardio-Oncology Center of Excellence. We are interested in "deep cardiovascular phenotyping" to detect, prevent and treat cardiovascular disease in cancer patients and survivors.
I also have specialized training in noninvasive imaging and my clinical focus is in echocardiography. I have a dedicated clinic in cardio-oncology. Patients provide constant motivation for my work.
Any mentors or others you'd like to thank or acknowledge?
Ky with her family.
There are too many colleagues to whom I feel indebted – so many who've been important and influential in molding my career. Over the past twenty years – to name a few – Thomas P. Cappola, MD, FACC; Stephen E. Kimmel, MD, FACC; Martin St. John Sutton, MBBS, FACC; Michael S. Parmacek, MD, FACC; Douglas B. Sawyer, MD, FACC; Douglas L. Mann, MD, FACC; Thomas Force, MD; Mariell Jessup, MD, FACC; Wai Hong Wilson Tang, MD, FACC; Joseph R. Carver, MD, FACC; Eugene Braunwald, MD, MACC; Kenneth B. Margulies, MD; Daniel J. Lenihan, MD, FACC; W. Gregory Hundley, MD, FACC; Clyde W. Yancy, MD, MACC; Edward Yeh, MD, FACC; Christine E. Seidman, MD; Valentin Fuster, MD, PhD, MACC; and in reality, many others who have given me key pieces of advice at critical junctures in my career.
Tom Cappola and Steve Kimmel were my K23 grant mentors (more than 10 years ago). I'm extraordinarily grateful that I still call them my absolutely closest mentors today. As each of our careers have evolved, so has our relationships, but the strength of their support has remained unchanged.
And always, my family (parents, sisters, husband, children) has been with me every step of the way. The unwavering love of family has been fundamental to my daily living!
As a woman in science and medicine and in leadership positions, are there particular challenges to highlight? How have you addressed these and are there broader lessons to share?
There are challenges in the workplace for women and underrepresented groups, some overt and others much more covert. I think increased awareness – by each and every one of us – is a key first step. Another key step is working to understand why these biases exist and developing an earnest commitment to change.
We need to ask ourselves what the fundamental limitations are that women and underrepresented groups suffer from, and how we can effect positive change.
As a community, I think it's critically important that women advocate and support each other.
We need to keep each other accountable. We need to stay true to our inner core values, while being adaptable to various situations. We need to learn from each other and from leaders in other fields, and take deliberate steps to inclusively empower women and underrepresented minorities.
Over the past twenty years, I've been fortunate to be at Penn with very strong female role models in both cardiology and oncology and medicine – Jessup; Susan E. Wiegers, MD, FACC; Lynn Schuchter, MD; Susan Domchek, MD; Selina Luger, MD; Angie DeMichele, MD; Naomi Haas, MD; Anne Cappola, MD, just to name a few.
In the National Cancer Institute's ECOG-ACRIN network, where I chair the Cardiotoxicity Subcommittee, I work closely with strong female leaders: Lynne Wagner, PhD; Ruth Carlos, MD; and Ilana Gareen, PhD; all have been terrific role models.
Do you have a favorite motto?
In our family, we try to be guided by the following core principles: to always try your best; to treat others the way you would want to be treated; and to always pick yourself up after you've fallen down. I always try to strive to be empathetic, to be kind, and to not give up – to persevere.
In various situations, I try to keep the focused goal in mind, and I always try to think about how things could be done better. And of course, we need to enjoy the process – this is life, after all!
If we were sitting at your desk, what would we see?
Pictures of my family – my parents, husband and two children. You'd also see a compass (so I always know where I'm going); a sign that says Comfort and Joy and another that says Celebrate.
What's your "power" time of day? When you're most productive and most creative?
Early morning is definitely my power time. It's peaceful and quiet, with few distractions. It's a time where I can work in a focused manner. Somewhere through medical school, residency or early motherhood days of crying babies all through the night, I became accustomed to waking up and functioning at a very early hour.
What are your interests and passions outside of work?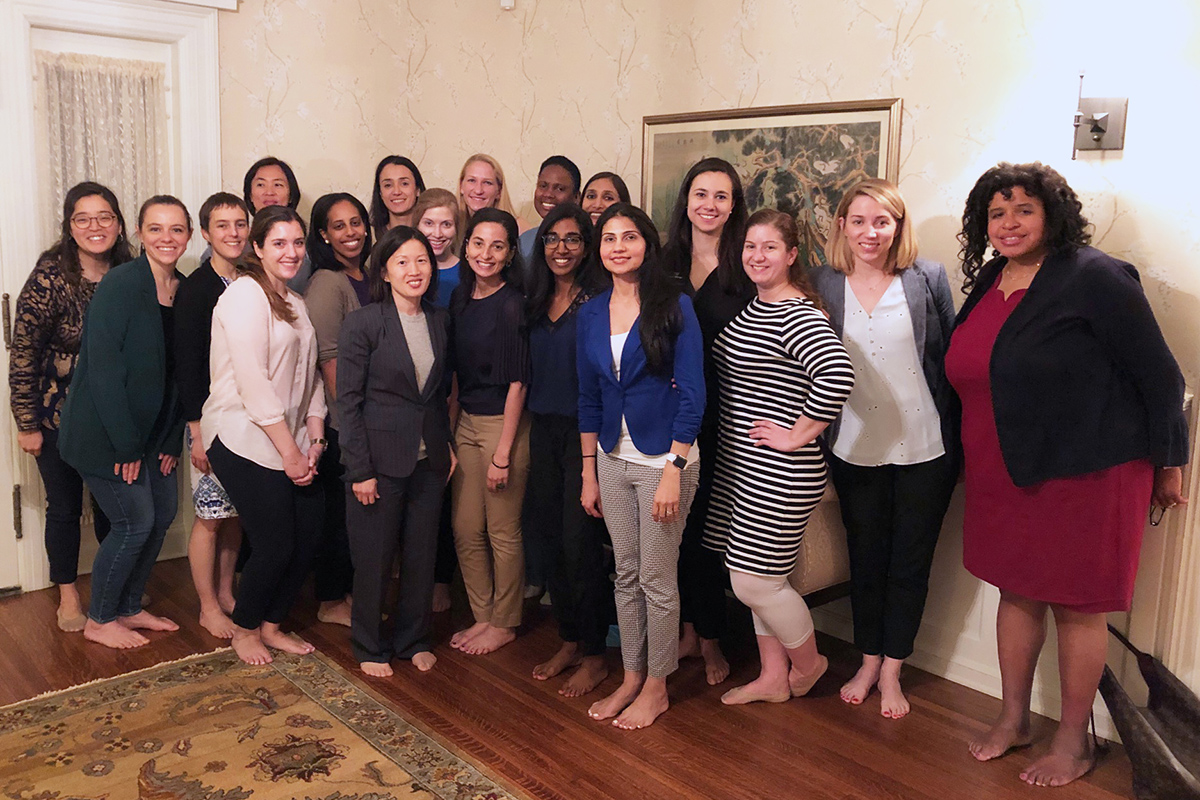 Ky hosting a dinner for Penn Women in Cardiology.
Major interests and passions include family. I'm married to an interventional cardiologist, Robert Li, MD, FACC, and we have two teenagers, who are very busy themselves with multiple instruments, sports, writing and art, and school.
Being a mother has taught me so much about life – I often think, when faced with my own questions – what advice would I give my child if he or she was asking me the same thing?
Church is also a very important part of my life, and every Sunday is a day of rejuvenation. I also love running and run every day – it's a great time to clear my head and to just think, without distractions. Often, great ideas come to me during the hour I run!
On weekend nights, my family also enjoys movie time. One of my favorites is Chariots of Fire (recommended by my friend Brian Lindman, MD, FACC). I also enjoy music; my favorite classical piece is Tchaikovsky's Violin Concerto in D.
What one word would your best friend use to describe you?
Resilient. Hard-working. (Two words!)
One word you'd use to describe yourself?
Perseverant.
What's your primary strategy for maintaining your own well-being?
Faith, love and prayer.
These are fundamental strategies that apply to every moment of every day – both the small minutiae of life and the big decisions that I face.
And of course, I love coffee!!
What's your favorite part of living in Philadelphia? Favorite restaurant?
Philadelphia feels very livable and offers so much in terms of the arts, food and the outdoors. My favorite restaurant is a hard one, because there are so many. The first restaurant I went to with my husband was Vietnam Palace, so that restaurant will always be one of my favorites.
Last words to ACC members about JACC: CardioOncology?
We sincerely look forward to your readership, submissions and support of this new journal! Sign up now for e-alerts and look for our first issue in September.
Keywords: ACC Publications, Cardiology Magazine, Cardiovascular Diseases, Academies and Institutes, Access to Information, Cells, Cultured, Chemical Engineering, Coffee, Creativity, Friends, Goals, Mentors, Mothers, National Cancer Institute (U.S.), Phenotype, Patient Care, Research, Research Personnel, Schools, Medical, Spouses, Vaccines, Restaurants
< Back to Listings