ACC Around the World | Localized Research, Education and Networking Focus of 2019 Latin America Conference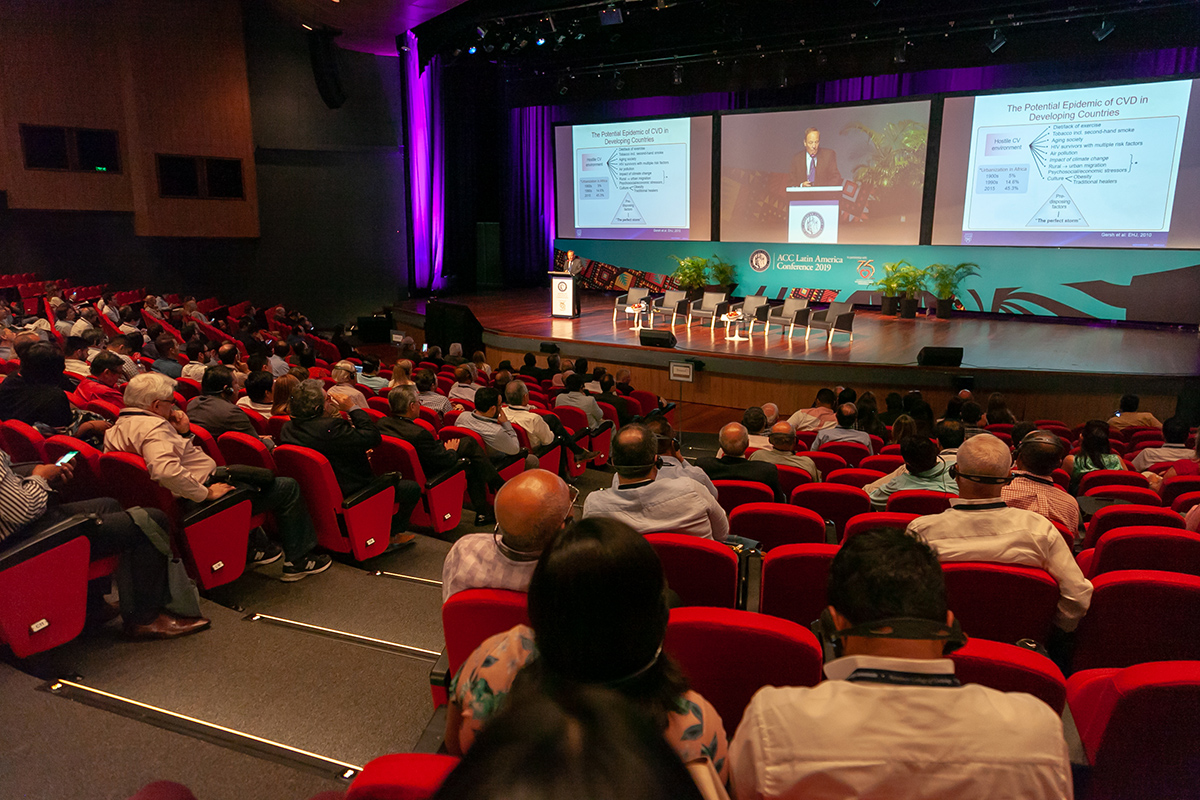 Nearly 1,200 cardiovascular professionals took part in ACC's Latin America Conference 2019 in Cartagena, Colombia, in July.
Hosted in collaboration with the Colombian Society of Cardiology and Cardiovascular Surgery, the three-day meeting examined evidence-based strategies, as well as provided opportunities to share best practices, network with colleagues from around the region and hear from global experts on hot topics.
Conference Chairs Hector I. Michelena, MD, FACC, and Miguel Urina-Triana, MD, MSc, FACC, kicked off the meeting with a focused session looking at the global implications of the cardiovascular disease epidemic in the developing world.
Other sessions addressed topics like coronary artery disease, infectious diseases and the heart, the power of data, and more.
One session, facilitated by ACC Membership Committee Chair Hadley Wilson, MD, FACC, highlighted efforts in North Carolina to create a regional STEMI network and potential opportunities to apply lessons learned from these efforts to work being done in Latin America and other regions with ACC's Global Heart Attack Treatment Initiative.
In addition to the educational sessions, the Latin American Conference 2019 provided a unique forum for sharing new science from across the region. More than 125 poster abstracts were accepted, including one assessing links between smartphone use and obesity (see sidebar).
Jose P. Lopez-Lopez, MD (Colombia), Maria Lícia Ribeiro Cury Pavão, MD (Brazil), and Gaston Guzmán, MD (Argentina) were recognized as Latin America Conference 2019 Abstract Winners.
Attending an international congress allows me to update my knowledge
and get first-hand information from different international authorities.
— Mateo Mejia Zuluaga, MD
Lopez-Lopez's research looked at the "Relationship of Obesity and Low Handgrip Strength or Sarcopenic Obesity as a Predictor of the Presence of Cardiovascular Disease," while Pavão's addressed "Electrical Storm in Chagas Heart Disease Patients With Implantable Cardioverter Defibrillator - Clinical Predictors, Outcome and Arrhythmic Characteristics: A Prospective Registry From a University Hospital."
Guzman's research focused on the "Relationship Between Lipoprotein (a) and Genetic Polymorphisms of Plasminogen Activator Inhibitor-1 With Coronary Artery Disease Extension, Presence of Intracoronary Thrombus, Abnormal TIMI Flow and Type of Acute Coronary Syndromes."
All three winners will have the chance to present their abstracts at ACC.20 Together With the World Congress of Cardiology in March 2020 in Chicago.
Smartphones and Obesity
As smartphones continue to be an inherent part of life and grow as a primary source of entertainment –particularly among young people – they also lead to a decrease in physical activity. A poster abstract, presented at the Latin America Conference 2019, found that university students who used their smartphones five or more hours a day had a 43 percent increased risk of obesity.
Researchers analyzed 1,060 students of the Health Sciences Faculty at the Simón Bolívar University from June to December 2018. The study group consisted of 700 women and 360 men, with average ages 19 and 20 years old, respectively.
Since I was a little girl, I've been surrounded by cardiologists. My dad is a cardiologist-electrophysiologist.
He always taught me how beautiful the heart is from its anatomy to its physiology. Today I can fulfill my dream of studying it thoroughly, being a resident of cardiology.
— Laura Duque Gonzalez, MD
Participating men were 36.1 percent likely to be overweight and 42.6 percent likely to be obese. Women, on the other hand, were 63.9 percent likely to be overweight and 57.4 percent likely to be obese.
Results showed that 26 percent of the participants who were overweight and 4.6 percent who were obese spent more than five hours using their device. Furthermore, those who spent more than five hours a day were more likely to have other lifestyle habits that increase the risk of cardiovascular disease, such as eating fast food, drinking sugary drinks and having decreased physical activity.
"The results of this study allow us to highlight one of the main causes of physical obesity, a risk factor for cardiovascular disease," said Mirary Mantilla-Morrón, a cardiac pulmonary and vascular rehabilitation specialist at the Health Sciences Faculty at the Simón Bolívar University in Barranquilla, Colombia, and lead author of the study.
The conference is integration and knowledge without borders.
— Juan Justiniano Encina, MD
"We have also determined that the amount of time in which a person is exposed to the use of technologies – specifically prolonged cell phone use – is associated with the development of obesity."
Follow the Highlights
Search #ACCIntlConf on Twitter for live coverage from the meeting. Also check out ACC's Facebook page to watch the following two sessions on demand:
Adalberto Quintero Baiz, MD, FACC; Y. S. Chandrashekhar, MD, FACC; Richard Kovacs, MD, FACC; Pamela B. Morris, MD, FACC; and C. Michael Valentine, MD, MACC, discuss the top clinical trials of 2019 and how they'll impact practice.
Juan Aranda Jr., MD, FACC; Viviana Navas, MD; Maria Juliana Rodriguez, MD; and Jose Miguel Torres, MD, FACC, take part in a heart failure session on the top questions you want to know the answers to, but are afraid to ask.
Keywords: ACC Publications, Cardiology Magazine, Coronary Artery Disease, Lipoprotein(a), Risk Factors, Plasminogen Activator Inhibitor 1, Acute Coronary Syndrome, Myocardial Infarction, Latin America, Defibrillators, Implantable, Hospitals, University, Prospective Studies, Obesity, Overweight, Cardiovascular Diseases, Life Style, Exercise, Thrombosis, Registries, Polymorphism, Genetic
< Back to Listings