Feature | Women Who Lead: ACC's Women Presidents
While strides have been made in increasing the number of women in cardiology, there is still much room for growth. Despite an increase in the proportions of medical students (52%) and internal medicine residents (42%) who are women in 2019-2020, only 25% of women are cardiology fellows. Moreover, women only comprise 11.1% of adult cardiology FACCs in the U.S as per 2021 data.1,2
How do we reverse this trend? Studies have shown that diverse role models can help inspire and motivate career aspirations. Not to mention, identity compatibility can be a key variable to sustain career engagement.
With that intent, we share the inspirational stories of the five women who have served as ACC President to date – Suzanne B. Knoebel, MD, MACC; Pamela S. Douglas, MD, MACC; Mary Norine Walsh, MD, MACC; Athena Poppas, MD, MACC; and Dipti Itchhaporia, MD, FACC.
These trailblazing women presidents of the ACC have all contributed to the advocacy and the professionalism of the ACC and moved the College and profession forward in improving cardiovascular research and clinical care. Their stories illustrate its possible for women to become successful in cardiology and in leadership, including in the ACC. We hope these stories encourage a wider and more diverse pipeline of people pursuing a career in cardiology and help to inspire those already in the field.
Suzanne B. Knoebel, MD, MACC
Pioneering Researcher, Visible Leader
Knoebel was the first woman president of ACC, serving from 1982-1983. An alumna of the Indiana University (IU) School of Medicine, where she spent her professional career, she was also an original member of the faculty of the Krannert Institute of Cardiology and in 1977 was appointed the Herman C. and Ellnora D. Krannert Professor Emerita of Medicine.
Knoebel was always enthusiastic to embrace future advances in cardiology, was technically savvy and quick with interpreting complex clinical data. Among her research accomplishments was the development and patent of a method to record the fetal electrocardiogram (ECG) without interference from maternal ECG, along with a team of researchers.
She also stepped up for any endeavor that needed attention. Her legacy: As the glass ceiling-breaking first woman president of ACC, she worked relentlessly on health care delivery, payment methods and government relations.
"She was passionate about life, science and cardiology – even before passion became an overused word in our dictionary," says Richard J. Kovacs, MD, MACC, who along with Richard A. Chazal, MD, MACC, was mentored by Knoebel as a cardiology fellow at the Krannert Institute of Cardiology and followed in her footsteps as an ACC President.
Raised in a family of physicians, and by a mother who was a nurse, Knoebel in 2004 wrote the children's book, Dr. Tootsie: A Young Girl's Dream, focused on the life of a young girl on a farm who follows her dream to become a physician. Among her other books is It Takes One to Know One, a novel that looks at the issues in health care and reform. Along with writing, she balanced her work life with breeding thoroughbred horses.
Pamela S. Douglas, MD, MACC
Clinical Scientist, Passionate Visionary
A passion for clinical science and a desire to help critically ill cardiovascular patients led Douglas to choose a career in cardiology. Inspiration from mentors and role models helped her move along her career path and Douglas works to continue to build a diverse pipeline of cardiologists, including her work as the inaugural chair of the Diversity and Inclusion Task Force (now Committee). (Click here to learn more about this work.)
Her path to leadership was driven by dedication and talent with an unrelenting focus on improving patient outcomes at every step. Now the Ursula Geller Professor of Research in Cardiovascular Diseases at Duke University, she notes that as part of her journey she relocated to a new institution when exceptional opportunities arose.
Douglas credits the ACC, a platform of like-minded people, friends and leaders, for helping her hone leadership skills. Noting the need to skillfully navigate to new opportunities without focusing on the barriers, she illustrates this with an analogy of skiing through the trees: "Concentrate on the opportunity you have and find the spaces between the barriers."
Respectful communication and meaningful collaboration are also key to her successful leadership.
Douglas continues to be an approachable role model for women in cardiology across all levels. Along with her work to help build a diverse workforce in cardiology, she is a rigorous clinical researcher, impactful author in the field of cardiac imaging, and a powerful contributor to work on heart disease in women and cardio-oncology. She notes that women in cardiology have a very high job satisfaction and the variety of career options within the field make it a great choice from the perspective of work-life balance.
Mary Norine Walsh, MD, MACC
Collaborative Builder, Advocacy Leader
The director of the heart failure and cardiac transplantation programs at Ascension St. Vincent Heart Center in Indianapolis, Walsh started medical school after working for eight years as a nursing assistant. She chose cardiology in the middle of her intern year.
By serving as president of ACC, she helped to open doors wider for younger women. She has also worked to advance team-based care in cardiovascular medicine and proudly served as the inaugural co-chair of the CV Team Member Section. In addition, Walsh, along with a small group of pioneers, played a key role in spearheading the creation of ACC's Women in Cardiology (WIC) Member Section.
In addition, to her many leadership roles within the College, Walsh has been (and continues to be) a proponent for patient-centered care and an unwavering voice for the importance of advocacy for patients on the local and national levels. She is also an international mentor who truly enjoys helping advance others' careers and continues to play a leadership role in ACC's Diversity and Inclusion efforts.
When an opportunity knocked, she notes she was selective, but she always leaned in with full energy. Becoming the ACC president was one such opportunity – one for her own professional growth while knowing it would open doors for other women down the road.
Climbing the leadership ladder takes time and experience, she shares. Barriers along the way as a woman in cardiology she advises can be handled effectively by being an ally and by having a quick and a prepared answer mixed with humor when blindsided by bias.
"Balancing work time and family time is an individual decision," she says. Looking deep and knowing what is really important for yourself guides this. She tries to disconnect to stay recharged and exercises to stay healthy.
A true collaborator, she says with gratitude: "Shout out to my male mentors and friends – who pushed me forward."
Athena Poppas, MD, MACC
"Servant Leader," Strategist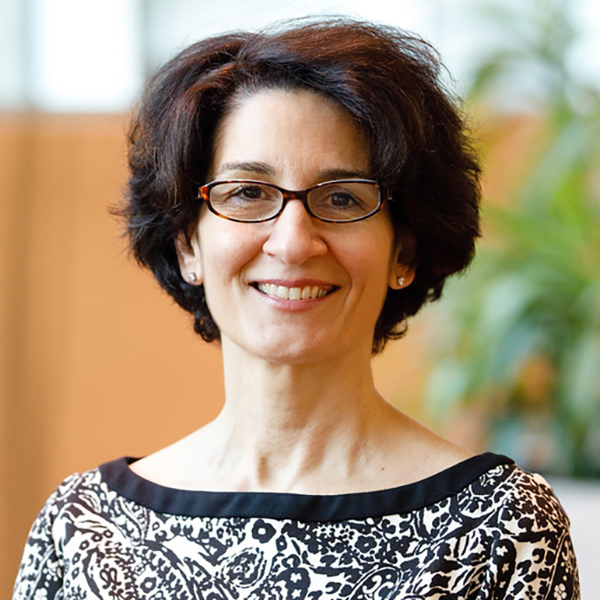 Poppas' journey in cardiology began at the University of Chicago Hospitals and she now serves as the chief of cardiology and director of the Lifespan Cardiovascular Institute at Rhode Island, The Miriam and Newport hospitals. She is a professor of medicine at The Warren Alpert Medical School of Brown University.
Poppas was responsible for leading the ACC through the COVID-19 pandemic during her presidential year in 2020 and she did so with grace and camaraderie. During her presidency, she also laid a collaborative path for the next generation: fellows and early career continuing the great tradition of the College and maybe inspiring somebody to say, "I could do that too." Additionally, Poppas was the first woman ACC President to pass the presidential chain to another woman, in 2021.
The daughter of immigrants from Greece, she grew up with the motto to work hard and do the best. Her mother, a "feminist-journalist" as described by Poppas, was instrumental in inspiring her to pursue her dreams. To achieve a "balance" in life, she stresses the importance of taking turns with your partner (she relocated several times either for her training or her husband's job), being open and flexible, and knowing that we cannot have it all – all at the same time. She worked part-time when her kids were small, which helped prevent burnout.
Recounting an experience in medical school about an offensive comment made by a professor and how she grabbed it as an opportunity to educate him through a one-to-one conversation, Poppas advises combatting aggressions by speaking up and be one's own advocate.
She notes that men should continue to support gender equity and be part of the solution.
Self-reflection is needed to help prevent work-related stress, she says, and exercise helps her to shift her focus, along with meeting new people. "Understand that it takes a village."
Dipti Itchhaporia, MD, FACC
Innovative, Forward Thinker
Itchhaporia is the director of disease management for Hoag's Jeffrey M. Carlton Heart and Vascular Institute in Newport Beach, CA, and the current ACC President. She is the first South Asian president of the College.
She wants to be remembered for promoting digital transformation and innovation and ultimately advancing better outcomes for patients and improved clinician wellness. She is also credited for helping to weave the notion of health equity into the fabric and culture of ACC.
Growing up in a family of physicians, medicine came naturally to her. A cardiologist-mentor's comment at the end of her intensive care rotation about saving lives stuck with her. It rejuvenated her interest in cardiology where it's possible to impact patients' lives.
Itchhaporia credits a "village of mentors" from different backgrounds who inspired and guided her, gaining different perspectives from each, including an orthopedic surgeon. She notes the socioeconomic and immigrant status of individuals can influence the career path and make it harder. Although leadership wasn't an active pursuit, doing things she liked and her enthusiasm set the momentum.
To stay balanced and recharged, she exercises regularly and relies on external help and her supportive husband. She learned to navigate around difficult situations and aggressions by forging her path with her own tools. And she notes the need to dispel some of the myths surrounding the field of cardiology that "it is not family-friendly, or we work too much." Her advice – trust your instincts, follow your passion, grab meaningful opportunities by saying yes at the beginning of your career, and always look forward. Her words of wisdom: "Do not compete in somebody's lane; it's difficult. Create your own lane; it's easier."
This article was authored by Kamala P. Tamirisa, MD, FACC, Texas Cardiac Arrhythmia Institute, Dallas; Sarah Rosanel, MD, Maimonides Medical Center, Brooklyn, NY; Ritu Thamman, MD, FACC, University of Pittsburgh School of Medicine, PA; Sherry-Ann Brown, MD, PhD, FACC, Wisconsin College of Medicine, Milwaukee; Toniya Singh, MD, FACC, St. Louis Heart and Vascular Cardiology; and Gina P. Lundberg, MD, FACC, Emory School of Medicine, Atlanta, GA.
Clinical Topics: Acute Coronary Syndromes, Anticoagulation Management, Arrhythmias and Clinical EP, Atherosclerotic Disease (CAD/PAD), Cardiac Surgery, Cardio-Oncology, Congenital Heart Disease and Pediatric Cardiology, Dyslipidemia, Geriatric Cardiology, Heart Failure and Cardiomyopathies, Invasive Cardiovascular Angiography and Intervention, Noninvasive Imaging, Pericardial Disease, Prevention, Pulmonary Hypertension and Venous Thromboembolism, Sports and Exercise Cardiology, Stable Ischemic Heart Disease, Valvular Heart Disease, Vascular Medicine
Keywords: ACC Publications, Cardiology Magazine, Anniversaries and Special Events, Biological Science Disciplines, Books, Burnout, Psychological, Cardiologists, Cardiology, Cardiovascular Diseases, Communication, COVID-19, Critical Care, Critical Illness, Cultural Diversity, Disease Management, Electrocardiography, Emigrants and Immigrants, Faculty, Farms, Friends, Gender Equity, Government, Greece, Heart Diseases, Heart Failure, Heart Transplantation, Hospitals, Indiana, Instinct, Job Satisfaction, Leadership, Longevity, Mentors, Mothers, Neoplasms, Nursing Assistants, Occupational Stress, Orthopedic Surgeons, Pandemics, Patient-Centered Care, Professionalism, Rhode Island, Schools, Medical, Skiing, Socioeconomic Factors, Spouses, Students, Medical, Trees, Trust, Universities, Workforce, Work-Life Balance, Writing
< Back to Listings