From the Member Sections | Called to Care: Community, Passion Inspired My Pursuit of a Career in Cardiology
"Give back your heart to itself."
This quote from poet Derek Walcott resonated with me during my time in isolation in the early days of the COVID-19 pandemic. During that time of shock and concern for the state of global health, prayer and meditation helped to better cope with what was happening within the walls that I would soon walk as a medical student. I was gifted moments to reflect on what I would do with the balance of my medical education and my future path as a physician. Though I remained still, there was an atmospheric shift. My path became clear: I would become a cardiologist.
News headlines informed me of the damaging effects of SARS-CoV-2 on the respiratory, neurological and cardiovascular systems. The greater impact on Black and Brown populations also became clear, with a two- to three-fold higher likelihood of dying from COVID-19, in part because of underlying comorbidities including obesity, diabetes, hypertension and heart disease.1
The disproportionately higher mortality rate was also linked to medical mistrust stemming from generations of egregious and unethical cases of medical experimentation. This loss of trust led to avoidance of seeking necessary care, until the only other option was death. As a first-generation medical student raised in the Janie Poe Projects, a medically underserved community, I have observed this medical mistrust – even within my own family.
COVID-19 and its impact on patients with hypertension and heart failure, conditions my mother and grandmother battle, respectively – captured my attention, inspiring a greater curiosity about the epidemiology of these conditions. I wanted to delve deeper into the population health and cardiovascular care within Black and Brown populations. In pathology, we learn that cardiovascular disease, the "silent killer," is the #1 cause of death in the U.S., and that people of color are again affected at higher rates. It's a statistic that doesn't sit well with me. A seed was planted.
Is it Possible – For Me?
Then came moments where I experienced a conflict between my mind and my heart: Cardiology? Black in cardiology? A woman in cardiology? How likely is that? Medical school is tough enough, but cardiology – that's usually for the elite few. Am I capable? How can I make it happen?
I called my mother and grandmother for their perspectives on where my heart was leading me. My mother was on board and fully encouraging. But to my surprise and confusion, my grandmother's reply was one of discomfort: "Tasha, you don't want to do that. I just don't see that many Black doctors, especially Black heart doctors." I was crushed and heartbroken for days and I revisited the topic with her later.
But representation in medicine matters – for patients. It helps rebuild a bridge of trust ultimately leading to patients from communities underrepresented in medicine to seek necessary care. A powerful article written by Rachel Bond, MD, FACC, a Black woman cardiologist, illustrated this for me. She shared that after she spoke about heart health at a meeting of members of a predominantly Black church, some of the members sought out her expertise and care for their cardiovascular concerns.2 They felt more at ease having a physician to whom they could relate and share their cultural challenges.
To be clear, the role of race and racism in medicine and public health has been highlighted in recent years, making it evident that the faces of health care providers must represent all patients to achieve health equity. But there is more work to be done. Only 5% of physicians are Black, far short of the 13.4% of Blacks in the U.S. population.3 Furthermore, only 2-4% of cardiologists are Black, according to ACC's third decennial Professional Life Survey.4
Being alarmed by these numbers and able to relate to the desire for a Black cardiologist, I know there is a role for me. I may be one person, but I am one who can inspire and encourage many others. I want to help rebuild trust and bridge gaps between communities of color and the health care system through cardiovascular care. And I want to increase Black representation in the field.
I'm passionate about addressing modifiable risk factors for heart health with patient education. I believe impactful change starts with a focus on the social and political determinants of health in vulnerable communities. It's our duty to regain trust through transparent, consistent and committed service and by implementing health policy and necessary infrastructure changes that will enable sustainability and help create better patient outcomes.
Coming from a community with a high prevalence of cardiovascular concerns, I feel called and uniquely qualified for this role. I hope to give my heart back to itself, back to the place and people who loved, supported and lifted me through life's challenges, by dedicating my medical career to serving and addressing the health issues that plague it. Equipping and empowering those underrepresented in medicine is an invaluable opportunity to turn my passion into purpose. It would also bring immeasurable joy to my life. Through my efforts, I hope to inspire the next generation of Black and female cardiologists to continue the work and mission.
My heart clearly won the battle over my mind. I'm Black. I'm female. I am a future cardiologist. Certainly, I will encounter challenges due to the competitive nature of cardiology. I will stand on what my mother often tells me: "Challenges are what make life interesting. Overcoming them is what makes it meaningful." I have cleared many hurdles and overcome numerous obstacles before. Grandma agrees the road to cardiology will be yet another.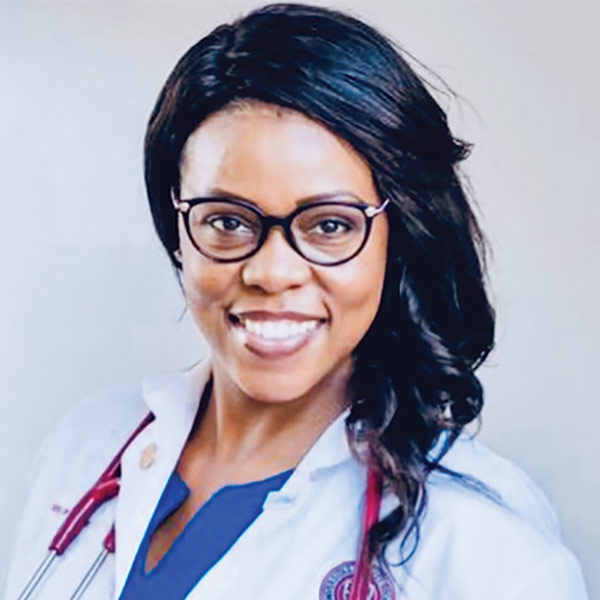 This article was authored by Tasha R. Phillips-Wilson, BS, MS, St. George's University School of Medicine, Class of 2023. Reach out to her on Twitter @TashaRWilson.
References
Centers for Disease Control and Prevention. Risk for COVID-19 Infection, Hospitalization, and Death By Race/Ethnicity. July 16, 2021. Available here.
American Heart Association News. Why Black Cardiologists are Vital and Rare. April 2020.
Roy L. It's My Calling to Change the Statistics': Why We Need More Black Female Physicians. February 25, 2020. Forbes.com.
Lewis SJ, Mehta LS, Douglas, PS, et al. Changes in the Professional Lives of Cardiologists Over 2 Decades. J Am Coll Cardiol 2017;69:452-62.
Keywords: ACC Publications, Cardiology Magazine, COVID-19, Cardiologists, SARS-CoV-2, Trust, Cardiovascular Diseases, Cause of Death, Prevalence, Exploratory Behavior, Global Health, Grandparents, Health Equity, Medically Underserved Area, Meditation, Mothers, Pandemics, Plague, Racism, Schools, Medical, Skin Pigmentation, Students, Medical, Hypertension, Heart Diseases, Risk Factors, Heart Failure, Diabetes Mellitus, Cardiovascular System, Education, Medical, Population Health, Health Policy, Cardiology, Power, Psychological, Attention, Obesity
< Back to Listings