From the Member Sections | Newest ACC Member Section Recognizes Evolving Field of Critical Care Cardiology
The contemporary cardiac intensive care unit (CICU) has evolved, as has the technology, knowledge base and skill set to care for CICU patients over the past three decades. The legacy coronary care unit treated predominantly patients with acute coronary syndrome, while the modern CICU cares for a more heterogeneous group of patients with diverse cardiac and noncardiac critical illnesses. Consequently, there has been an increase in CICU patients with shock, sepsis, renal disease, respiratory failure and prolonged mechanical ventilation, as well as increasingly available critical care therapies for patients with advanced heart failure, cardiac arrest, shock, valvular heart disease and pulmonary hypertension. By creating a Critical Care Cardiology Section, the ACC acknowledges the changing landscape of the CICU, along with the implications for staffing and training cardiologists with critical care expertise (Figure 1).
The current organizational structure and delivery of care in the CICU can vary widely, depending on local expertise and resources. Analogous to surgical trauma center designations, CICUs can be categorized into three levels based on ICU capabilities and resources. A Level 1 CICU denotes the highest level and represents most tertiary care medical centers with mechanical circulatory support capabilities, whereas patients with acute cardiovascular conditions with low complexity are cared for in Level 3 CICUs.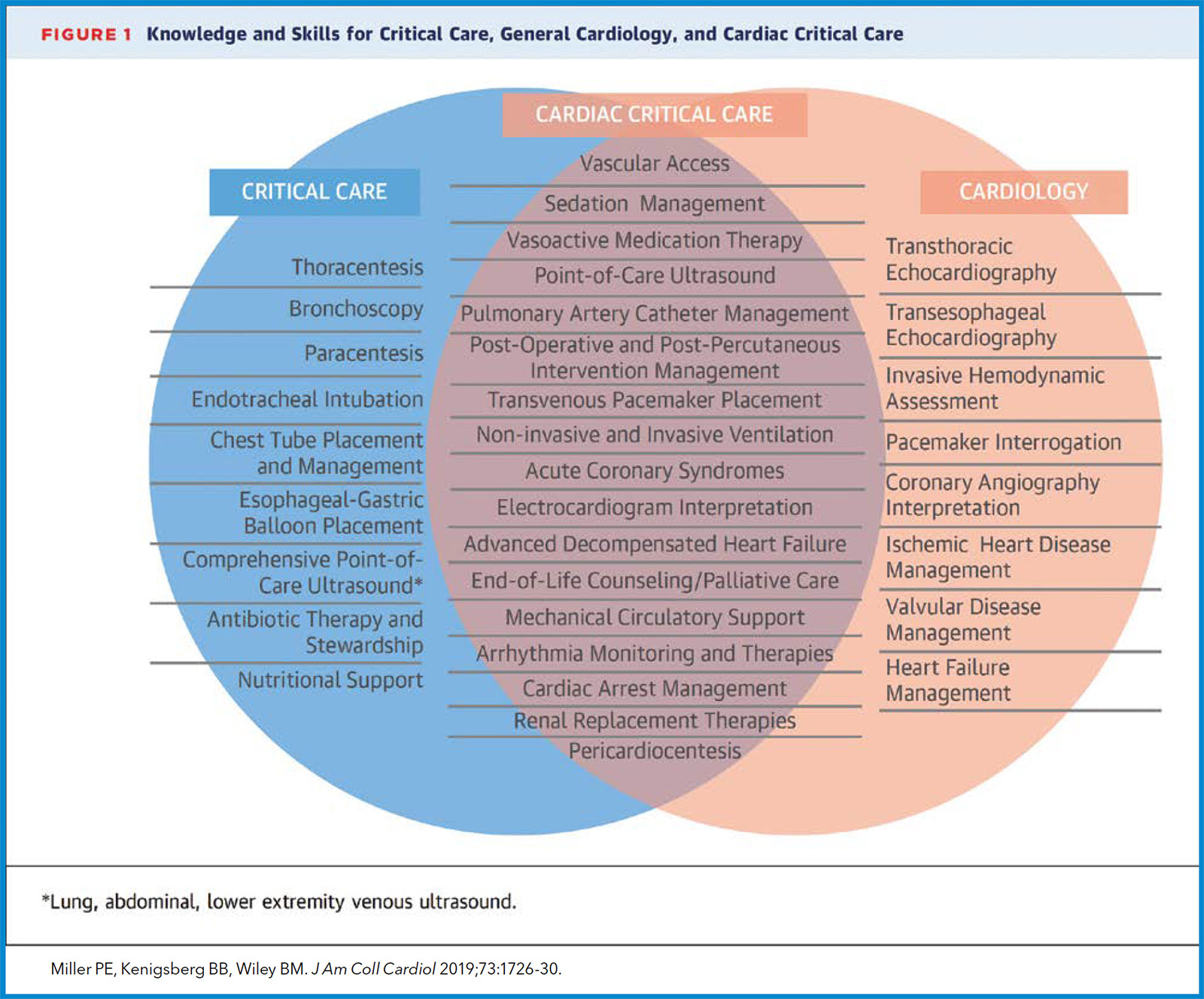 The delivery of care in advanced CICUs is transitioning to a collaboratively managed but still open model. We emphasize the term "open" as we reject the concept of a closed CICU, but rather prefer the terms comanaged or collaboratively managed CICUs. This staffing model emphasizes continued input from all cardiologists but also incorporates on-site cardiologists with expertise in critical care who reside within the CICU walls.
The field of critical care cardiology is developing as a specialty to meet the challenges of the CICU transformation in terms of case mix, device technology, complexity and staffing. However, there is currently a supply-and-demand mismatch. There is a growing need among CICUs for critical care cardiologists that outstrips those formally being trained in critical care cardiology. For example, in Spring 2021 there were 25,696 physicians certified in Cardiovascular Diseases and 12,879 physicians certified in Critical Care Medicine by the American Board of Internal Medicine. Of these physicians, only 130 were dually certified in Critical Care Medicine and Cardiovascular Diseases in the current workforce.
The supply-demand gap represented by the difference between the existing number and amount needed of physicians with both critical care and cardiovascular experience is related to a lack of clarity on the necessary training for and competencies of a critical care cardiologist. ACC is taking a leadership role towards reducing this gap by helping to further develop the field of critical care cardiology through the creation of this new member section.
The ACC's Critical Care Cardiology Member Section is designed to be the primary home for the growing number of cardiovascular professionals interested in CICU level care, as well as all aspects of acute cardiac care. In addition, the section will closely work with, as well as complement the efforts of, the ACC's Heart Failure and Transplant, Interventional, Electrophysiology, Cardiac Surgery Team and Cardiovascular Team sections, along with pulmonary/critical care, emergency medicine and cardiac anesthesia colleagues from outside ACC.
Furthermore, the Critical Care Cardiology Member Section aims to be an impactful resource for Fellows in Training (FIT), Early Career (EC) Professionals, Program Directors and members of the Graduate Medical Education, and Academic Cardiology sections interested in defining and/or engaging in a mentored pathway to critical care cardiology. This newly established section will also lend itself to the development of pertinent educational material, research and conferences related to acute cardiovascular care.
The new Critical Care Cardiology Member Section confirms the College's commitment to leading the way forward for both patients and health care professionals in this expanding and critically important field. The foundation has been laid through the evolution of the CICU, interest among FITs and ECs, and the advent of comanaged CICU staffing models. This new member section will help raise the pillars to support an ACC home for Critical Care Cardiology (Figure 2).
This article was authored by Michael A. Solomon, MD, MBA, FACC, senior research physician, Critical Care Medicine Department, NIH Clinical Center, and Robert O. Roswell, MD, FACC, associate dean for Diversity, Equity and Inclusion, co-director, Cardiac ICU, Lenox Hill Hospital, Northwell Health.
Clinical Topics: Acute Coronary Syndromes, Arrhythmias and Clinical EP, Cardiac Surgery, Cardiovascular Care Team, Diabetes and Cardiometabolic Disease, Heart Failure and Cardiomyopathies, Invasive Cardiovascular Angiography and Intervention, Prevention, Pulmonary Hypertension and Venous Thromboembolism, Valvular Heart Disease, Vascular Medicine, Implantable Devices, SCD/Ventricular Arrhythmias, Atrial Fibrillation/Supraventricular Arrhythmias, Cardiac Surgery and Arrhythmias, Cardiac Surgery and Heart Failure, Cardiac Surgery and VHD, Acute Heart Failure, Pulmonary Hypertension, Interventions and ACS, Interventions and Structural Heart Disease, Interventions and Vascular Medicine, Hypertension
Keywords: ACC Publications, Cardiology Magazine, Cardiologists, Coronary Care Units, Critical Illness, Cardiovascular Diseases, Acute Coronary Syndrome, Anesthesia, Cardiac Procedures, Hypertension, Pulmonary, Leadership, Respiration, Artificial, Tertiary Healthcare, Trauma Centers, Critical Care, Cardiology, Education, Medical, Graduate, Heart Arrest, Respiratory Insufficiency, Heart Valve Diseases, Emergency Medicine, Electrophysiology, Cardiac Surgical Procedures, Knowledge Bases, Heart Failure, Technology, Workforce, Diagnosis-Related Groups, Sepsis
< Back to Listings