Innovation at ACC | Screenshot Software in Medical Imaging
There is no better way to communicate feedback than in the moment when details are fresh in mind. But what if the recipient is not available to speak directly because of engagement in other activities or is located elsewhere?
As the director of an echo lab, I was inspired to find an alternative method to easily communicate to another provider that would not significantly interrupt workflow. Echocardiography is used in this article to illustrate a process that may be applied to other types of imaging.
Images are more illustrative than words alone. Thus, I focused on creating a way to send email messages with screenshots embedded in the body of the email, so the recipient could see the image immediately without opening an attachment. The precedent of sharing images and photos is well established in social media and advertising.
However, medicine requires additional safeguards, such as Health Insurance Portability and Accountability Act (HIPAA) compliance and recipient confidentiality. The ability to compose communications quickly so focus on patient care is not lost is another need.
At first, I sent emails with screenshots to sonographers and then extended this to cardiology fellows and attendings physicians.
My goal was to improve quality, educate and facilitate patient care in a manner that complemented or inspired face-to-face discussion.
Ecosystem Safety and Software
The method of sending screenshots is simple but requires preparation and discussion. Associates need to know what to expect and what the expectations are in receiving and responding to the emails. This depends on a sense of safety, privacy and respect. The inclusion of patient identifying information enables future review.
To ensure HIPAA compliance, users must follow a mandated code of conduct, ensure patient privacy and communicate on a secure digital network. Email encryption and privacy statements help ensure confidentiality. Text messaging with images is an alternative to emails, which can be achieved by using a HIPAA compliant service, but this is not discussed here.
Different screenshot software products can be found from an online search. The most important features are the speed, ease of use and cost. It is especially helpful to be able to trigger the process by pressing a hotkey or clicking on a desktop shortcut (Figure 1).
Figure 1: When using Snagit®, initiate screenshot acquisition by either pressing a hotkey (1), such as the Print Screen key, or a desktop shortcut (2). A cursor will be displayed (3) that can be dragged over an image on an echo workstation to select an area of interest (4), which can then be sent to the Snagit® window for editing.
Pressing the PrtScn key is intuitive as it's the original intent of the key. With the initiation of the software, a cursor appears on the display that can be dragged over the display to select a cropped area of interest. The selection appears in the screenshot window where it can be annotated, with the options depending on the particular software.
Arrows, text, highlights and blurring may be added before the image or an image composite is sent via a toolbar shortcut to the body of an email program, which is automatically opened and displayed (Figure 2).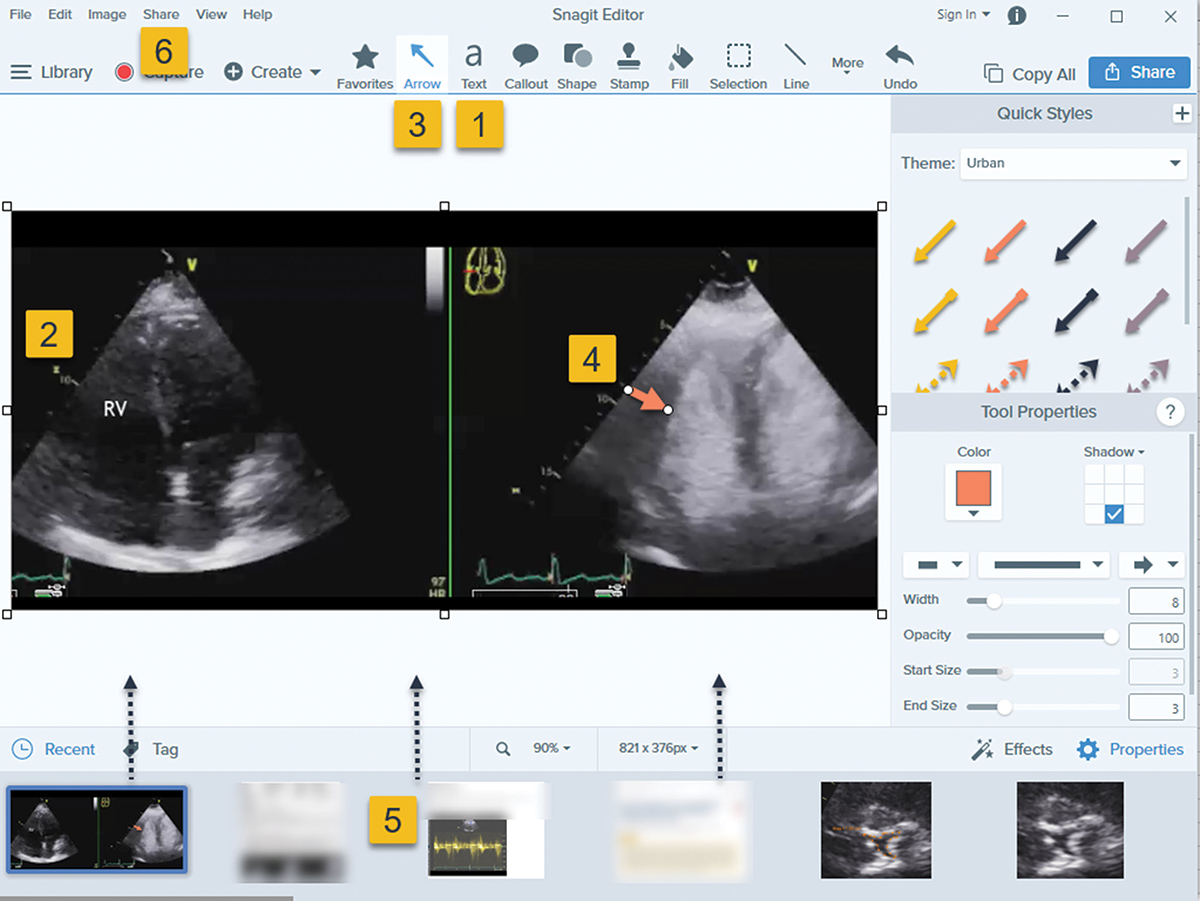 Figure 2: In Snagit®, images captured from a workstation display can be edited. The lower toolbar provides annotation options, such as adding text (1), enabling labeling of the right ventricle (RV) (2) or adding an arrow (3) to point to the RV free wall (4). Multiple images can be pulled up from the capture history (5) to create a composite image (not shown). The annotated image can be shared via different programs, such as Microsoft Outlook or Google Gmail.
The sender can then type in the recipient's email, type a message, add encryption and a privacy statement to the email (Figure 3). The email can be sent to one or more recipients who are registered in a HIPAA secure network.
The Snagit® screen capture software (techsmith.com) enables diverse annotations (Figure 1). Another option is the Snipping Tool, available by searching under "Windows accessories" of Microsoft operating systems. Both software programs can directly send or enable the copying of images into email programs such as Outlook or Gmail (Figure 3).
Figure 3: Example of a Microsoft Outlook email that includes the screenshot (1) annotated in Figure 2. The email includes one or more recipients (2), a subject line with a "secure" encryption indicator (3), an encouraging, educational or corrective message (4), and customized signature (5) that includes a confidentiality message. Outlook also enables the addition of annotations (6), a screenshot capture option (7), insertion of images (8), and attachment of video files (9). Image used with permission from Microsoft.
Both email programs also enable insertion of external images, including moving GIFs, into the body of the message.
Advantages of Messaging Screenshots
Sonographers. Echocardiography is a precision activity. Seemingly small things, like exact placement of a cursor at the mitral leaflet tips, matter. Yet, sending feedback is a delicate process. Receptivity depends on a sense of safety that is based on trust, encouragement and regular praise.
Certain elements in an email foster receptivity, such as recognition of good work, a description of why the email is sent and specific areas of concern, and areas of consideration.
Image screenshots with annotations and text explanations provide education and credibility, especially if they lead to friendly in-person discussion. The latter is also the basis of the accountability of both the recipient and the sender.
The sender may also request an email response, sharing of newly learned information, and additional educational activities. The storage and later review of sent emails can be useful in periodic work performance evaluations.
Physicians. Screenshot emails provide helpful feedback for both cardiology fellows and attending physicians. This can be especially useful for monitoring reports for accuracy, completeness and consistency.
A screenshot can be taken of a report and annotated with highlights, arrows or text to refer to different elements, such as interesting findings, errors, omissions and contradictions. Multiple screenshots can be assembled into an illustrative composite or collected in the body of the email with accompanying comments.
The email can compare the fellow's quantification of a chamber vs. the reader's and lead to an in-person meeting.
Education. There may be no better time to grab and share an interesting image than in the moment. Delays and distraction may make it difficult to go back and find that great case. Screenshots can be shared in a group email or collected on a shared hard drive in pathology-specific folders.
These collections are a resource for conference presentations and publications. Snagit® also enables cropped capture of videos that can be inserted, annotated and regenerated in other programs like PowerPoint (Microsoft) or Camtasia® (Techsmith). These videos can be similarly used in presentations and publications, collected in folders, or attached to emails.
Clinical Care. Screenshot emails can be useful in clinical care because of their speed and ease. A physician reader can email a sonographer a request for additional imaging and use the annotated screenshot to indicate an area of concern, such as a possible mass or the need for echo contrast to better visualize a segment not well seen.
A consultant may be primed by the email to review specific study images before calling the referring physician. A physician reader may flag a study of a patient that may benefit from an additional evaluation, such as echo findings for amyloidosis.
Screenshots of severe aortic stenosis may be used to identify a patient who might benefit from TAVR. These images can then be pasted into slides for presentation by the structural heart coordinator. Email communication requires tracking and follow-up and should not be used to replace necessary in-person discussion.
Other Applications. Capturing screenshots has diverse administrative applications. These include capturing and annotating images of documents (reports, billing, schedules, legal), spreadsheets, graphs, and IT issues.
Cropped sections of a report can be annotated with highlights, comments and arrows, while sensitive areas can be blurred. Imaging software error messages can be captured and emailed to IT for follow-up.
Memos may be more impactful when text is associated with illustrations. In fact, sharing screenshots can reduce the time it takes to compose an email by replacing text statements with images.
Conclusion
Capturing and emailing screenshots is an easy way to facilitate quality assurance, education and patient care. It can complement discussion and be useful for physicians, trainees, imagers and administrators.
Advantages are faster, impactful and efficient communication; illustrative documentation, and facilitated conference preparation. Implementation of this tool depends on the assurance of user confidentiality and HIPAA compliance.
This article is authored by Gerald I. Cohen, MD, FACC, director of Noninvasive Cardiology, Structural Echocardiography and Cardiac Rehabilitation at Ascension St. John Hospital in Detroit, MI. He is president of SofTrek Information Services in Franklin, MI.
References
Cohen GI. A practical guide to graphic communication for quality assurance, education, and patient care in echocardiography. Echocardiography 2019;36:1747-54.
Clinical Topics: Noninvasive Imaging, Echocardiography/Ultrasound
Keywords: ACC Publications, Cardiology Magazine, Echocardiography, Patient Care, Confidentiality, Health Insurance Portability and Accountability Act, Diagnostic Imaging
< Back to Listings