Just One More | Planting Seeds: Growing the Next Generations of Women In Cardiology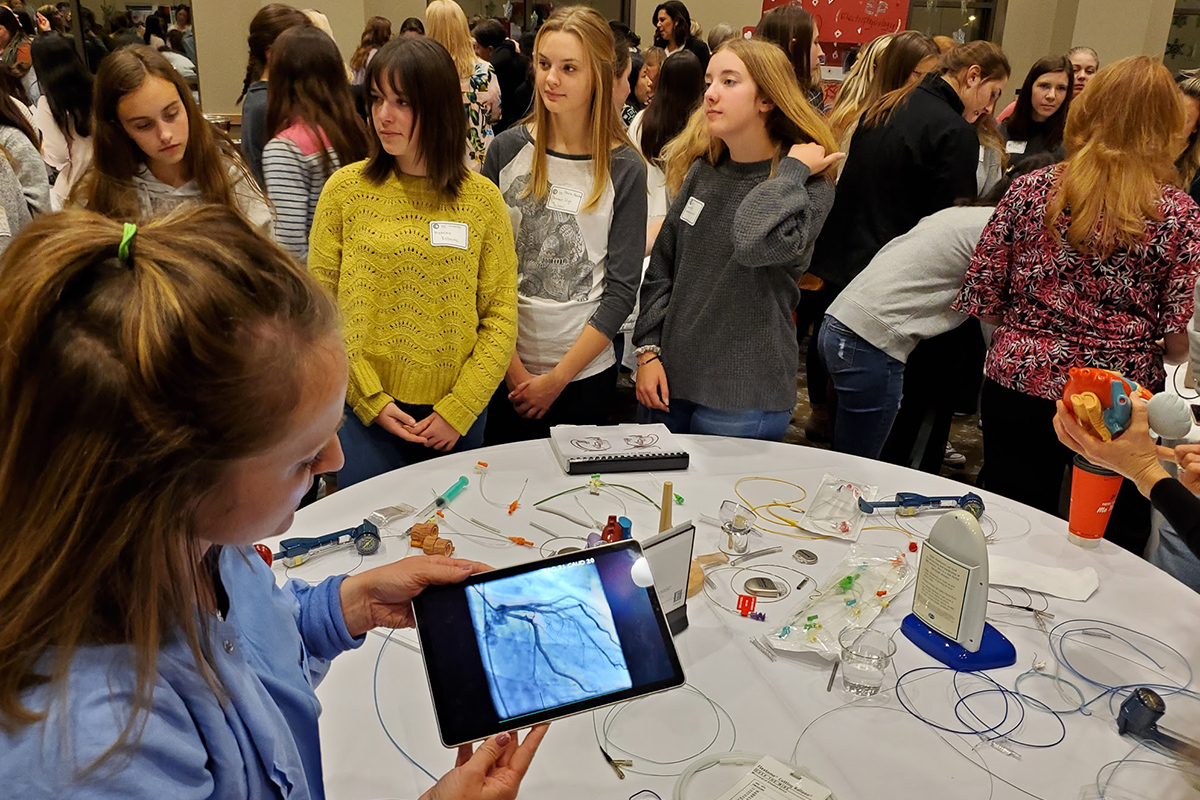 Ever since I was a cardiology fellow in the 1990s, I've noticed the unfortunate rarity of female cardiologists (in those days, even rarer than today). Since then, I've had the dream of someday being able to introduce more women to the field.
This dream took a giant step forward with the "Introduction to Women in Cardiology" event for high school girls with an interest in science and medicine held by the ACC Iowa Women in Cardiology (WIC) Chapter.
Initially, my idea was simply to introduce them to female cardiologists. Then I recognized that every day I work with an entire cardiac team of nurses, nurse practitioners, cath lab staff (including radiation techs) and diagnostic staff (including echo, vascular, nuclear and computed tomography [CT] techs).
Together we all form a team to provide the best care for our cardiac patients.
Just like with my work, I understood I needed a team to accomplish the event I envisioned – one that would introduce the high schoolers to the entire spectrum of the profession of cardiology, from the cardiac team to cardiologist.
We set the date for the event and began emailing an open invitation to high school girls through the principal of area high schools.
As part of my personal commitment, I worked to spread the word through interviews with local newspapers and television, alongside social media advertisement through Facebook and Twitter.
Our event was held at St. Ambrose University in Davenport, IA. The food was generously sponsored by Medtronic.
We created an interactive day that allowed the girls to talk directly with women holding different types of jobs in the field and hands-on time with different types of equipment. After my introductory kick-off lecture, the informal roundtables gave the girls plenty of time to ask all their questions.
The cardiac cath lab team from two hospital systems in the Quad Cities provided colorful displays with catheters, wires, devices and much more.
The diagnostics team from my private practice group, Cardiovascular Medicine PC, came in full force and introduced the young ladies to echo, vascular, nuclear, and CT technology and methods.
The portable echo machine captivated many of the girls.
Cardiologists, electrophysiologists, nurses and nurse practitioners mingled with students for casual discussions about their work. In addition, we had sign-up sheets for the girls for shadowing opportunities in their areas of interest.
We believe we piqued their curiosity through this unique opportunity by introducing them to a field about which they had little knowledge – and a spectrum of possible career paths within the field.
The seeds we planted will certainly bear fruit someday in a few, if not many, of these young ladies.
Overall, the event was very well received in our community, with an overwhelmingly positive response from parents and teachers.
We hope to repeat this event every couple of years to help open opportunities and foster knowledge about cardiovascular medicine in the next generation of girls in the Quad Cities!
Keywords: ACC Publications, Cardiology Magazine
< Back to Listings