Cover Story | Cardiology's Digital Transformation: Telehealth, Remote Monitoring and AI
Technology-Enabled Collaboration Across the Entire Health Care Ecosystem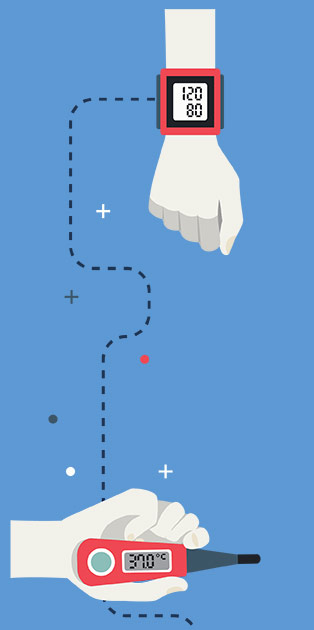 A few years ago, conducting a patient visit via video call might have been considered "technologically forward." Not any longer. Telehealth is just the tip of the iceberg when it comes to the idea of digital transformation in health care.
The pandemic supercharged the move to virtual care but hopping on a telehealth call is just the beginning, according to David C. Rhew, MD, global chief medical officer and vice president of health care for Microsoft and an adjunct professor at Stanford University.

As many clinicians have learned the hard way, telehealth sounds easier than it is. For Rhew and Microsoft, it's a perfect opportunity to see just how much technology can up the game. (Think Tony Stark and his high-tech communications systems in The Avengers.)
"We've traditionally thought of virtual care as being the actual consultation via video or maybe by phone, but telehealth can really be seen as an opportunity to coordinate and intertwine different technologies to improve the process from start to finish," says Rhew.
Here's a possible scenario: Imagine hopping on a virtual care call that was triggered (and scheduled) based on abnormal ECG findings from a smartwatch and having all the patient data seamlessly available to you and your patient, along with the ability to calculate risk scores, check practice algorithms, and maybe even consult with other clinicians on the fly. On top of this, perhaps, there will be some technological AI-assisted add-ons that might help with technical things like ECG interpretation.
Technology is an enabler. It is not there to try to remove the critical tasks that clinicians need to do every day. But with that, there's a lot that can be automated and made more consistent, allowing us to become more efficient and spend more time on high-value tasks.
David C. Rhew, MD
All the clinical documentation will be managed automatically – and not just a voice-to-text capture of the call, but an AI-powered solution that provides a contextual understanding of the interaction, organized into a progress note that is integrated into the health record and disseminated, as appropriate.
"AI has been deployed in many scenarios to enable a more streamlined workflow. During the pandemic, we developed and launched with one of our close partners, Nuance Communications, a technology solution that allows a clinician's conversation with the patient to be captured and organized into a progress note or history and physical," says Rhew. "Clinicians can then review and edit the progress note prior to integration into the electronic health record (EHR). The overall process reduces the time for clinical documentation into the EHR by up to 80%."
Digital Transformation: An ACC Strategic Priority
Digital transformation is a strategic priority for the College as it looks to optimize cardiovascular care and outcomes worldwide. The College's Innovation Program plays a central role in this effort, focusing in part on leveraging innovative technologies to transform the way clinicians engage with patients and provide care.
Another part of the strategy, as outlined in a recent Cardiology article, revolves around the transformation of the College as an organization – the way in which digitization and advances in technology are transforming how the College engages its 54,000 members. Click here for the full article.
Learn more about the ACC's Innovation Program at ACC.org/InnovationProgram. Visit ACC.org/About for more on the College's Strategic Plan.
Nuance Communications was acquired by Microsoft in April 2021 for $19.7 billion. The company is considered a pioneer in voice recognition, natural language understanding, and speech-to-text software, and their voice transcription technology is already used by more than 10,000 health care organizations worldwide.
"It's not just about improving one aspect of the process, like facilitating documentation in the EHR, but it's about vertically integrating different technologies to create an end-to-end platform that is secure and workflow compatible," says Rhew.
It's also not a done deal. "From where we are with telehealth or remote monitoring today, we can start designing again for tomorrow," notes Sanjeev P. Bhavnani, MD, FACC, principal investigator in the Health Care Innovation and Practice Transformation Laboratory at the Scripps Clinic. "Particularly with the decentralization of health care happening in pharmacies and other locations now, this is all a catalyst for asking questions now, so that we have it deployed with a more individualized approach to service the communities we serve."
Both Rhew and Bhavnani say it's also important to remember that AI, while it's quickly becoming standard in the day-to-day work of medicine, is not some beast coming for your job.
"Technology is an enabler. It is not there to try to remove the critical tasks that clinicians need to do every day," says Rhew. "But with that, there's a lot that can be automated and made more consistent, allowing us to become more efficient and spend more time on high-value tasks."
Build it From the Ground Up... For Everyone
A recent joint Lancet and Financial Times Commission article on "Governing Health Futures 2030" emphasizes the growing role of digital technologies as determinants of health, which can have particular value in populations and societal groups that are more vulnerable.1
For example, the report highlights the huge divide between those who are 'digitally consumed' – sometimes to the point of harm – and those who are 'digitally excluded,' affecting their access to health information and services, among other things.
The Commission warns that the way that digitalization is governed and made accessible will either exacerbate these challenges or resolve them. It calls for digital access to be recognized as a key determinant of health (just like income, education, or sex and gender), and for digital connectivity to be recognized as a human right and public good.
It may seem obvious and intuitive for us to be able to do a video consult, but that's not necessarily the case for a large number of folks – the economically disadvantaged, seniors, those with disabilities. We have to use our existing services and tools to address those barriers.
David C. Rhew, MD
"We've started to recognize that creating systems where people have greater access to affordable broadband starts at the policy level where we have federal funding being incorporated into legislation to support digital infrastructure," says Rhew. Then, there are challenges around ensuring broad access to smart devices and the "digital skilling" needed to utilize services.
"It may seem obvious and intuitive for us to be able to do a video consult, but that's not necessarily the case for a large number of folks – the economically disadvantaged, seniors, those with disabilities. We have to use our existing services and tools to address those barriers," he adds.
"Insufficient dexterity, visual impairment and cognitive dysfunction, found commonly in older adults, should be taken into consideration in the development and utilization of existing technologies," Bhavnani points out in a recent JACC article discussing this emerging field they've dubbed "gerotechnology."2 Bhavnani is a member of ACC's Health Care Innovation Section.
Digital Transformation Over Coffee
ACC President Dipti Itchhaporia, MD, FACC, hosted Rhew and Bhavnani this past July as part of her monthly Coffee With the ACC President. Watch the discussion and learn more on the challenges and opportunities with health care innovation in the video below.
Also, learn more about upcoming Coffees and register at ACC.org/ACCCoffeeTable.
"If not implemented strategically and appropriately, these can lead to inequities propagating digital divides among older adults, across disease severities and socioeconomic distributions."
Challenges that put vulnerable individuals at increased risk will still be transferred to the digital realm, requiring a systematic approach to studying and implementing digital health strategies in older adults that are most often cardiology patients. Current problems, including limited geographic access, barriers to transportation and limited community-based programs, must be addressed as an equal part of the digital evolution of health care. Equity in the digital world will need to be addressed too.
On top of this, Bhavnani stresses, we have to focus on training the next generation of cardiologists and our general health care workforce. Innovation needs to be encouraged for a curriculum focused around education merged with clinical care.
"One thing that I can say has helped me personally was being trained in informatics," says Bhavnani. The term informatics broadly describes the study, design and development of information technology for the good of people, organizations and society.
"There is a language of informatics that is really important to learn and I think those interested in digital health and AI are well served by gaining a deeper understanding of informatics and data science, which, of course, requires us to include these topics in our medical education process and have faculty well versed in these fields."
Payment and Reimbursement
Technology-Enabled Patient Care
Digital transformation in health care is defined as the positive impact of technology on all aspects of the patient and clinician experience.
"If done correctly, it holds the answers to the future of cardiovascular care and achieving the College's Mission of truly transforming cardiovascular care and improving heart health," writes ACC President Dipti Itchhaporia, in a recent Leadership Page published in JACC. This digital transformation is one of her priorities during her presidential year.
"Advances in artificial intelligence, digital health technology, and mobile devices provide a means to prevent and treat heart disease and may also hold the keys to reducing health care inequities and improving clinician well-being."
Click here to read this Leadership Page.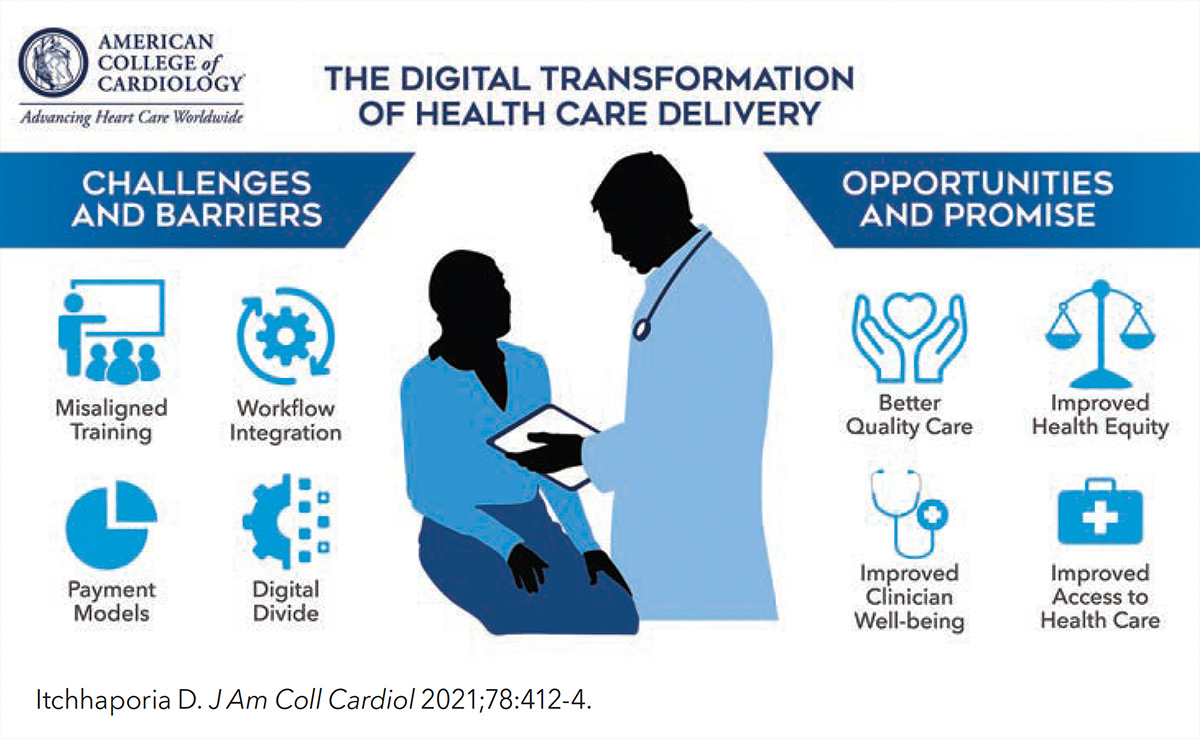 In the end, all the innovative thinking about how to use high-tech, big data, analytics, AI, etc., to revolutionize health care won't go beyond the lab unless there is a training model and a business model built around it.
Take telehealth. Expanded insurance coverage, relaxed state licensing rules, and overlooked Health Insurance Portability and Accountability Act (HIPAA) privacy standards all gave telehealth a boost during the pandemic.
Nationwide, telehealth usage went from close to zero in January 2020 to about 80% in the height of the pandemic, to about 15% now, says Bhavnani. At Scripps, he currently sees great variability in use – some doctors aren't providing telehealth visits at all, others are still doing a third or more of their visits virtually.
But things are tightening back up now. Medicare funding for telehealth at parity is scheduled to expire in January 2022, although policy makers are considering proposals to expand some or all of existing flexibilities surrounding virtual care beyond the public health emergency. States are not being as relaxed about licensing and hospitals are returning to HIPAA-compliant measures.
Now is the time for telehealth to robustly prove its mettle, says Bhavnani. "When you put your quality hat on, payers are entitled to ask why we should continue to pay the same amount for a telehealth visit that we pay for a clinic visit?"
"We've got to collect data on quality of care, patient satisfaction, all of it," says Bhavnani, "because reimbursement is going to be the theme going forward for telehealth, but also for all of these innovations we see in digital health."
References
Kickbusch I, Piselli D, Agrawal A, et al. Lancet 2021;Oct 24:[Epub ahead of print].
Krishnaswami A, Beavers C, Dorsch MP, et al. J Am Coll Cardiol 2020;76:2650-70.
Reimagining the 'SODOTO' Model of Learning
The "See One, Do One, Teach One" (SODOTO) model for learning new skills has been a mainstay in one form or another in medical education for generations. Rhew suggests it's a model ripe for disruption.
"What 'see one, do one' means, practically, is that you have trainees from medical students through fellowship, running around the hospital, trying to find a particular procedure to either see or do. Once they find one to do, they need someone experienced to oversee them," says Rhew. "It makes getting to the top of the pyramid difficult and very time-consuming."
Live Cases -- a hallmark of ACC's Annual Scientific Session -- will return to ACC.22 in Washington, DC, next April. The program "beams in" clinicians from multiple locations around the world for an interactive teaching and learning experience.
Registration is now open! Learn more at ACCScientificSession.acc.org.
What if we spread our experts more broadly? "I think we have to rethink how we provide medical education and care by reallocating resources and using technology such that the care we can provide is no longer so dependent on having a person on-site with that high level of specialization," he suggests.
Remote teaching and proctoring has become increasingly common, opening the possibility of developing global training centers that allow expert clinicians to train other clinicians and even perhaps skill individuals who are not necessarily within the traditional health care world to perform selected procedures and provide specialized services that fill critical needs in their areas.
"Sometimes, because we focus on the one aspect that can't be replicated, we make the assumption there is not much value in what we can replicate with technology, but this is a mistake. We may not yet be able to clone or teleport the world's best surgeons to perform every surgery, but they can teach and participate virtually in literally all parts of the process, from presurgical triage and evaluation, intraoperative consultation, real-time evaluation of surgical outcomes, and assistance in the management of complications."
For example, remote support technologies pioneered by the Houston Methodist Institute for Technology, Innovation and Education (MITIE) provided the foundation for the DeBakey Heart and Vascular Center to perform a challenging structural heart intervention during the COVID-19 pandemic, led by one of the few global experts from his office in Atlanta. This successful proof-of-concept conferenced the proctor into the operating room with bidirectional audio and video communication, including direct observation of the operative field. Click here to read about this MITIE case in JACC: Cardiovascular Interventions.
Another example, is a digital interface that's been built between a surgery center in remote area of Uganda and Mount Sinai Health System in New York that allows virtual interaction between surgeons and staff using the Microsoft HoloLens mixed-reality headset and other integrated technologies. The interface has been used to diagnose and manage upwards of 3,000 patients in Uganda, including operating on more than 500 patients with important surgical problems.
"We're gratified to see the plethora of companies now focusing on remote support technology to make this capability more generally available," says William A. Zoghbi, MD, MACC, past president of the ACC and chair of the Cardiology Department at Houston Methodist and the DeBakey Heart and Vascular Center. "These technologies are opening doors in the delivery of education and care that will have a tremendous global reach and impact."
We Have the Tools, But How Best to Use Them?
Bhavnani, who is focused on understanding the impact of technologies on all aspects of health care, is currently looking at the impact of digital health services on health care efficiency.
"People now have access to ECG on their watches and phones. Let's not lose sight of how transformative this is that basically overnight about 50 million people were all of a sudden able to do ECGs at home, from anywhere in the world, on their own, with nothing needed from their doctor's office," says Bhavnani.
"But when you give someone a tool like this, you need to understand what happens next. What are the effects clinically, but also economically and to quality of life and patient satisfaction, along with how care providers manage this new reality."
His ASE-INNOVATE (Implementing Digital Health in a Learning Health System) study is looking at the impact of technology-enabled visitations as compared to standard-care visitations. And not just smartphone ECGs, but also handheld echocardiography, home monitoring of weight, blood pressure and oxygen saturation, and point-of-care genetic testing.
"This horse is so far out of the barn already, but that's why we really need to be collecting good data and make sure we understand how to best utilize these technologies. Then we can build on that and make it better."
"So, for example, over the last four years we've looked at how people manage smartphone ECGs. And yes, some people will be recording 10 times a day, especially in the beginning. But what we've seen is that over time, they become their own pseudo-cardiologists and they can be reassured by their ECG and worry less, so they don't come running with every extra beat," he notes.
This article was authored by Debra L. Beck, MSc.
Clinical Topics: Cardiovascular Care Team, Diabetes and Cardiometabolic Disease, Noninvasive Imaging, Prevention, Sports and Exercise Cardiology, Novel Agents, Echocardiography/Ultrasound, Exercise, Sports and Exercise and Imaging
Keywords: ACC Publications, Cardiology Magazine, Administrative Personnel, Algorithms, Ambulatory Care, Artificial Intelligence, Augmented Reality, Biomedical Technology, Blood Pressure, Cardiologists, Cardiology, Clone Cells, Coffee, Communication, Computers, Computers, Handheld, Data Science, Delivery of Health Care, Digital Divide, Digital Technology, Disabled Persons, Documentation, Echocardiography, Education, Medical, Electrocardiography, Electronic Health Records, Faculty, Family Characteristics, Fellowships and Scholarships, Genetic Testing, Health Insurance Portability and Accountability Act, Heart Diseases, Heart Rate, Hospitals, Informatics, Information Technology, Insurance Coverage, Laboratories, Language, Leadership, Learning Health System, Medicare, Mentoring, Midazolam, New York, Oxygen, Pandemics, Parity, Patient Care, Patient Satisfaction, Peptides, Pharmacies, Point-of-Care Systems, Policy, Politics, Privacy, Public Health, Quality of Life, Reference Standards, Referral and Consultation, Risk Factors, Rodentia, Running, Severity of Illness Index, Smartphone, Socioeconomic Factors, Software, Speech, Students, Medical, Surgeons, Technology, Telemedicine, Treatment Outcome, Triage, Universities, Vision Disorders, Voice Recognition, Vulnerable Populations, Workflow, Workforce, Writing
< Back to Listings