Feature | State of the States 2021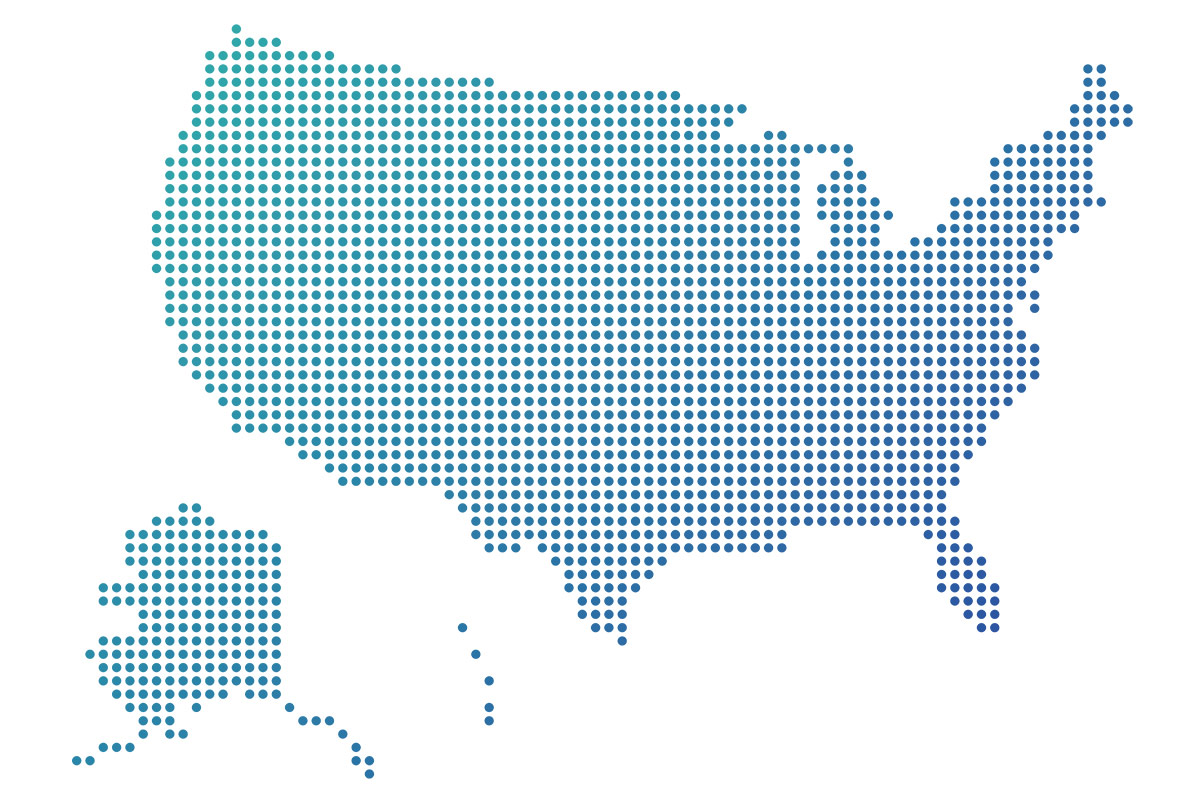 Amid the ongoing political and cultural stressors that persist in the U.S., professional societies and service organizations like the ACC and its Chapters are now more important than ever, serving as the glue that unites members around a shared Mission and goals. Specifically, the ACC and its Chapters play a crucial role in advancing solutions to heart health in the face of centrifugal forces around us. Our leaders and members span the political spectrum and represent a diverse set of backgrounds, experiences and perspectives that we are able to leverage and harness as we work together to transform cardiovascular care and improve heart health.
In 2021, ACC Chapters and the Board of Governors (BOG), representing all 50 U.S. states, as well as Washington, DC, Puerto Rico, Mexico and Canada, showed incredible resilience, ingenuity and resolve, reassessing and adapting their goals aligned with ACC's 2019-2023 Strategic Plan. Throughout 2021, Chapters ensured that the work to achieve the College's Vision of a world where innovation and knowledge optimize care and outcomes did not stop in the face of adversity.
This year's annual State of the States Report outlines how ACC Chapters prevailed and succeeded in helping members do what they do best – help and heal. The highlights that follow provide a snapshot of Chapter accomplishments centered around ACC's four Strategic Goals. This work is a testament to the professionalism and teamwork of ACC Chapters, their members and member leaders during what was an unprecedented and tumultuous year.
Increase Relevance as the Cardiovascular Professional Home
The Michigan Chapter launched a high-impact monthly educational webinar series, engaging its Board, councils and work groups, as well as diverse institutions and member groups and 100 presenters throughout the state. Topics ranged from "The Art of Science," to "Healing with Intention" and "Innovations in Telehealth."
The Ohio Chapter developed an innovative Fellows in Training (FIT) Leadership Series for first-year fellows. The series, which attracted wide participation throughout the state, featured Early Career faculty and Program Directors sharing perspectives on critical nonclinical competency topics not traditionally covered within fellowship training, such as considerations for the post-training job search (i.e., academic vs. private practice, job contracts), financial planning, the path to FACC, and prerequisites for board exams. The content was captured and turned into enduring education for the Chapter website and will be continued annually.
The Texas Chapter leveraged its relationship with the Brazil Chapter/Society of Cardiology to produce eight joint seminars on topics like anticoagulation and antiplatelet strategies, structural heart disease and heart failure, and preventive cardiology with a focus on atherosclerosis and lipid management.
The North Carolina and South Carolina Chapters combined to hold their 2021 Annual Conference live and in-person in September. The joint meeting was the largest and most successful meeting in 28 years, with participation from 400 attendees and 48 vendors. The Florida and Alabama Chapters also held safe and successful in-person Chapter meetings, providing welcomed opportunities for face-to-face discussions, networking and more.
The Montana Chapter supported the pioneering development of the first post-baccalaureate Osteopathic Medicine school in the state. The Touro University Great Falls campus is slated to open in 2023 and it is anticipated that an internal medicine residency will help promote retention of specialists in the state. The Georgia Chapter's Young Physicians Initiative continued to promote careers in medicine through its Doctor for a Day program, which was expanded to include two high schools and one college.
The Washington State Chapter held its annual CV Team meeting in September. The event featured a telemedicine symposium with Rep. Kim Schrier, MD, representing Washington's 8th congressional district, who shared her perspectives on challenges in implementing virtual care both nationally and at the state level. The Nebraska Chapter held its first-ever CV Team event in the spring. The live meeting provided opportunities for CV Team members to learn more about the Chapter and reconnect with each other. The Louisiana Chapter hosted its second annual virtual boot camp for FITs, designed to teach first-year fellows' basic essential skills, educate them about the ACC, and provide a collegial forum. Over 60 FITs and faculty participated.
The California Chapter created a Clinician Wellness video series, producing 20-minute episodes  on Clinician Burnout and Self-Compassion and posting them on YouTube. The series continues bimonthly in 2022.
The New York Chapter held a Shark Tank Challenge and Young Investigators Competition (YIC) at the New York Aquarium. The sold-out event featured ACC Trustees and past New York ACC leaders as celebrity judges. Winning Shark Tank presentations included a facial-recognition app to detect arrhythmias, a ring-based EKG monitor, and a transseptal catheter with built-in balloon dilation. The YIC competition highlighted the clinical case studies from 20 of the 50+ submissions received.
Generate and Deliver Actionable Knowledge
The Missouri Chapter awarded six Early Career Cardiology Research Grant awards totaling $50,000 to six clinicians representing the entire CV team. The awardees will present their research progress at the October 2022 Chapter meeting. The Hawai'i Chapter established a quarterly virtual journal club, helping to connect cardiologists across the islands around the latest research and science.
The Alaska Chapter implemented a formal advanced practice provider (APP) mentorship and training program, structured around the 2020 ACC CV Team Competency Statement. The Maryland Chapter implemented a CV Team Chapter-Section grant, partnering with youth from the Food Project, a nonprofit in Southwest Baltimore that aims to empower Southwest Baltimore youth through culinary skills, job opportunities and mentoring. Together the students and leadership produced a 'TikTok'-style video with students demonstrating the proper pillow CPR response to a simulated sudden cardiac event.
In Delaware, CV Team members taught hands-only CPR principles to nurse interns and Girls Scouts. The West Virginia Chapter promoted CV health and member wellness through a monthly virtual conference CME series offering a variety of lectures at no cost to members.
The Pennsylvania Chapter launched Narratives in Cardiology, a multimedia educational series jointly developed by the Chapter, the ACC FIT Section and the CardioNerds platform with the goal to promote diversity, equity and inclusion in cardiology. The captivating conversations aimed to celebrate differences and share the joy of practicing cardiovascular medicine and have resulted in approximately 10,000 downloads each month.
The Idaho Chapter sponsored several cardiology FITs from adjoining states to participate in educational/CME activities. Specifically, the program enabled students from the new local osteopathic medical school to rotate through cardiology services at Boise-area hospitals.
Advance Quality, Equity and Value of Cardiovascular Care
The Wyoming Chapter successfully lobbied the state department of health to require newborn oximetry screening for congenital heart disease and worked with UC Cardiologists at Children's Hospital to implement the program. The Rhode Island Chapter, in partnership with the regional American Heart Association chapter, supported legislation to require telephone CPR training for 911 dispatchers. The bill, which will help to improve outcomes of cardiac arrest, was signed into law in 2021.
The New York Chapter engaged FITs and Early Career members to produce a series of public service video clips to promote vaccination in diverse communities. The Indiana Chapter had a busy advocacy year, including an extensive multipronged effort to promote tobacco legislation and to support state and local public health officials.
The Virginia Chapter created the Cardiogenic Shock Initiative as part of the Virginia Heart Attack Coalition. The initiative, which aims to systematize and categorize the treatment of shock patients to improve outcomes, will provide important information on the levels of shock care, how to continue to educate shock teams, and how to classify shock teams across all parts of the state.
The Massachusetts Chapter hosted the hybrid program "Cardiovascular Disease and the Pregnant Patient: Multidisciplinary Care of the Cardio-Obstetric Patient." The day-long multidisciplinary hybrid program was simulcast to cardiologists and obstetricians throughout the entire U.S., while local attendees met in person. On a related note, the Illinois Chapter held its first Maternal Mortality webinar with participation from all Chicago academic centers. The webinar brought attention and focus to an understudied and often overlooked aspect of cardiology. The goal is to continue education in this area, resulting in better care and patient outcomes.
Ensure Organizational Growth and Sustainability
The Tennessee Chapter developed a mentoring program for women and minorities interested in becoming future leaders of the ACC and the Chapter. The Colorado Chapter increased membership by 13% to more than 800 members, with a large increase in CV Team membership. The Oregon Chapter funded 50 CV Team memberships to APPs throughout the state.
The Minnesota Chapter finalized a new strategic plan to help define chapter goals that serve both the state and national level Mission and Vision. The plan includes exciting new clinical education and career development content presented in virtual and recorded formats. The Connecticut Chapter reconstituted its Chapter Council with emphasis on membership diversity. The new Council includes five women and represents all major health systems and large practices in the state.
The New Jersey Chapter executed a statewide Call to Action for volunteers, from all practices, geographies and career points throughout New Jersey. Members who responded were all placed in newly formed Chapter committees, securing the Chapter a well-positioned, diverse pipeline of new Chapter leaders.
Looking Ahead
Anticipating the end of the epidemic phase of COVID-19, BOG Chair-Elect Malissa Wood, MD, FACC, has proposed an ambitious agenda for the BOG and ACC Chapters in the coming year.
Aspirations include:
A return to in-person Chapter meetings and networking events.
Promotion of member value and retention, with a focus on engaging members across their respective career stage with a particular focus on FIT to FACC conversion and Early Career professionals.
Improving support for State Chapter Advocacy as a means of member engagement and delivering policy changes to improve patients' lives and support member well-being. Focus on holding previous gains while leading on future issues.
Advancement of diversity, equity and inclusion, with support for mentorship of the new Internal Medicine Cardiology Program participants. Chapters will work to ensure racial, ethnic, gender, age and geographic diversity of Chapter leadership and seeks ways to support health equity in their communities.
Continued support for clinician well-being (CWB), encouraging Chapter leaders to lead by example, incorporating output from the BOG CWB Work Group at the Chapter level, and supporting Chapter-led innovations.
This article was authored by ACC's Board of Governors Chair Joseph E. Marine, MD, FACC, and Malissa J. Wood, MD, FACC.
Clinical Topics: Arrhythmias and Clinical EP, Cardiac Surgery, Cardiovascular Care Team, Congenital Heart Disease and Pediatric Cardiology, COVID-19 Hub, Dyslipidemia, Heart Failure and Cardiomyopathies, Prevention, Implantable Devices, SCD/Ventricular Arrhythmias, Atrial Fibrillation/Supraventricular Arrhythmias, Cardiac Surgery and Arrhythmias, Cardiac Surgery and CHD and Pediatrics, Cardiac Surgery and Heart Failure, Congenital Heart Disease, CHD and Pediatrics and Arrhythmias, CHD and Pediatrics and Prevention, CHD and Pediatrics and Quality Improvement, Lipid Metabolism, Acute Heart Failure, Stress
Keywords: ACC Publications, Cardiology Magazine, Accidental Falls, Adolescent, Arrhythmias, Cardiac, Attention, Awards and Prizes, Baltimore, Brazil, Burnout, Psychological, Canada, Cardiologists, Cardiology, Cardiopulmonary Resuscitation, Cardiovascular Diseases, Catheters, Chicago, COVID-19, Delaware, Dilatation, Electrocardiography, Emergency Medical Dispatcher, Faculty, Fellowships and Scholarships, Georgia, Goals, Health Equity, Heart Arrest, Heart Defects, Congenital, Heart Diseases, Heart Failure, Hospitals, Idaho, Intention, Internal Medicine, Internship and Residency, Islands, Leadership, Lipids, Massachusetts, Maternal Mortality, Mentoring, Mentors, Mexico, Michigan, Missouri, Multimedia, New Jersey, New York, Osteopathic Medicine, Oximetry, Policy, Pregnancy, Private Practice, Professionalism, Public Health, Puerto Rico, Schools, Medical, Shock, Cardiogenic, Social Media, Students, Surgical Instruments, Telemedicine, Telephone, Texas, Tobacco, Trustees, Universities, Vaccination, Virginia, Volunteers, Washington, Wetlands
< Back to Listings