Cover Story | ACC.22 Delivering the Best of In-Person Education and Virtual Learning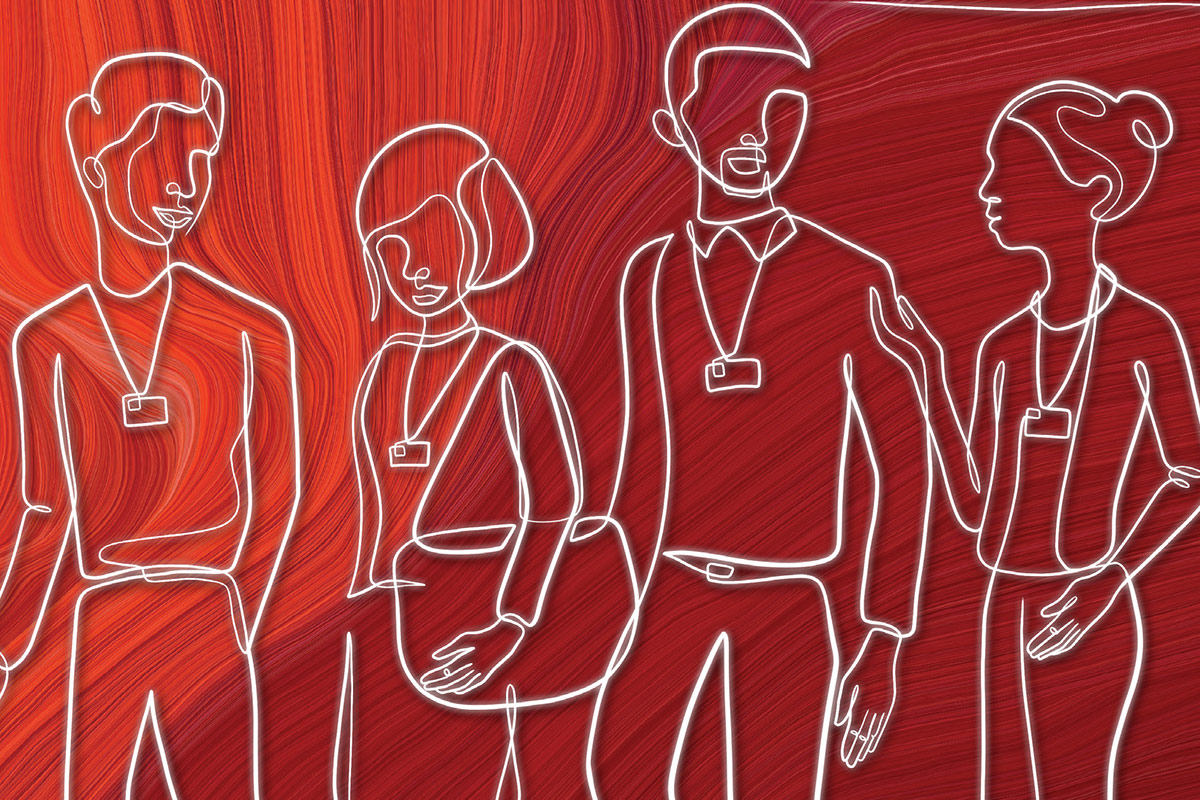 More than two years ago, the COVID-19 pandemic propelled the delivery of education fully into the online realm. While not a new concept – distance learning has been around for decades, and online learning activities and hybrid elements of meetings were increasingly more common – the pandemic fast-tracked the digital transformation of education.
For the ACC, that meant leaders and staff had roughly three weeks to pivot and stand up a fully virtual 2020 Annual Scientific Session (ACC.20) – the first of its kind for the College and for the health care community more broadly. Since then, the ACC has learned much about what makes for a successful and engaging virtual meeting and now, two years later, leaders and staff have been hard at work to take the lessons learned to date and apply them to ACC.22 – the College's first-ever, large-scale, truly hybrid Annual Scientific Session that will take place in Washington, DC, and virtually.
"The team at ACC has done an incredible job learning from experience with virtual programming over the past two years and has set a new industry standard in delivering virtual content," says Douglas Drachman, MD, FACC, vice chair of ACC's Annual Scientific Session. "ACC.22 represents the first large-scale 'hybrid' meeting for ACC. I am tremendously excited to experience the interactivity afforded by blending the advanced virtual platform with the outstanding live, in-person content we have all come to appreciate from the College."
The virtual aspect of the meeting will take place over six educational channels, with sessions streaming live and direct from classrooms in Washington, DC. "Real-time interactivity for Q&A, and interactive networking opportunities, are designed so that virtual participants will truly feel a part of the meeting," says Pamela B. Morris, MD, FACC, chair of the Annual Scientific Session. "There's truly something for everyone."
The six channels are divided into Hot Topics, Guidelines, Interdisciplinary Education, Global Cardiovascular Health, Clinical Conundrums and Evolving Knowledge. In addition, the virtual program includes 12 exclusive sessions, including seven from JACC Journals and five spanning topics from parental leave during cardiology fellowship, to ethics in cardiovascular care, to artificial intelligence and machine learning.
"Whether you prefer to 'channel surf' or you are an advance-planner, the ACC platform will enable interactivity for the global virtual audience with the moderators and speakers, truly connecting the broader cardiovascular community," says Drachman.
The in-person aspect of the meeting will offer a much-needed opportunity for face-to-face connections and learning that have been sorely missed over the last two years. "I am most excited for the opportunity to see my colleagues, friends and ACC staff once again in person," says Morris. "Though the virtual meetings have provided interaction during a challenging time, they are not an adequate replacement for the dynamic connection and engagement that happens live."
The Virtual Experience
ACC.22 Virtual will offer access to more than 80 live education sessions across six channels. The three-day experience will stream live from Washington, DC, starting Saturday, April 2 at 8:30 a.m. ET through Monday, April 4 at 6 p.m. ET, with access available until April 10. Click here for the entire virtual schedule.
On the education front, TED-style talks, panel discussions, case presentations and other innovative educational formats are being maximized to foster engagement across 11 clinical pathways. Attendees will have access to experts and thought leaders for real-time discussions around new guidelines, late-breaking science and novel treatment strategies.
"We have been so excited to work with a fantastic planning committee and ACC staff to develop a program for ACC.22 that we believe is exciting, innovative and totally engaging," says Drachman.
"Many of the in-person sessions will be simultaneously viewed by a global virtual audience, generating a new standard for interactivity and sharing of communal wisdom and perspective."
Know Before You Go: Health and Safety at ACC.22
The ACC is committed to providing a safe environment for everyone at ACC.22. Click here for details on the health and safety measures that will be in place and answers to frequently asked questions.
Science is at the foundation of every Annual Scientific Session and ACC.22 will not disappoint attendees looking for the most contemporary, clinically relevant research. According to Morris, the Late-Breaking Clinical Trial (LBCT) and Featured Clinical Research sessions are sure to spark robust discussions around topics like cardio-obstetrics and management of hypertension in pregnancy; emerging therapies for hypertrophic cardiomyopathy; the role of sodium restriction in heart failure, novel therapies for dyslipidemia; and even a supermarket intervention for cardiovascular risk reduction.
Drachman echoes this sentiment, noting that this year's abstract and LBCT submissions are exceptional, with tremendous opportunity to impact clinical practice. "Some of the LBCTs address novel medical therapies for advanced heart failure, some describe interventional assessments and treatments for complex coronary and valvular heart disease, while others address age-old questions about how to minimize the risk for patients undergoing noncardiac surgery," he says.
Be inspired by these global leaders headlining the ACC.22 Keynotes:
Dariush Mozaffarian, MD, FACC
Fatima Rodriguez, MD, MPH, FACC
Valentin Fuster, MD, PhD, MACC
Daniel J. Penny, MD, FACC
Peter Libby, MD, FACC
Additional ACC.22 highlights include the popular FIT Jeopardy competition, the Lounge & Learn Pavilion, designated Keynote lectures featuring cardiovascular legends, and the Heart 2 Heart stage, where attendees can informally participate in conversations about topic areas that extend beyond the traditional classroom setting. This interactive format has been so successful that we have actually added a second stage, says Morris.
Other not-to-miss sessions, include the Opening Showcase, which will kick off the hybrid meeting on Saturday, April 2, and the time-honored tradition of Convocation, which will close the meeting on Monday, April 4 by welcoming new FACC and AACC members to the College, celebrating award winners and recognizing the passing of the presidential chain to the next ACC president.
"The ACC.22 staff has created an ideal environment for safe, socially distanced in-person education according to the latest public health guidance," says Morris. "However, whether attending in-person or virtually, ACC.22 will be where the magic happens."
Stay 'In Touch' With #ACC22
Follow the American College of Cardiology (@ACCinTouch) on Twitter, Facebook, Instagram, LinkedIn and YouTube for all the highlights from ACC.22. Don't forget to tag @ACCinTouch and use #ACC22 on your posts. A special thanks to Social Media Ambassadors from ACC's Member Sections and JACC Journals and the FITs on the GO team. Learn more about who to follow and access the ACC's official Hashtag Guide at ACC.org/ACCinTouch.
Not on social media? The ACC.org Editorial Team, JACC Journal Editors, and ACC Member Section volunteers will be providing comprehensive daily news coverage from the meeting, including Late-Breaking Clinical Trial and Featured Clinical Research summaries, video wrap-ups, expert analysis, interviews with Keynote legends and more. Bookmark ACC.org/ACC2022 for all the news coverage. In addition, in-person attendees can read all about the days highlights as part of the ACC.22 daily newspaper located throughout the Convention Center.
A Time for Celebration and Connection
From the start of the Opening Showcase to the last moments of Convocation, ACC.22 is designed to celebrate all that makes the cardiovascular profession great, while also offering opportunities for connection with colleagues, experts, innovation and more.
"I'm most excited by the opportunities afforded by ACC.22 to reconnect, network, learn and grow as individuals and as a global community of cardiovascular professionals," says ACC President Dipti Itchhaporia, MD, FACC.
The Opening Showcase will kick off at 8:30 a.m. ET on Saturday, April 2 and feature Itchhaporia and Morris, as well as inspiring examples of ACC members around the world who are doing what they do best – help and heal – in the midst of an ongoing global pandemic.
Also, not to miss, the ACC's annual Convocation will close out the three-day meeting starting at 4 p.m. ET on Monday, April 4. For the first time in two years, the College is excited to welcome new Fellows and Associates in person, while also celebrating the accomplishments of an impressive array of award winners. In addition, Convocation will mark the transfer of the presidential chain from Itchhaporia to incoming President Edward T. A. Fry, MD, FACC.
Stronger Together
The Annual Scientific Session offers unique opportunities to leverage the insights and perspectives of experts and leaders spanning the entire field of cardiovascular care. The ACC is proud to partner with the following cardiovascular societies to co-host 15 Joint Symposiums on topics ranging from controversies in valvular heart disease to expanding the boundaries of nuclear cardiology.
American Association for Thoracic Surgery
American Heart Association
American Society for Echocardiography
American Society of Nuclear Cardiology
Association of Black Cardiologists
European Society of Cardiology
Heart Failure Society of America
Heart Rhythm Society
National Lipids Association
Society for Cardiovascular Magnetic Resonance
Society of Cardiovascular Angiography and Interventions
Society of Cardiovascular Computed Tomography
The Society of Thoracic Surgeons
TCT
Click here and search "Joint Symposium" in the ACC.22 Online Planner.
Heart 2 Heart on Stage
Back by popular demand, the Heart 2 Heart stage located in the Lounge & Learn Pavilion in Hall D will feature informal conversations with experts on topics ranging from social media to the role of advanced practice providers in the cardiovascular care team. Daily topics include:
April 2
Building Your Educator's Toolbox: Skills You Need to Have in 2022
The Cutting Edge of Frailty
Social Media For Cardiologists: Why, When, How & Where?
April 3
Catch Them Before They Fall: Syncope Guidelines in Action
Allies, Up-standers and Self-Advocates: Addressing Barriers to Equity at Work
The Spiritual Art of Healing... How Faith Has Impacted Me as a Cardiovascular Professional
The Evolving Roles of Advance Practice Providers in Cardiovascular Medicine
April 4
How Health Care Innovation Is Redefining the Patient-Clinician Relationship
Guideline Guidance
Guideline sessions at ACC.22 are designed to help clinicians implement, optimize and translate ACC/AHA guidelines into clinical practice. Led by members of the ACC/AHA guideline committees and experienced colleagues, this year's sessions will focus on four of the most recent guidelines:
2021 Evaluation of Chest Pain Guideline
2021 Coronary Artery Revascularization Guideline
2020 Hypertrophic Cardiomyopathy Guideline
2020 Valvular Heart Disease Guideline
Use the Program Planner to search by "Guideline Session" for more details, including dates and times. For more on ACC/AHA clinical guidelines and related clinician and patient tools visit ACC.org/Guidelines.
Staying OutFront on Global Health
Cardiovascular disease knows no borders and ACC.22 provides an important opportunity to engage in discussion on global health care challenges, share science and identify real solutions for the future. "Global Health Spoken Here" are among the dedicated sessions designed to bring the global cardiovascular community together around ways to improve cardiovascular care and patient outcomes worldwide.
Topics this year include TAVI, pediatric and congenital heart disease care, advancing systems of care for STEMI, COVID-19, hypertension, heart failure, atrial fibrillation and peripheral artery disease. Don't miss the session on the World Heart Federation's Featured Research and Year in Review.
Don't Miss These ACC.22 Late-Breaking Clinical Trial Sessions
Late-Breaking Clinical Trials (LBCTs) are a hallmark of ACC's Annual Scientific Session – providing unique opportunities to hear first-hand from lead investigators about the latest practice-changing research. ACC.22 will feature five LBCT sessions. VALOR-HCM, SODIUM-HF, POISE-3 and CHAP will kick it all off immediately following the Opening Showcase Session on Saturday. Don't miss the 15 Featured Clinical Research presentations in three sessions; find them with your ACC.22 app. Make time for the two Deep Dive sessions to gain more insight from the key clinical trials presented at ACC.22 and find out what it all means for you and your patients.
Saturday, April 2
ACC.22 Opening Showcase and the Joint ACC/JACC Late-Breaking Clinical Trials
Sessions 401 and 402
8:30 – 10:30 a.m.
VALOR-HCM: Mavacamten as an Alternative to Surgical Septal Myectomy or Alcohol Ablation in Patients with Severely Symptomatic Obstructive Hypertrophic Cardiomyopathy
SODIUM-HF: Study of Dietary Intervention Under 100 Mmol in Heart Failure
POISE-3: Efficacy and Safety of Tranexamic Acid in Patients Undergoing Noncardiac Surgery
CHAP: Antihypertensive Therapy for Mild Chronic Hypertension Improves Pregnancy Outcomes: A Pragmatic Multicenter RCT
Sunday, April 3
Joint ACC/Journal of the American Medical Association Late-Breaking Clinical Trials
Session 405
8:00 – 9:15 a.m.
TRANSLATE-TIMI 70: Effect of Vupanorsen on Non-HDL Cholesterol Levels in Statin-Treated Patients with Elevated Cholesterol
PACMAN AMI: Effects of Alirocumab on Coronary Atherosclerosis Assessed by Serial Multimodality Intracoronary Imaging in Patients with Acute Myocardial Infarction: A Double-Blind, Placebo-Controlled, Randomized Trial
APOLLO Trial: Magnitude and Duration of Effects of a Short-Interfering RNA Targeting Lipoprotein(a): A Placebo-Controlled Double-Blind Dose-Ranging Trial
SuperWIN: A Multisite, Randomized, Controlled Trial of a Supermarket and Web-Based Intervention Targeting Nutrition for Cardiovascular Risk Reduction
Joint ACC/New England Journal of Medicine Late-Breaking Clinical Trials
Session 406
9:45 – 11:00 a.m.
IVVE: Randomized Controlled Trial of Influenza Vaccine in Patients with Heart Failure to Reduce Adverse Vascular Events
METEORIC-HF: The Effect of Omecamtiv Mecarbil on Exercise Tolerance in Patients with Chronic Heart Failure and Reduced Ejection Fraction
PROMPT-HF: A Cluster-Randomized PRagmatic Trial Aimed at ImprOving Use of Guideline Directed Medical Therapy in OutPatienTs with Heart Failure
DIAMOND Trial: Patiromer for the Management of Hyperkalemia in Subjects Receiving Renin-Angiotensin-Aldosterone System Inhibitor Medications for Heart Failure with Reduced Ejection Fraction
Updated Cumulative Results of Treatment with Mavacamten from the EXPLORER-LTE Cohort of the MAVA-LTE Study in Patients with Obstructive Hypertrophic Cardiomyopathy
Late-Breaking Clinical Trials Deep Dive I
Session 408
2:00 – 3:15 p.m.
Monday, April 4
Late-Breaking Clinical Trials
Session 409
8:30 – 9:45 a.m.
The PROTECT Trial: Very Mild Perioperative Hypothermia vs. Aggressive Warming and Myocardial Injury after Noncardiac Surgery
POISE-3: The Effects of a Hypotension-Avoidance Strategy vs. a Hypertension-Avoidance Strategy in Patients Undergoing Noncardiac Surgery
Clasp TR Study: One-year Results of Transcatheter Treatment of Tricuspid Regurgitation
Corevalve US Pivotal and SURTAVI Trials Insights: Five-Year Incidence, Timing and Predictors of Hemodynamic Valve Deterioration of Transcatheter and Surgical Aortic Bioprostheses
A Randomized ADAPT-TAVR Trial: Edoxaban vs. Dual Antiplatelet Therapy for Valve Thrombosis and Cerebral Thromboembolism after Transcatheter Aortic Valve Replacement
Late-Breaking Clinical Trials
Session 410
11:00 a.m. – 12:15 p.m.
GHATI: Improving STEMI Management Internationally: Two-Year Report of 4,015 Patients Enrolled in the American College of Cardiology - Global Heart Attack Treatment Initiative
The FLAVOUR Randomized Clinical Trial: Comparison of Fractional Flow Reserve-Guided and Intravascular Ultrasound-Guided PCI in Intermediate Coronary Artery Stenosis
GIPS-IV: The Groningen Intervention Study for the Preservation of Cardiac Function with Sodium Thiosulfate after STEMI
BIO|GUARD-MI: The Clinical Effect of Arrhythmia Monitoring after Myocardial Infarction
Late-Breaking Clinical Trials Deep Dive II
Session 413
2:30 – 3:45 p.m.
ACC.22 App Plan Your ACC.22 Experience Today
Get instant access to sessions, abstracts, exhibitors, maps and more with the ACC.22 app. Browse sessions by day, pathway, practice focus or session type to build your own customized itinerary. Seamlessly claim credit or get a certificate of participation. Get the latest news via ACC's twitter feed, and more. Search "ACC.22" in your app store and download it today!
Experience the ACC.22 Expo
More than 200 exhibiting companies and organizations are pulling out all the stops for the ACC.22 Expo, where the latest advances in pharmaceuticals, imaging, devices, health IT and more will be on display. The Expo will feature five Learning Destinations, an exciting lineup of Industry Expert Theater and Innovation Stage sessions, interactive learning labs, numerous prime-time events, and more.
The Future Hub also returns for ACC.22, highlighting the latest innovations, advancements in telehealth, developments in precision medicine, and more. The theater will host live presentations focusing on how emerging technologies are poised to transform cardiovascular practice, real life examples of innovations in practice, and discussions of the implications of technology on the doctor-patient relationship. Plus, don't miss the two-day ACC.22 Innovation Pitch Challenge in partnership with the National Heart, Lung, and Blood Institute. Learn more at ACC.org/PitchChallenge!
Last, but certainly not least, stop by ACC Central (Booth #1333) to discover why ACC is OutFront on global heart health. Learn more about membership benefits, NCDR and ACC Accreditation efforts, clinician tools ranging from the Collaborative Maintenance Pathways to mobile tools, health policy priorities, and so much more.
Clinical Topics: Acute Coronary Syndromes, Arrhythmias and Clinical EP, Cardiac Surgery, Cardiovascular Care Team, Congenital Heart Disease and Pediatric Cardiology, COVID-19 Hub, Diabetes and Cardiometabolic Disease, Dyslipidemia, Heart Failure and Cardiomyopathies, Invasive Cardiovascular Angiography and Intervention, Prevention, Pulmonary Hypertension and Venous Thromboembolism, Stable Ischemic Heart Disease, Valvular Heart Disease, Atrial Fibrillation/Supraventricular Arrhythmias, Aortic Surgery, Cardiac Surgery and Arrhythmias, Cardiac Surgery and CHD and Pediatrics, Cardiac Surgery and Heart Failure, Cardiac Surgery and SIHD, Cardiac Surgery and VHD, Congenital Heart Disease, CHD and Pediatrics and Arrhythmias, CHD and Pediatrics and Imaging, CHD and Pediatrics and Interventions, CHD and Pediatrics and Prevention, CHD and Pediatrics and Quality Improvement, Lipid Metabolism, Acute Heart Failure, Pulmonary Hypertension, Interventions and ACS, Interventions and Imaging, Interventions and Structural Heart Disease, Interventions and Vascular Medicine, Angiography, Nuclear Imaging, Hypertension, Chronic Angina
Keywords: ACC Publications, Cardiology Magazine, ACC22, ACC Annual Scientific Session, Accreditation, Acute Coronary Syndrome, Angiography, Anti-Infective Agents, Artificial Intelligence, Atrial Fibrillation, Attitude, Awards and Prizes, Bacteria, Biomedical Technology, Blood Pressure, Cardiologists, Cardiology, Cardiomyopathy, Hypertrophic, Cardiovascular Diseases, Chest Pain, Child, Preschool, Coronary Vessels, COVID-19, COVID-19 Testing, COVID-19 Vaccines, Critical Pathways, Death, Sudden, Delivery of Health Care, Dyslipidemias, Education, Distance, Fellowships and Scholarships, Fibrinolytic Agents, Frailty, Friends, Global Health, Health Policy, Heart Defects, Congenital, Heart Disease Risk Factors, Heart Failure, Heart Valve Diseases, Hypertension, Lipids, Machine Learning, Masks, Mobile Applications, National Heart, Lung, and Blood Institute (U.S.), Obstetrics, Pandemics, Parental Leave, Parks, Recreational, Patient Advocacy, Patient Care Team, Pharmaceutical Preparations, Physician-Patient Relations, Public Health, Pulmonary Arterial Hypertension, Restaurants, Risk Assessment, Risk Factors, Simulation Training, Social Media, Sodium, ST Elevation Myocardial Infarction, Static Electricity, Stethoscopes, Supermarkets, Syncope, Technology, Telemedicine, Touch, Transcatheter Aortic Valve Replacement, Vaccination, Volunteers
< Back to Listings