JACC in a Flash
Featured topics and Editors' Picks from all of ACC's JACC Journals.
Study Explores Outcomes of CRT Nonresponders
Patients with heart failure who are "nonresponders" to CRT are often "passively managed, without specialty care, with poor outcome," according to results of the ADVANCE CRT study published in the Journal of the American College of Cardiology and presented during AHA 2019.
Niraj Varma, MD, PhD, FACC, et al., assessed 1,524 heart failure patients enrolled in 69 centers in the ADVANCE CRT Registry. Patients were aged 68±12 years, 32 percent were women, and 39 percent had ischemic disease. Further, 74.3 percent received CRT-D devices. Researchers assessed patient response at six months post implant using site-specific definitions, compared with a Clinical Composite Score (CCS).
Results showed that of 1,327 patients, 20 percent were nonresponders. In addition, researchers found that site-specific definitions mainly used clinical criteria, and underestimated nonresponders by 35 percent vs. CCS (58 percent sensitivity vs. CCS).
Furthermore, more site-defined nonresponders (55.9 percent) received treatment using medication changes and heart failure education, but received device programming less frequently vs. responders (38.3 percent; p<0.001). The researchers also found that 44 percent of site-defined nonresponders received no additional treatment.
The authors conclude that "nonresponders require rigorous attention to accurate diagnosis (which may be facilitated by an objective assessment such as CCS), follow-up intensification and integration with cross-disciplinary care, and exploration of effective interventions." They add that their study "reveals an unmet need in a high-risk heart failure population."
---
Varma N, Boehmer J, Bhargava K, et al. J Am Coll Cardiol 2019;Nov 15:[Epub ahead of print].
Hypertensive Disorders of Pregnancy Associated With Long-Term CV Risk
Hypertensive disorders of pregnancy may be associated with accelerated cardiovascular aging and more diverse cardiovascular conditions, including valvular heart disease, according to research published in the Journal of the American College of Cardiology and presented at AHA 2019.
Michael C. Honigberg, MD, et al., examined the long-term incidence of diverse cardiovascular conditions among middle-aged women in the UK Biobank with and without prior hypertensive disorders of pregnancy. Noninvasive arterial stiffness measurement was performed in a subset of women, and causal mediation analyses estimated the contribution of conventional risk factors to observed associations.
Results showed that of the 220,024 women, 2,808 (1.3 percent) had prior hypertensive disorders of pregnancy. Women with hypertensive disorders of pregnancy were found to have signs of elevated arterial stiffness and greater prevalence of chronic hypertension compared with women without.
Furthermore, the authors found that hypertensive disorder of pregnancy was associated with shorter time to first incident cardiovascular diagnosis and increased hazards of coronary artery disease (CAD), heart failure, aortic stenosis and mitral regurgitation.
In causal mediation analyses, chronic hypertension explained 64 percent of hypertensive disorder of pregnancy and its association with CAD, as well as 49 percent of its association with heart failure.
The authors conclude that, "further research is needed to elucidate the mechanisms linking hypertensive pregnancy complications with long-term cardiovascular risk and to determine optimal strategies for screening, prevention and management."
---
Honigberg MC, Zekavat SM, Aragam K, et al. J Am Coll Cardiol 2019;Nov 11:[Epub ahead of print].
Does Gene Sequencing Identify DNA Variants in Adults With SCD?
Gene sequencing may identify rare pathogenic DNA variants or likely pathogenic variants in a "small but potentially important" population of adults suffering from sudden cardiac death (SCD), according to a study published in the Journal of the American College of Cardiology and presented during AHA 2019.
Amit V. Khera, MD, MSc, FACC, et al., performed whole exome sequencing in 600 adults with onset SCD and 600 matched controls from 106,098 participants of six prospective cohort studies. Observed DNA variants in any of the 49 genes with known association to cardiovascular disease were then classified as pathogenic or likely pathogenic. Then, in an independent population of 4,525 asymptomatic adults in a prospective cohort study, Khera, et al., performed whole genome sequencing and determined the number of pathogenic or likely pathogenic variants.
Results showed that among the 1,200 SCD cases and controls, 5,178 genetic variants were identified and 14 variants were classified as pathogenic or likely pathogenic. Further, the 14 variants were present in 15 individuals who had suffered SCD, "corresponding to a pathogenic variant prevalence of 2.5 percent in cases and 0 percent in controls (p<0.0001)."
In addition, among participants of the prospective cohort study group, "41 (0.9 percent) carried a pathogenic or likely pathogenic variant and these individuals had 3.24-fold higher risk of cardiovascular death over a median follow-up of 14.3 years (p=0.02)."
The authors conclude that "gene sequencing confirms significant enrichment of pathogenic variants in sudden cardiac death cases as compared to controls, and such variants are present in approximately 1 percent of asymptomatic adults free of known cardiovascular disease."
They add that moving forward, "these results lay the scientific foundation for the integration of gene sequencing to identify asymptomatic individuals with pathogenic variants into routine clinical practice, with the ultimate goal of preventing a sudden cardiac death tragedy that might have been anticipated."
---
Khera AV, Mason-Suares H, Brockman D, et al. J Am Coll Cardiol 2019;Nov 11:[Epub ahead of print].
Tailored Interventions Based on Race, Sex May Help Reduce HF Burden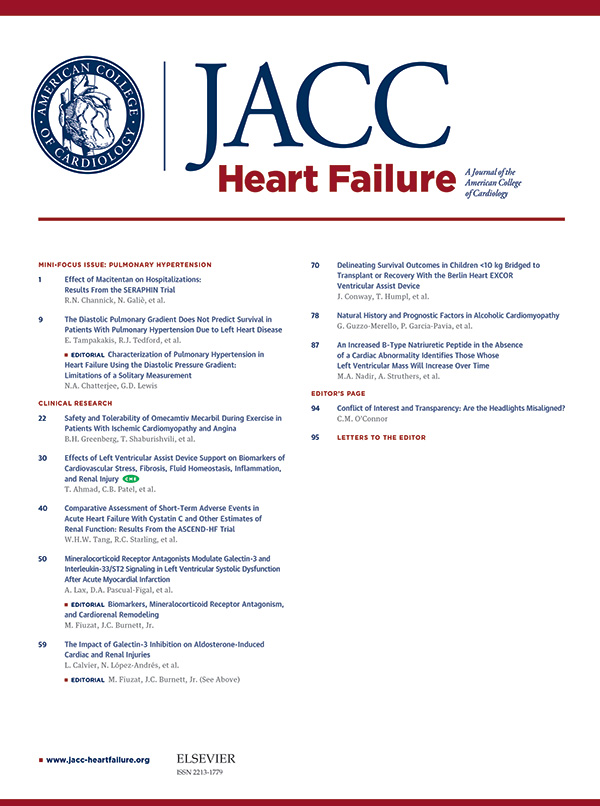 Interventions tailored by race and sex may help reduce the burden of heart failure (HF), particularly in resource-limited areas, based on findings presented at AHA 2019 and published in JACC: Heart Failure.
Danielle M. Kubickia, BS, and colleagues studied 27,078 participants from the Southern Community Cohort Study (SCCS), none of whom had prevalent HF and all of whom reported receiving Centers for Medicare or Medicaid Services (CMS) coverage.
The mean age of participants was 56 years, 69 percent were black and 63 percent were women. Researchers assessed the presence of hypertension, diabetes, physical underactivity, high body mass index (BMI), smoking, high cholesterol and poor diet at enrollment.
Overall results showed that during a median of 5.2 years, 16 percent of participants developed HF. Hypertension and diabetes were the risk factors associated with greatest individual HF risk, while hypertension contributed the greatest population attributable risk (PAR) at 31.8 percent, followed by diabetes and physical underactivity (17 percent).
Broken down by race, hypertension and diabetes were the only two factors associated with HF risk in black participants, while in white participants, smoking and high BMI were also associated with HF risk. Physical underactivity was a risk factor only in white women.
"In this high-risk low-income cohort, contributions of risk factors to heart failure varied, particularly by race," write the researchers. "These findings may help prioritize individualized and public health interventions aimed at preventing heart failure, particularly in resource-limited areas with the greatest risk."
---
Kubicki DM, Xu M, Akwo EA, et al. JACC Heart Fail 2019;Nov 11:[Epub ahead of print].
FAMILIA: Lifestyle Interventions May Improve CV Health Outcomes
High adherence rates to lifestyle interventions may improve health outcomes in underserved communities, according to results from the FAMILIA trial published in the Journal of the American College of Cardiology and presented at AHA 2019.
Rodrigo Fernandez-Jimenez, MD, PhD, et al., randomized 15 Head Start preschools in Harlem, NY, as well as their children's parents or caregivers, to receive either an "individual-focused" or "peer-to-peer based" lifestyle intervention program for 12 months or control.
The primary outcome was the change from baseline to 12 months in a composite health score related to blood pressure, exercise, weight, alimentation and tobacco (Fuster-BEWAT Score).
Results showed that of the 635 parents or caregivers enrolled in the study, there were no differences in the change of the nonlaboratory-based Fuster-BEWAT Score between the control and intervention arms at 12 or 24 months.
However, high-adherence participants to the intervention exhibited a greater change in Fuster-BEWAT Score than their low-adherence counterparts, indicating that intervention adherence is critical to achieving a potential beneficial impact.
Furthermore, the authors found that the identification and understanding of ultrasound-based images of atherosclerosis by the participant consistently boosted the intervention effects. They also identified subgroups of participants that showed lifestyle interventions could have a greater impact, which may be useful to tailor future health promotion programs in adults.
"The interventions applied to caretakers are easy to implement, and results show if adults follow and stick to simple education plans they may see positive results and reduce their risk factors for developing heart disease throughout their lives," explains Valentin Fuster, MD, PhD, MACC, who created and led the trial.
"The FAMILIA project has already shown that early interventional health education is effective for preschoolers and the new results for caretakers further prove low-cost methods can promote health among parents and school staff. We hope in time we can integrate this project into schools across the country to help more families, especially those in underserved communities."
"A wider adoption of effective health promotion programs at the population level may have a meaningful impact on the reduction of health disparities and cardiovascular disease burden," the authors add.
---
Fernandez-Jimenez R, Jaslow R, Bansilal R, et al. J Am Coll Cardiol 2019;Nov 11:[Epub ahead of print].
Health-Related QOL: Worse in Comorbid Diabetes
Patients with comorbid diabetes may have worse health-related quality of life (HRQOL), according to research published in the Journal of the American College of Cardiology and presented at AHA 2019.
Using data from the CHAMP-HF registry, Muthiah Vaduganathan, MD, MPH, AACC, et al., explored longitudinal changes in HRQOL among ambulatory patients with comorbid diabetes and heart failure with reduced ejection fraction (HFrEF).
Researchers looked at 4,983 adults at 152 U.S. sites with chronic HFrEF receiving at least one oral HF therapy from December 2015 to October 2019. Patients were paired at baseline and 12-months of two validated questionnaires: the Kansas City Cardiomyopathy Questionnaire (KCCQ), a validated multidomain HF-specific tool with scores ranging from 0-100, and the EuroQol-5 Dimension (EQ5D).
Results showed that 2,085 patients (42 percent) had a history of diabetes, and they had lower baseline KCCQ overall summary and EQ-5D scores vs. those without diabetes. Absolute differences across KCCQ domains ranged from about 3 to 6 (QOL 3.2; social limitations 4.4; symptom frequency 5.1; and physical limitations 6.2). After accounting for covariates, patients with diabetes had 2.8-lower adjusted KCCQ overall summary scores.
Furthermore, half of patients experienced clinically meaningful five-point improvements in KCCQ overall summary scores by one year, regardless of diabetes status. The authors note this finding may reflect favorable perceptions of health under study observation, selective retention of a healthier cohort or regression to the mean.
The authors conclude these data corroborate the broad health consequences of diabetes adversely impacting patient experience and inform designs of studies employing HRQOL as an endpoint.
---
Vaduganathan M, Fonarow GC, Greene SJ, et al. J Am Coll Cardiol 2019;Nov 11:[Epub ahead of print].
Keywords: ACC Publications, Cardiology Magazine, Aortic Valve Stenosis, Atherosclerosis, Biological Specimen Banks, Blood Pressure, Cardiomyopathies, Cardiovascular Diseases, Centers for Medicare and Medicaid Services, U.S., Centers for Medicare and Medicaid Services, U.S., Cohort Studies, Child, Preschool, Cholesterol, Coronary Artery Disease, Diabetes Mellitus, DNA, Death, Sudden, Cardiac, Follow-Up Studies, Health Promotion, Health Education, Heart Valve Diseases, Hypertension, Hypertension, Pregnancy-Induced, Heart Failure, Incidence, Life Style, Medicare, Medicare, Medicaid, Mitral Valve Insufficiency, Prevalence, Prospective Studies, Public Health, Registries, Risk Factors, Quality of Life, Smoking, Stroke Volume, Tobacco, Vascular Stiffness, Parents
< Back to Listings